Preview from The Herald-Times for MCCT's The Importance of Being Earnest In a Pandemic (2021):
Review from The Herald-Times for MCCT's Holiday Variety Show (2020):
Holiday show: All volunteers, they perform all varieties of acts
By Connie Shakalis H-T Reviewer Dec 7, 2020
Bill Murnahan, a registered nurse, has a bachelor's degree in anthropology, from Indiana University; his nursing degree is from Ivy Tech. Apparently, he is also an actor. His goofy vignettes, performed with partner Marty Cusato, were some of Sunday's show-thieves during the live Facebook performance of the Monroe County Civic Theater's 2020 Holiday Variety Show.
The duo's antics included making gingerbread-person cookies that are missing limbs, as are both men. Murnahan, a leg; Cusato, an arm.
"We're a couple of misfits," they sang a cappella, "what's the matter with misfits? That's where we fit IN." Cusato chomped off a ginger man's arm with his front teeth as he sang. If originality is prized here, Cusato and Murnahan took home a trophy.
I expected this holiday talent show to swarm with kids; grandmothers buy tickets. Holiday shows are famous for stacking the deck with children to fuel ticket sales. You know what they say about sharing the stage with dogs and kids.
But this year's MCCT show was adults only.
Veteran Shakespeare actor Roy Sillings almost topped the tree, with his ironic song. "God rest you merry merchants, may you make the yuletide pay," he sang, in front of a Dickensian holiday backdrop sporting folk dressed up for celebrating — and buying.
I only wish Sillings had not been allowed to suggest quiz questions for the Shakespeare Trivia Game, "You Bet Your Bard," which preceded the talent show. Naturally — and this proves what a good sport I am to agree to play in the first place — I (and the man seated next to me) failed a good portion of the answers. Why couldn't they have asked the bard's birthday, or which of his twins died? I knew those!
Another act worth noting was Laura DeBrunner singing about the song in her heart. Janet Heise sang a couple of times and was lovely and sincere.
Jonathan Golembecki and Meghan McKenzie performed a scene, "Orange Marmalade," which Golembecki wrote for this show. It reminds us that dead loved ones survive in the form of our memories, and also to grab little pleasures while we may.
"You're never going to see this (particular) snow again," says Golembecki's character, as he urges Meghan's character to drop her jaded "It's-only-snow" attitude. They reminded me of my fourth grade teacher in Indianapolis who scolded us, "Stop looking out the window. It's only snow." Only snow! If anything is heaven sent, it's got to be these frosted flakes of mini-miracles.
The variety show survives, on YouTube, and is a watchable 45 minutes.
Dan Heise wrote and directed the Shakespeare trivia game show. Jason Lopez directed the variety show, written by him and Roy Sillings. Dan Heise was technical director.
---
Preview from The Herald-Times for MCCT's Henry V (2020):
---
Preview from The Herald-Times for MCCT's Oct-Poe-ber Fest (2020):
Theater review: A Poe show on the go
By Connie Shakalis H-T Reviewer Oct 22, 2020
Who better to read Edgar Allen Poe's poem about unending grief and subsequent insanity than Bloomington actor Steve Scott?
I am still recovering from Scott's supreme 2019 portrayal of a serial child murderer in Bryony Lavery's "Frozen" (not the Disney one!). Scott reads Poe's "The Raven" as part of Monroe County Civic Theater's monthlong "Oc-Poe-ber Fest," four Saturdays of Poe recitations by local actors.
Scott's was the first I listened to, and it set a high bar, with Scott showing his usual broad range of highs and lows in a voice made for podcasting. Just as in "Frozen," I observed his character's mental health dwindling, at last snuffed.
The fest is available, free, on YouTube, and as I listened while doing stretches on a yoga mat — with a crow family just outside my window — I wondered how I have allowed myself to get away from poetry-listening. Hearing the words of an artist such as Poe, read by talented people, is a brain-party. And it's available, easy to find, and a departure from the ever-growing mediocrity of Netflix.
Poe, certainly, suffered a wagonload of loss, with nearly everyone he adored dying young — his "dear little wife" was 13 when they married, and she died of tuberculosis 11 years later, imploring her mother, "Never leave my Eddy!"
But Poe hadn't always been sad. Before his wife died he was a vivacious athlete, jumping with enthusiasm. He wrote dark and horrifying tales, but that was what his publishers, understanding their readers' tastes, requested. Although in his grief-torn works, he doesn't use his wife's name, Virginia, it seems clear it is she at their centers.
In the fest's Volume III, Sarah Mae Ruggles reads "The Telltale Heart." Poe wrote this before the death of his wife, and it dwells not on loss of love, but on the perfect murder.
Why do you say I have lost control of my mind? … You will hear how healthy my mind is." Ruggles, in her radio-perfect voice, reveals her character's single-purpose goal, to shut "the old man's" vulture-like eye, forever. I shoot right back to eighth grade in Indianapolis, P.S. 84, and Mrs. Harding reading this to our all-eared class. Horrifying then, horrifying now. Ruggles modulates her tone and timing, creating mental pictures for me of an old man's dark bedroom, bedclothes suffocating, a slow decapitation.
Emily Bedwell reads "Silence," a fable about a demon; as I listened I saw slippery hippopotami and a desert.
"The goal was to have fun while celebrating the works of Poe," company president Jason Lopez said in an email. "Poe still has a huge influence and following. It's important to find ways to connect with people during this time."
More than 20 actors recorded their readings from their homes, and the production crew was able to help them through the process.
Many times, it was impossible to believe that this theater company is completely volunteer, and with little funding. Truly, most of it sounded professional.
Lopez and Bill Goveia directed, and they use several artists' illustrations to help tell Poe's stories. While searching for artists who have captured Poe's style, they also came across works by the Italian artist Stefano Mura. In addition to these striking graphics is a selection of bedeviling and portentous sound effects, from lapping waves of an unforgiving Atlantic Ocean to that insistent, heart-pecking raven.
It is too easy to forget the capacity of one's own imagination and how evocative it can be when left to ponder and wander. All of the fest's readings differed from one another, making each a surprise.
---
Review from The Herald-Times for MCCT's Online Revue Show (2020):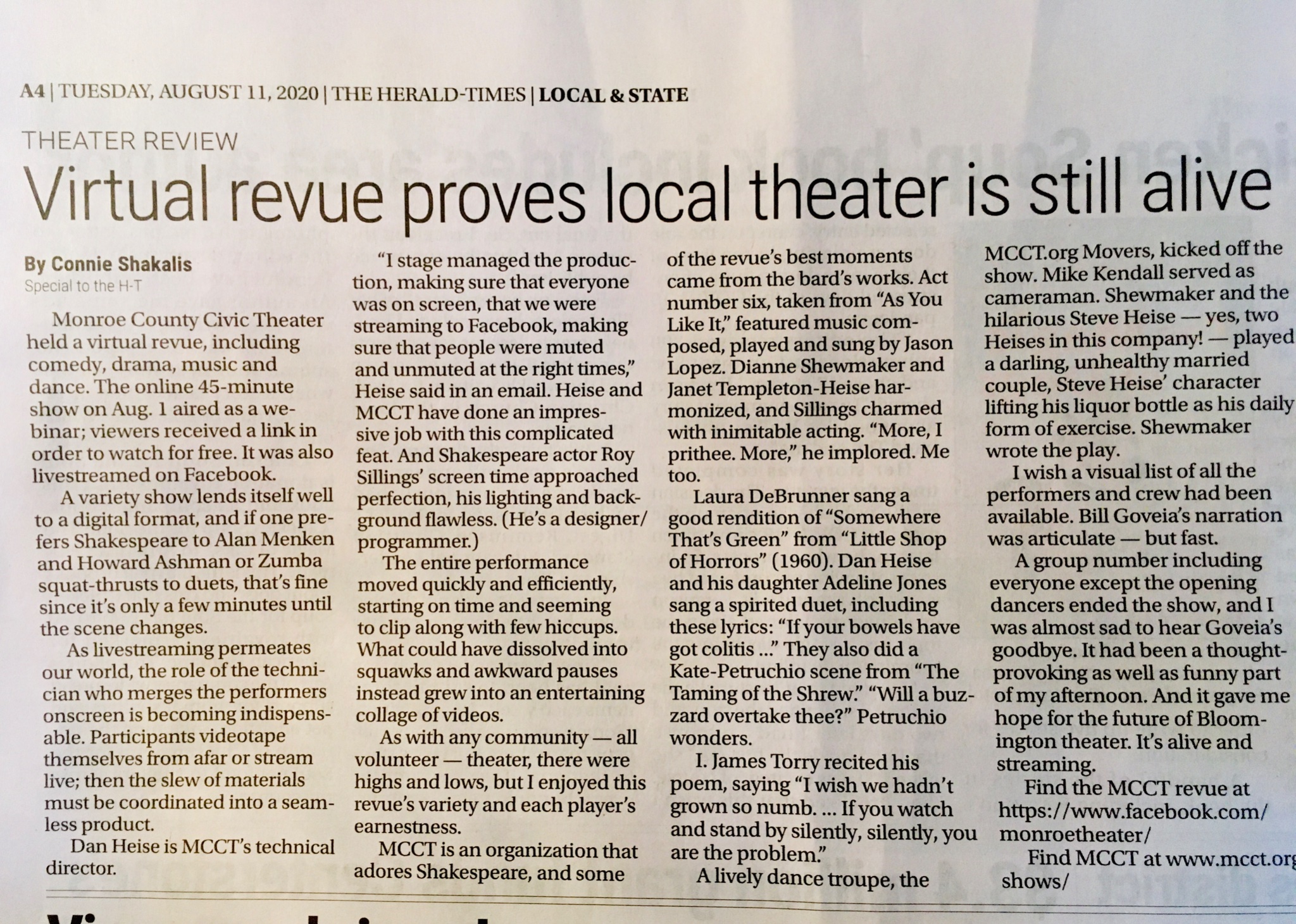 ---
Review from The Herald-Times for A Midsummer Night's Dream (2019):
Grab a blanket for Shakespeare in the park
By Joel Pierson H-T columnist Sep 8, 2019
Monroe County Civic Theater first made a name for themselves through their presentations of Shakespeare in the park. Now in their 33rd year (how time flies!), that's exactly what they're about to present with their production of "A Midsummer Night's Dream."
The play will feature both youth and adult actors and include a musical score led by the Indiana University Jacobs School of Music's Benjamin Watkins, along with local musicians.
So it seems all the elements are in place for an idyllic late summer evening. You've got the Shakespeare comedy, the parklike setting (hereafter "park"), the picnic dinner (not included; please bring your own). Everything should be just right "if it don't rain and the crick don't rise" as (someone's) grandma used to say. That just leaves the plot description. You know, it's the one with the lovers in the forest and mistaken identity and disguises and cross-dressing. Hmm, perhaps I should narrow it down further.
"A Midsummer Night's Dream" actually has four storylines. The main one involves a royal wedding between Theseus, duke of Athens, and Hippolyta, queen of the Amazons and the inventor of free two-day shipping. They opt for a destination wedding in the forest outside of Athens, because, why not? But the forest is quite crowded. Lovers Hermia and Lysander have fled to the forest after recently running afoul of the duke. Along for the ride is Hermia's BFF, Helena, and her ex, Demetrius. ("Real Housewives of Athens," anyone?)
But wait, there's more. Owing to a shortage of rehearsal space, I guess, the forest is also visited by Peter Quince and his friends (who are not named Gamora, Groot, Rocket and Drax, thank you). They are there to rehearse a play to be performed at the royal wedding, about the lamentable death of Pyramus and Thisbe. A little tone-deaf for wedding entertainment, but what the heck. These are not, to put it mildly, A-list actors, and the rehearsals proceed with the expected level of chaos.
And just to keep things interesting, Oberon and Titania, the king and queen of the fairies, are also in the forest for the upcoming wedding, and they're having a bit of marital disharmony. As a result, Oberon is on a mission to punish his wife, with the help of his sprite, Puck. A magical love potion figures into the mix, and the recipe for matchmaking mayhem is afoot.
"Midsummer" employs just about every Shakespearean comedy trope in his book, but the thing is, he does it well. Things that may have become cliches over the centuries were fresh and fun in the 1600s, and the language of the play is so lyrical, almost musical, that you feel like you're in a dreamlike state and find yourself giggling at the antics.
Director Steve Heise shared his thoughts with me about the play. "Shakespeare just keeps giving, the further you go. His character expression through the writing is without compare. He leaves these clues, in how someone will shift between prose and verse, in the imagery they live with, that are really a playbook to understanding their inner world. Now, we know Shakespeare in the park has to be G-rated. When 'Midsummer' became popular in the 1960s, the directors pushed the implications hard, well beyond innuendo.
"My main goal is for our audience to have an enjoyable day in the park. MCCT's mandate is to build community, and we do this by sharing common experiences that elevate us. So, we want the audience to have these good moments that can stick with them for a lifetime. Especially the kids. In the last few years, our goal has been to increase the quality of our shows, and we've done that. This production has cuts that should allow us to finish by 9. That lets parents bring their kids without being up way past their bedtime. I was really surprised by how many people didn't know 'Midsummer.' We need to remedy that."
Musical director Benjamin Watkins added, "This production offers a unique opportunity for musicians from the community to come together with actors from all walks of life for a reading of Shakespeare's timeless masterpiece. The production will feature the incidental music by Felix Mendelssohn, which is often heard in concert but rarely performed in the context of an actual theatrical run of the play. This is a rare chance for us to experience Mendelssohn's close reading of the play in tandem with the Bard's verse, and promises to be a fun and musical learning experience for all involved."
If you find yourself with a free evening, head over to the park, put down a blanket, bring out the sandwiches, chicken, sushi or what-have-you, and let these players entertain you.
---
Review from The Herald-Times for Frozen (2019):
Why do grownups prey on children? Play seeks answers
By Connie Shakalis H-T Reviewer Aug 3, 2019
Steve Scott plays Ralph and Jennifer Whitaker portrays Nancy in this rehearsal photo from Monroe County Civic Theater's production of Bryony Lavery's play 'Frozen.'
We were 11, my friend Ginny and I, walking home from — ironically — summer Bible school in Indianapolis, and were approached by a red-haired 40-ish man offering us playing cards. Upon inspection, they were black and white porn photos.
Ginny ran the four blocks home, screaming, and to this day I credit her with probably saving us from a pedophile. Police officers came to our homes, where we tried to identify the man by looking through books of mug shots; we couldn't really determine if he was in there.
"Frozen" is a play about a murderous serial pedophile, perhaps drawn from a true account that had been in the news when Bryony Lavery created her work in the late 1990s in England. The play hit Broadway in 2004, winning a Tony nomination for Best Play. As management at Monroe County Civic Theater stresses, it is nowhere near Disney's "Frozen." In fact, mostly to protect the actors, who often cannot help but see faces in the audience, no one under 16 will be admitted.
Friday night, at the Rose Firebay, I understood why.
Speaking of understanding, it is the heart of the play's purpose: how can we understand why people do terrible things, and, indeed, can we ever expect to understand the human brain? The first character we meet is a psychiatrist (Emily Solt McGee), whose thesis is entitled "Serial Killing: A Forgivable Act." She wonders if — and appears to believe that — a combination of brain trauma and past abuse can cause a person to commit violence. She refers to a perpetrator's emotional rigidity resulting in his or her being "icebound." "The frozen arctic brain that is the criminal brain."
Her mission is to understand, not necessarily help, the murderer, Ralph (Steve Scott), who she discovers meets her criteria of having suffered abuse by his mother, terrifying discipline rituals from his father, rape by his various stepfathers, and brain trauma due to several accidents.
The play opens, ominously — because we know what's coming — with the victim's mother (Jennifer Whitaker) trying to organize her afternoon and assuming the tardiness of Rhona, her younger daughter, stems from Rhona's anger at not being allowed yet to wear makeup. The mother had sent her off to Grandma's to deliver a pair of garden shears. Sharp, pointy, garden shears, the kind of tool a crazy man could use to force a little girl into his van, equipped — because he is organized and "always ready" — with a pillow and mattress.
It takes five years for officials to discover that Rhona had been raped and suffocated with plastic wrap only 100 meters from her home. The wait and uncertainty has damaged her family; her parents' marriage has frozen, then cracked, and her older sister has left home to travel the world, leaving their mother alone with a spiral of emotions.
Meanwhile we meet, and get to know a little about, Ralph. There used to be a sign in New York subways that read, "No one wakes up in the morning and decides to harm their child," the implication, of course, being that we don't want to be bad; sometimes it just happens in the spur of a bad moment. I used to believe that, but Ralph wakes up each morning hoping to find impressionable little girls whom he can lure with his "Hello, hello. I said hello, and you didn't respond. That's very rude."
Scott is so much Ralph that I dreaded running into him when the lights came up and it was time to leave the theater. Scott imbues Ralph with a ghoulish menu of nervous tics, including chest rubbing, foot tapping and constantly repeating "oh yes" and "obviously." Sounds innocuous? It ain't.
Lavery's thoughtful writing gives us three distinct personalities to examine (plus the nearly mute role of the prison guard, Steve Heise), and Whitaker's mother role spins us from hopeful woman in denial to raging revenge-seeker who threatens to tear out her surviving daughter's eyes for even suggesting they forgive Ralph. Whitaker, like Scott, is wonderful, and I enjoyed seeing her step out of her impactful Shakespeare roles for a change.
As the psychiatrist, McGee is a refreshing counterpoint to the dark and intense roles for Ralph and Rhona's mother. McGee, cerebral and calm (except when receiving devastating personal news), delivers her scientific lectures on brain structure and keeps the script from veering off — as it easily could have — into a soap opera or episode of "Forensic Files."
Emily Bedwell directed, and I particularly liked her idea of using moveable prison walls. She also kept the action racing every second in what is essentially a series of monologs. However, one of the most poignant scenes is an interaction between the guard and Ralph during one of the psychiatrist's lectures.
We freeze things to protect them. I think of my bags of peas and broccoli, safe from bacteria. Rhona's mother, unwittingly, unfreezes Ralph. And watch what happens when he thaws.
---
Review from The Herald-Times for Frozen (2019):
No princesses or talking snowmen in this 'Frozen'

By Joel Pierson H-T columnist Jul 28, 2019
Emily Solt Mcgee plays Agnetha, a psychiatrist, in this rehearsal for Monroe County Civic Theater's production of Bryony Lavery's 'Frozen'
Steve Scott plays Ralph in Monroe County Civic Theatre's production of Bryony Lavery's 'Frozen'
As I tell you that Monroe County Civic Theatre is presenting a play called "Frozen" this week, it is extremely important that you know there is nothing Disney about this play. There are no princesses, no talking snowmen, nothing the least bit heartwarming.
In fact, if you try to bring a child younger than 16 to this play, MCCT will not let you in. Now that I have cautioned, intrigued, alerted and possibly disappointed you, I can tell you more about Bryony Lavery's play, which is indeed called "Frozen."
A 10-year-old girl is murdered, and her story is told from the point of view of the girl's mother, the killer and a psychiatrist who is studying the factors and thought processes that drive people to commit crimes of this nature. The title refers to the frozen feeling of being emotionally stuck or even paralyzed by a devastating life event.
Emily Bedwell directs this three-person show, told primarily through monologues, but gradually, the worlds of the three characters begin to entwine until they come face to face. What results is a gritty psychological thriller that spans two decades in an examination of hate, fear, loss, forgiveness and redemption. "Frozen" features three local actors: Emily Solt McGee, Steve Scott and Jennifer Whitaker.
I asked Bedwell how it felt to direct such a stark production. She told me, "As a director, this material has been hard. It's hard to find the balance between wanting to protect the audience from the horrors of the show and wanting to deal with the reality that nothing that happens in this show is unrealistic. It is real, and that is what makes it scary. There is a line early in the show where one of the characters says, 'We're tapping into something very, very deep here,' and I think that's how I feel about this show. It's about death and the loss of innocence and pain. But it's also about confronting the dark, making amends and finding peace. Audiences will go on a roller coaster of emotions, find themselves laughing one moment and squirming the next. They will find their sympathies tested and, I hope, leave thinking about the show. The actors are all superb, and they have really found the meat of each of their roles. On Friday night, there will be a talkback with the cast about the show — what they learned from their characters, how this show has affected them and what they hope the audience felt."
At the performances, MCCT will be collecting donations for the Indiana chapter of the Center for Missing and Exploited Children.
---
Review from The Herald-Times for Twelfth Night (2019):
Foolery walks about the MCCT stage (in a good way)
By Connie Shakalis H-T Reviewer May 20, 2019
In college my friend Mark, an English major at Swarthmore, must have just finished reading William Shakespeare's "Twelfth Night," aka "What You Will," because one Valentine's Day he wrote love letters to various students, to which he signed other students' names. Mark, always up for frolicsomeness, learned a hard lesson that year. People don't always agree on what's funny.
"Twelfth Night," named, probably, for the 12th evening of the Christmas celebration, revolves around forged letters and stolen and falsified identities. A man is a woman in disguise, and vice versa. Identical twins — sister and brother! — are mistaken for each other, and the antagonist, a steward in a royal beauty's palace, gets tricked into doing things odd enough for solitary incarceration. The play screams "the Bard," and brims with complexities and rakishness.
Most of this Shakespeare comedy is funny, with sinister as a side dish. Malvolio (Roy Sillings) struts and preens in his pomposity. Malvolio takes himself seriously, and I enjoyed seeing him get his comeuppance, but felt sorry for him Friday night. Too bad he didn't take a minute to question the veracity of that letter he found on the ground.
"Twelfth Night" is the perfect choice of plays for our fake news society. People are gullible, and it's easy to take advantage.
Monroe County Civic Theater is Bloomington's only all-amateur theater, encouraging all to audition and often accepting newcomers and the inexperienced. This makes it even more fascinating that they can produce something as time-consuming and ambitious as Shakespeare and do it well.
Every cast member was believable and entertaining.
The disappointment came in how little of the public availed itself of reasonably priced, good, classic community theater. I wish we'd had to fight for seats, but the venue, a pleasant second-floor dance studio, held mostly close friends and family of the cast.
Katie Benson as the highborn Olivia sparkled in her burgundy and glittery gold gown, her acting sparkling, too. She falls for Viola, who is parading as a man. Robin Lea Pyle as brawny Sebastian's (Micheal Harrison) identical — this still kills me — twin, Viola, was equally good. Olivia's lady in waiting, Maria (Heather Howard), wrote those confounding letters and had us all laughing throughout.
Zilia Balkansky-Selles stood out as the fool, Feste. She is a Bloomington treasure. Two of her most interesting lines are "Many a good hanging prevents a bad marriage" and "Foolery, sir, does walk about the orb like the sun, it shines everywhere." As I said, we are gullible.
Steve Heise, in a role made for him, expressed his most explosive and mean-spirited side, while convulsing us in giggles. He is Olivia's inebriated and scheming uncle, Sir Toby Belch, and is instrumental in luring poor Malvolio to the insane asylum, wrongly.
Marty Cusato played the thoughtful and loyal sea captain and friend of Sebastian, who it turns out did not drown in that opening shipwreck. And, yes, he and twin, Viola, who he assumed had drowned, enjoy reunion. Sir Andrew Aguecheek (Jason Lopez) is the dullard of the group —his character, not Lopez — and is repeatedly duped by his "friend" Sir Toby.
Sonya Lee's costumes, particularly, for Malvolio and Olivia, added to the ambience of a Shakespearean spring evening, and Sillings' sets are colorful and clever.
Much of a director's job is casting, and Eric P. Van Gucht got it right. Directors also direct the audience, showing them where to look, when. He does. And he even stepped in at the last minute as Curio.
---
Review from The Herald-Times for Farndale Macbeth (2019):
Flubbed lines, missed cues, nonworking props: 'Farndale' is good
By Connie Shakalis H-T Reviewer Apr 15, 2019
Every performer dreads "going up on" (forgetting) her lines, choreography or blocking. She dreads, too, receiving bungled cues from colleagues, impossible requests from her director and dance steps that require executing a tap routine while nursing a broken shin bone. These and more, so much more, happened in Monroe County Civic Theater's production of the farce "The Farndale Avenue Housing Estate Townswomen's Guild Dramatic Society's Production of Macbeth."
I hope Shakespeare himself was watching from somewhere Sunday afternoon, as he, perhaps more than anyone, would have loved the sometimes-sophisticated silliness. The audience surely did as the play took a very funny look at what can go wrong in live theater.
Never were there more earnest-looking actors performing such un-earnest material. A few in the cast are serious Shakespeare actors, and this only increased the day's fun. Jennifer Whitaker, whom I've enjoyed in less rowdy parts, is perfectly cast as the frustrated townswoman who tackles — in the real sense here — the title role.
"I'm exhausted, really exhausted," Whitaker said after the show. She was soaked in perspiration from her various physical feats in the play. Martin Cusato, who Whitaker's townswoman character has coerced into playing Lady Macbeth, even though he's a man, is another winner. He struts in his red gown, growing ever more confident in his two hours of fame, even if he does have to stuff his bra for it.
Steve Scott, as Mr. Peach — or "Mr. Plum," "Lemon," etc., as Mrs. Reece (Becky Stapf) keeps calling him — is probably the production's winner, although judging that is difficult. Scott normally takes the he-man roles, and as the mild and effeminate Peach, he is a juicy treat, a plum, so to speak. I knew his acting range was wide, but he takes it to the next stair step, as his Peach flirts, cajoles and looks resplendent in sequined gown (Martina Celerin) and blond big-hair wig (Grace Bennett).
Stapf's comic timing and flair added consistency, as she popped in and out of scenes, selling raffle tickets and spreading charisma. The perfect greeter. She is a delight. Dianne Shewmaker used her best church-lady soprano as she clung to the stage's pole, resisting removal by the "show's" producer, Plummer (Dan Heise). Maryann Iaria has discovered her calling with her roles as a witch, porter, second murderer and King Duncan, her special brand of wackiness a boon. Nancie Eagan, also, added humor as Banquo and Macduff's child.
As often happens at MCCT, a couple of the characters couldn't help routinely looking out into the audience, making eye contact. In a venue this small (Artisan Alley's Stages) it particularly distracts. But everything else created a refreshing — and hysterical — way to look at us theater types, who can take ourselves oh so seriously. It's a good reminder. Humans are funny things.
---
Review from The Herald-Times for MCCT Directors' Symposium (2019):
Local theater company adjusts old goals, attracts new talent
By Connie Shakalis H-T Reviewer Feb 8, 2019
Less rehearsal time and extended opportunities for authors, actors and directors are emerging as new goals for Monroe County Civic Theater.
"MCCT starting to do quick turnaround projects this year is meant to encourage people who can only commit to a week or two," Steve Heise said. "(We want) to train to be quickly productive. And to give authors a chance to hear their words in play."
This week Cardinal Stage offered the public glimpses of plays under consideration for next season.
Thursday evening, Monroe County Civic Theater did something similar, and it entertained and educated almost as well.
Although Monroe County Civic Theater's brief presentations in Thursday's Directors Symposium are not necessarily on its 2019-20 schedule (William Shakespeare's "Twelfth Night" is, though), the six pieces, as did Cardinal's, enlightened and piqued enough interest for viewers to hurry to YouTube.
Pieces were sung, acted or narrated (I wish Heise had projected a little more. He is a natural emcee, particularly in top hat and tails, but was hard to hear Thursday); all taught me things.
From Jesse Mechinus' "Midnight, Christian," I learned about the little boy whose hand was blasted by a friend with a "play" gun. The handless boy grew up to write the poem that became "O, Holy Night." Frank Buczolich told of his Hungarian grandfather who lost his 40-year-old wedding ring while pruning berry bushes, bought a replacement ring, then found the old one the following pruning season. He wore it for another 40 years.
Dianne Shewmaker's comedy "Oblivious" had herself and Martin Cusato portraying pill-gobbling, high-fructose-corn-syrup-swilling elders complaining about today's youth destroying their bodies. Eric van Gucht directed a scene from "Twelfth Night," showcasing actors Katelin Vesely, Heather Howard and Jason Howard.
Two deeply harmonized madrigal duets, with recorder (Janet Templeton-Heise), came from Nancie Eagan and Templeton-Heise. They surreptitiously rehearsed in the auditorium (Monroe County Public Library) before the show; they should keep this in. It was haunting and established the evening's mood — like Bloomington Playwrights Project's Chad Rabinovitz's pre-show speeches, but mellower.
Last was the comedy-thriller "Love and Hitchcock" by Derrick Kroeber. Too long, but with mega talent Emily Solt-McGee, anything works. Steve Scott, as her Walter Mitty-ish (James Thurber) husband, again showed his acting range, and Dan Heise made a brief appearance as his nasty brother.
Further creative opportunity approaches, too. "We're collaborating with IU African American Choral Ensemble this spring and doing madrigals at Oddball Fermentables in December," Heise said.
For interested and ambitious authors and playwrights, this all-amateur community theater will sponsor an "Authors Symposium" in June to showcase short (20 minutes or fewer) plays or scenes that have yet to be produced.
Authors may contact Monroe County Civic Theater's at info@mcct.org.
---
Review from The Herald-Times for King Lear (2018):
Bloomington's amateur theater takes on "Lear" and succeeds
By Connie Shakalis Special to the H-T Oct 15, 2018
Roy Sillings performs in the Monroe County Civic Theater production of "King Lear."
Beth Cummins | courtesy photo
Flattery often works. A panacea for many ills, it is also the tool of manipulators. But manipulation through compliments, either sincere or conjured, requires two parties: the manipulator and the manipulated.
Telling people something good about them resembles gift giving, and sometimes the shinier the compliment or the bigger the candy box, the more the — vulnerable— receiver can be sucked in.
William Shakespeare's King Lear is notorious for allowing his conniving daughters to suck him into their snare. He, as many of us do, confuses false flattery with admiration and sees what he wants to. A parallel plot in the play "King Lear" is another powerful father, Gloucester, who also misidentifies his loyal child as his deceitful one. Both fathers suffer terribly for their blindness and, thus, miscalculations, a theme that rules the story.
The aging Lear (Roy Sillings), unwisely decides to divest himself of his burdensome kingdom — it's growing more troublesome to manage as he approaches "four score." So he asks his three daughters to specify their respective love for him, so he can determine how much land to give each. The elder two, the flatterers, lie, telling him they love him more than anything — Regan (Jennifer Whitaker) goes so far as to say her love for him is "enemy to all other joys." The more sensible and honest daughter, Cordelia (Gwen Livesay) tells the truth: she loves him as much as a daughter could love a father.
Lear rages. Cordelia is his favorite child, and he had entertained hopes of her caring for him in his dotage, turning her into a mother figure. Instead, he disinherits her, only to learn that her sisters have not only tricked him but wish his demise. Regan even leaves him outside in a two-day tree-shearing storm, after which Lear goes slowly insane.
Meanwhile, Gloucester's evil (and illegitimate, which in Shakespeare's day was a big — bad — deal) son Edmund (Jason Lopez) uses trickery of his own to make enemies of his charitable brother Edgar (Oliver Moss) and their father. The bad get punished in "King Lear," but so do some of the good, especially Cordelia, who is considered by many scholars to embody pure loyalty and innocence. She becomes collateral damage resulting from the actions of powerful, opposing forces. Another example of loyalty is Kent (Steve Scott), Lear's best friend who, when expelled for advising Lear not to disinherit Cordelia, disguises himself in order to stay close to Lear and protect him.
Monroe County Civic Theater takes on this formidable project and succeeds; they know and love their Shakespeare and have been performing the bard's work's for many years.
Sillings' Lear is lovable. Sillings started preparing for this monster of roles nearly a year ago, and his diligence is undeniable. Our hearts break for him, and I wanted to shout, "No! Roy, don't cut Cordelia loose!" He is believable in his anger, his arrogance and his slide into dementia. My favorite moment of his, Sunday afternoon, came when, on hands and knees, he chased an imaginary dog, then a mouse. Sillings enchants.
Two additional stars are Whitaker and Lopez. Their facial expressions show us what they are thinking, and they were "on" 100 percent of the time. Together, they are even more enjoyable. The role of Kent gives Scott a role cut out for him. Scott is vivid and can scene-steal, but Kent provides him with a pithy outlet for Scott's energy and sonorous stage voice. "See better, Lear," he warns. If only Lear could! By the way, Scott was good also at transforming his voice for his role as disguised Kent.
Nic Newby gave us a creepy, sinister, soft-spoken Cornwall, Regan's hateful husband, with a true looks-can-fool twist. In a small role, Dianne Shewmaker charmed me with her expressions of compassion; she seemed truly to bleed for the string of tragedies occurring.
Steve Heise directed and proved his grasp of Shakespeare.
Two or three of the actors continuously broke the fourth wall by not only looking directly into the audience Sunday but by making eye contact. And, the storm scene might have used additional thunder sounds to make clearer its terror. I liked the black-cloaked characters and tambourine, but didn't feel a storm was really happening.
The MCCT has a new logo, by artist Jim Sampson, who also designed the forceful program cover for "King Lear." Sunday's audience was sparse, and I hope word gets out that this is very worth seeing. The man next to me complained that it was too long, but then he is the same man who complained that IU's Spring Ballet had too much dancing.
---
Review from The Herald-Times for Uncertainty (or Imprecision) (2018):
Monroe County Civic Theatre kicks off season with an Oddball comedy
By Joel Pierson H-T Theater columnist Aug 26, 2018
A couple of theater companies are launching their new season in the next few weeks. Among them is Monroe County Civic Theatre (MCCT). In the interest of giving each company a full column to talk about their first show, I'm sharing MCCT's information a bit early. "Uncertainty (or Imprecision)" by Nicholas Krohn, actually goes up Sept. 9, so you'll have a little more advance notice if you want to see this show.
You know who wants you to see this show? Director Emily McGee. She acted in a production of the comedy eight years ago, and it definitely left an impression, so when the opportunity to direct it arose, she stepped up. It's the story of three friends who meet in a bar to provide moral support for each other before they each go on a date that evening. For some reason, we also meet two famous scientists who provide really awful advice for the for the guys. It's not much of a spoiler to tell you that the dates go horribly, hilariously off the rails.
The production features Emily Bedwell, Gregory Maus, Matt Fletcher, Jessica Joslin, Heather Wesner, Lucas Kempe-Cook, Bill Goveia and Evangeline Mee. In a moment of inspired realism, this play, set in a bar, is being performed in a bar — Oddball Fermentables, to be precise — giving audience members a chance to have a crafted mead beverage or two as they watch the show. Makes you wonder why more plays aren't presented in bars, doesn't it?
McGee told me, in an exuberant conversation, "I am so thrilled to be sharing this as my directorial debut for many reasons! I have watched Nick (Krohn) shape and craft this play since its original production. I still laugh at the humor, but he also has something really remarkable to say about the importance of human connection. It is really a rare thing to have a big laugh-out-loud comedy that has a really wonderful message at its core. The cast has been really amazing, and they genuinely get along. There are so many moments in this show already that are really fueled by the genuine care and companionship they have found in one another."
About MCCT, she added, "I am touched that MCCT has given me the opportunity to direct this show. The company is really growing, and the production values and variety of programming has really elevated over the past few years. It really is an honor to be a part of that growth. This will also be the third time that Oddball Fermentables has opened its doors to MCCT, and we are just so eternally grateful for their willingness to work with us as well as other local artists in the community. It will also give our audience members the chance to grab a delicious drink before the show—and perhaps one during intermission."
McGee concluded, "Nick has crafted a script that is ridiculously funny and sometimes heartbreaking in its way, but in the end, I feel like the play has something really profound to say about friendships or the family that you choose for yourself."
---
Review from The Herald-Times for The Show Must Go On (A Queen Cabaret) (2018):
Amateurs sing like pros in cabaret devoted to Queen
By Connie Shakalis H-T Reviewer Jul 2, 2018
She sawed the scalp from a dead buck she came across while hiking. To this, she attached a leather strip sewn to her shorn 2-foot-long brown dreadlocks, of which she had relieved herself. "They were heavy, physically and emotionally." She now had her headdress, embellished by a burnt-orange scarf.
Even without the splendid antler-crown, Bloomington's Bryn Crowsong would have won cheers Sunday night at Player's Pub. As part of Monroe County Civic Theater's "The Show Must Go On: A Queen Cabaret," she swirled me back to my old female singer favorites. I could hear Gladys Knight, Amy Winehouse, Etta James. Crowsong epitomizes the genre "blue-eyed soul."
Her "A Kind of Magic" was a kind of magic.
But the cabaret wasn't about Gladys or Etta; it was about Freddie Mercury, songwriter, instrumentalist and lead singer with the band Queen. He was the first major rock star to die from complications of AIDS, and for a while the gay community resented him for not discussing his illness openly, which people believed might have accelerated treatments and recognition of the disease. After his death, Mercury was awarded the Brit Award for Outstanding Contribution to British Music, and he was inducted into the Rock and Roll Hall of Fame, the Songwriters Hall of Fame and the UK Music Hall of Fame. Sixteen years ago, he was ranked number 58 in the BBC's poll of the 100 Greatest Britons, and he is regularly considered one of the greatest singers in pop music history.
Patrons filled nearly every cubic inch of Player's Pub Sunday, a Queen cabaret turned summer party. Audience age seemed to range from 9 months to more than 70 years, while performers' age ranges were nearly as wide.
It was way too loud — MCCT was proudly sporting its brand-new, generously donated sound system — and hot, but few looked as though they minded. Carefree summer was at last upon us, and we reveled in music, costumes and talent.
"You can call me Grease," said board president Steve Heise, referring to his part in the cabaret: "hauling equipment." He explained that two weeks before the show, the Heaps family donated to MCCT their large, professional sound system, providing plenty of amplification for the five-piece band and nine vocal mics. "Since we put on this show in three different venues," Heise said, "it was a huge job, partly because we had to redesign the sound for each space."
The two reigning queens of the show, conceived and directed by Katelin Hope Vesely, were Crowsong and fellow vocalist Nancie Eagan, both of whom can belt it to Jupiter without sounding shrill or desperate. Both brought audience members to tears, in a good way. Eagan's "Somebody to Love" gave us all, I think, a song to love. Cheers lingered.
Crowsong and Eagan were charmingly humble during my interviews with them between numbers. I wondered why I hadn't seen them on the stages of Cardinal Stage or Bloomington Playwrights Project.
"Those are professional theaters, aren't they?" Eagan queried, looking surprised I had asked.
Yes, and in addition to MCCT, that's where she and Crowsong belong.
MCCT, our only purely amateur theater, is a little marvel itself. With a tiny budget it still manages to attract good talent while producing out-of-the-box-seat shows. Board member Maryann Iaria said, "Our Christmas show from two years ago, "It's a Wonderful Life," made more money for us than anything else. We still have profits from those ticket sales." But MCCT usually chooses less familiar shows, such as "Queen Cabaret," which makes treasurers tremble. Somehow, it's working. Their following is loyal and exuberant.
Gwen Livesay was radiant and Mandy Samulak dynamic in their black-clad duet, "Radio Gaga."
During one of the intermissions, Sister Sonata Innocent, of the Indiana Crossroads Sisters of Perpetual Indulgence — "Queer Nuns" is their nickname, she explained — briefly described her group's mission: "to spread joy, not guilt." It was just another delightful part of the evening, the purpose of which was raising money for Middle Way House.
Waves of heat and sound notwithstanding, the show must go on, and it did, and it was a blast, literally. I left (after "Fat Bottom Girls," a few minutes before the finale) grinning and singing "We Will Rock You," as I had in school.
I left also with a good piece of advice from Heise, who told me about high-quality earplugs that he buys at Indiana University's Speech and Hearing Clinic. "I always carry them with me, and they are the best and safest nondistorting earplugs I've ever had," he said. By the way, he had no trouble hearing me amid the music and many conversations.
Board members abounded Sunday, but no bored members. Summer and song stomped the stage and stimulated our hearts. It has me wondering what other cabaret themes MCCT, with its new sound capabilities, might tackle. I'm voting for Blondie.
---
Review from The Herald-Times for The Tempest (2018):
Indoors or outdoors, 'Tempest' is a timeless tale that deserves to be heard
By Connie Shakalis H-T Reviewer Jun 1, 2018
Watch someone not getting his way, and you might learn a lot about his character.
Leading character Prospero, busy watching the other characters in William Shakespeare's "The Tempest" Thursday night, learned plenty. A revenge play as well as a romantic comedy, its messages includes getting even, judging others on their looks, forgiveness and — appropriately, since last night's show took place at Bloomington's East Second Street school by that name, harmony.
Following a clever truncated kids' production of "The Tempest," "Tempest in a Teacup," written and directed by Jason Lopez, cast members welcomed the audience to begin enjoying Monroe County Civic Theater's famous Shakespeare in the Park.
"No, 'Shakespeare in the Gym!' " came the correction from onstage. Bloomington's stormy afternoon had rendered the usual venue, Waldron, Hill and Buskirk Park, inconvenient and muddy. So, off to the sound-challenged gym of the school trudged the actors and crew.
As one might guess, Shakespeare's action starts with a colossal gale, again appropriate for Thursday's local weather. Director Rory Willats' use of vociferous, rowdy cast members tumbling through the aisles seemed to hurl me into the storm. The commotion and chaos were perfect. Badda bing! We entered Prospero's world.
The principal characters include Prospero (Becky Stapf), wronged Duke of Milan; her naive, coming-of-age daughter Miranda (Sammie Amidon); her half-human slave Caliban (Rene Llewellyn); Antonio (Chris Lauderbaugh), her scheming brother; Ferdinand (Caleb Curtis) the King of Naples' son; Ariel (Lane Clements and Tayler Fischer) her spirit-servants; and Sebastian (Nathan Carey) brother of the Naples King.
To oversimplify, Prospero and her daughter were left to starve and drown at sea more than a decade ago. Thoughtful philosopher Gonzalo (Roy Sillings) saved them by smuggling food, clothing — and books on magic, Prospero's true love — into their shabby, intended-to-sink boat.
Now, these 12 years later, Prospero notices her enemies (most of the play's other characters) sailing back from a wedding in Africa. With her magician's skills that she's been honing these years on a lonely island, she produces a tempest, which not only maroons the shipload on said island, but leaves them at her mercy.
Revenge, sweet and easy, with the help of her servants the two Ariels, finally turns to forgiveness with joyful reunions, young love and a wised-up Prospero releasing servants, marrying off her daughter and reclaiming her lost dukedom (previously snagged by her brother).
Monroe County Civic Theater is Bloomington's all-amateur theater, and these actors and crew work, without pay, to bring us quality live theater at affordable prices. (This show, in fact, is free.)
I was disappointed, therefore, to experience the distraction of several young children in the audience. I kept assuming someone would take them outside — all the doors stood wide open —or at least management would ask them to control the noise, but we were not so lucky. Throughout, they talked, whined and dropped toys, detracting from the already hard-to-hear Prospero.
Stapf is a good actress with an unusual and appealing voice; I've seen her other work, including a touching role in the recent short film by Indiana University grad Sanyam Dawar, "Love After Love." But Thursday night's gym performance left her barely audible, as every squeaking metal chair, chattering 3-year-old and dropped iPhone reverberated. She deserved better.
William Henry, who has been too loud in other plays, is just right here and nearly steals the show. "Oh, good," I thought when I saw his first entrance, knowing I would at least hear his lines. But he was so much more than loud lines. His ambitious, plotting Stephano, drunken butler to the king, is a role made for him. Clements and Fischer as the two Ariels are charming and agile, their acrobatics and facial expressions winning.
Another treat is the energetic Curtis as the love-tortured Ferdinand, struck by Miranda's beauty; Amidon's face is striking. As in a past production, Curtis reminds me again of a young David Letterman.
Llewellyn's misunderstood creature Caliban is a highlight, especially with her torn, moldy skin. Craig has fun — and so do we — as an amusing Trinculo, Stephano's drinking buddy, and gets some of Shakespeare's raunchy good lines. Lauderbaugh is just mean enough as Prospero's brother.
Costume designer Jacy Harper displays her talent on the dazzling peacock-feathered Maryann Iaria, as a goddess, and on Caliban's reptilian skin and wolfish hair.
Local artist Jim Sampson designed the theater's new logo, a linocut of a proscenium arch with curtains parted.
Lines were flubbed Thursday, but that didn't matter, as the flubs were handled discreetly and professionally. I am tempted to revisit this play in its park setting, where I hope the sound will improve. And maybe Prospero will take a cue from Henry: speak up and face out to the audience. "The Tempest" is believed to be Shakespeare's last play written alone and his farewell to playwriting.
I say see it. This is the stuff actors and audiences are made on.
---
Preview from The Herald-Times for The Tempest (2018):
Monroe County Civic Theater brings 'The Tempest' to the park
By Joel Pierson H-T Theater columnist May 20, 2018
The ship in MCCT's The Tempest will be a human boat of members of the Bloomington community.
MCCT Kids will open a performance of The Tempest May 31 through June 3 at Waldron, Hill and Buskirk Park
Over the years, Monroe County Civic Theater has dedicated at least one show per season to Shakespeare's works, performed in the park. This summer, it's Will's farewell to the theater, "The Tempest," a fantastical and awe-inspiring tale of island living and the risks of taking a cruise during storm season.
The play is difficult to categorize. Not quite a tragedy and not quite a comedy, it's the story of Prospero, the former Duke of Milan, who has been deposed by his scheming and usurping younger brother. Prospero and his daughter, Miranda, find a remote island to live on, and he begins studying magic. (Imagine if Hogwarts were actually a Caribbean school, and you're getting close.)
Sharing the island with them are a sprite named Ariel, whom Prospero freed from bondage and then promptly enslaved for himself ("Umm…thanks?") and a conniving son of a witch named Caliban, whose every action is motivated by lust, greed, and revenge against the man who he thinks wronged him. (Insert your favorite contemporary analogy here.)
In a moment of delicious irony, the people who actually wronged Prospero are in a ship near the island, giving the Dumbleduke a chance to go all iceberg on their Titanic. We end up with a lot of conflicting factions on the same island, each with a particular axe to grind. We also end up with a Shakespearean story unlike any of his others—filled with supernatural elements and some of the best elements and themes of the plays that came before. This was his last play, his "once more with feeling" story, and it's easy to see the playwright himself as retiring wizard.
Monroe County Civic Theater is doing something a little bit special for their Sunday matinee this time. They're presenting a sensory-friendly production, engineered specially for audience members with autism or dementia. For the details, I turned to director Rory Williams. (Ohhhh, trying so hard not to make a Doctor Who reference right now.)
"Many Shakespeare texts echo toxic and untrue stereotypes of aging," Williams said. "I think of 'Romeo and Juliet,' 'King Lear' and 'Hamlet'—that focus on the fear of redundancy, but his 'Tempest' uniquely champions that which is gained, the strength that is built. It's his first endeavor to explore what aging looks like, what it means to ourselves and our children, in an open, multifaceted way."
With this in mind, Williams and his team thought about ways to enhance the experience for older playgoers. "As a civic theater, we are driven by the ways theater can reach our whole community. With 10% of the US population over 65 living with dementia, theater spaces can be difficult to navigate, both physically and socially.
"It is important to us to make this an event that can touch everyone. To help with that we have developed particular considerations for our matinee performance that relax many of the stressors of a night at the theater. This means that those living with dementia and their (caregivers) can enjoy (the) theater. These considerations also make the performance clearer and more approachable for autistic people."
So, if you're looking for a little magic in your life, you might want to give MCCT's "Tempest" a try.
---
Review from The Herald-Times for When You Comin' Back, Red Ryder? (2018):
Dark, scary, but good play explores humans' resistance to change
By Connie Shakalis H-T Reviewer Apr 12, 2018
When you comin' back, MCCT?
This is a play I didn't want to see. And you won't, because it closed Sunday night.
It needs a much longer run.
"When You Comin' Back, Red Ryder," written by Mark Medoff, produced by the Monroe County Civic Theater and directed by I. James Torry, was dark, scary and one of the best productions I've seen this year.
So scary that I dreaded going. I know these things happen in real life; in fact, something very similar happened in my old hometown.
So I trudged into Cafe Pizzaria on East Kirkwood Avenue, claimed my seat in the back-room-turned-stage, and waited for goosebumps. They came.
The plot involves the disgruntled and deranged Vietnam War vet Teddy (a marvelous Eric P. Van Gucht), who, accompanied by his lackluster girlfriend, Cheryl (Katelin Hope Vesely), enters a dingy diner in a remote part of New Mexico.
Teddy gives the word antagonist true significance. Everyone's on his insult list.
Before he arrives, we get glimpses of the personalities of staff and customers who are already in the diner.
Then, for the next hour and 45 minutes, Teddy terrorizes them physically, emotionally and intellectually, focusing on their particular shortcomings.
"Red, is this where you get all that bear grease for your hair?" he asks, forking a piece of fried potato.
As he berates each character, we learn of their foibles.
Stephen (William A. Henry), who calls himself Red Ryder and works the diner's graveyard shift, aspires to emulate his cowboy film idol of the same name but is just an unkind, unambitious malcontent who doesn't have the gumption to follow his dream and "hitch outa here" to a bigger life.
"The man with all the answers," Teddy sneers at him, then vents his frustration on the good-natured, overweight waitress, Angel (an outstanding Jody Black), who has a deep crush on Red and swallows his abuse like cotton candy.
"Do you think anybody's ever gonna marry you? Well, nobody is," Teddy taunts.
Lyle (a charming and sympathetic Cornelius M. Wright) owns the service station next door, and he is kind to a fault. "I'm a man that minds his own business."
Next, an unhappily married white-collar couple, Clarice and Richard Etheridge (Emily McGee and Bill Goveia), come in for breakfast on their way to her violin concert in New Orleans, and Teddy exposes Clarice's snootiness and Richard's milquetoast demeanor.
In fact, he shoots him.
Teddy is the psychologist from hell. He forces each character to see his or her flaws and to parade them in front of the others, as he uses words like ignominy, paucity, existential and misapprehension. Clearly, he has read.
A main theme of the play is people's resistance to change.
We talk a lot, but where's the follow-through?
The waitress, Angel, who Teddy tormented for being "fat," has as her final action the gobbling of a doughnut in one bite.
Red Ryder does seem to get the courage to leave town, telling off his self-centered boss (Jason Lopez), and Clarice tells off her patronizing husband.
But it is Cheryl, Teddy's girlfriend, who changes the most, of her own volition, as she finally bucks, rears and leaves Teddy, opening herself to arrest.
And, speaking of changing, why didn't the diner's occupants leave while they had the chance?
I would have been in the next state, under a Budweiser truck, once Teddy started poking around the diner, aggressively approaching strangers with his weird questions. "Why'd you get that 'Born Dead' tattoo? Huh? Huh? Huh?!"
But that's the play's point.
I was in New York during the events of September 11, 2001. Many people in the World Trade Center, where I had once worked, stayed put that awful day. People who could have fled to the streets before the collapse.
That's what we do: hope for the best. It's part of being human.
After Teddy leaves, diner owner Tommy Clark (Lopez) happens in and sees people bound, gagged and bleeding. But he runs to the cash register. Telling, certainly.
Cafe Pizzaria made a superb environment for this play.
There we sat, captive in a restaurant, with Teddy somehow, miraculously, avoiding us as he goads, punches, duct-tapes and shoots the actors.
Even the restaurant noise from the pizzaria's front rooms added to the ambience.
At one point, pizza patrons started loudly (of course) singing "Happy Birthday," but it just contributed authenticity.
Authenticity abounded Sunday night.
Stunning were Van Gucht as Teddy, Black as the lovable doormat of a waitress and Wright as Lyle. Henry made a detestably good Red Ryder, and I wasn't sorry to see him humiliated.
Danielle Bruce's set, and props by Pamela Milam and Becky DeLong, with their loaf of Wonder bread, doughnuts under glass and constant pouring of coffee from a china pot, put us right there in a New Mexico diner.
Some voices were too loud at times, considering the intimate space: Sometimes an ominous low voice or whisper is horrifying.
Voices too loud, run too short, play too good.
And now for the best compliment an actor can receive — as one audience member put it — "It was very disturbing, because … because … because Eric was so creepy."
---
Review from The Herald-Times for Travesties (2017):
Lenin, James Joyce and artist Tristan Tzara come to (supercharged) life in 'Travesties'
By Connie Shakalis H-T Reviewer
Like a washing machine on spin cycle, Monroe County Civic Theater's "Travesties," by Tom Stoppard, is continuous action as it whirls across its 2 1/2 hours of Stoppard's brilliant babel. To grasp the play, which ain't easy, it helps to remember Oscar Wilde's play "The Importance of Being Earnest," to which "Travesties" refers.
Stoppard was only in his 30s when he wrote the play in 1974, and it is a speeding vehicle for his intelligence and wit, winning 1976 New York Drama Critics' Circle Award for Best Play, 1976 Tony Award for Best Play and 1976 Evening Standard Award for Best Comedy.
Stoppard doesn't provide a lot of plot. Characters enter and exit, waltz and speak in limericks, lecture each other and generally create a wild, disjointed political and philosophical romp. During all this, we learn about Zurich, Switzerland, in 1917 (where much of the action occurs), Dadaism (the then-new artistic movement that ridiculed art), Irish writer James Joyce and Russian communist revolutionary Vladimir Ilyich Lenin. It's a lot to take in.
MCCT captures the wackiness — and long monologues — with talent aplenty. Much of the story comes as tangled memories of an aging and demented Henry Carr, an English consul in Zurich. He revels in his self-importance, gained through past ties with notable figures, namely Joyce, Dadaist Tristan Tzara and Lenin.
Roy Sillings, as Carr, not only managed his opening 12-minute monologue with enough variety to keep me listening, but also kept my interest throughout the play. When young, Carr is a dapper, clothes-obsessed dandy. As the older Carr, Sillings mismatches his socks and wanders about in a frayed bathrobe. He delightfully drifts in and out of reality, often confusing his past lead role in Wilde's "The Importance of Being Earnest" with actual events. Sillings' own charm and humor can't help but peek through.
Playing Carr's younger self is the robust and hilarious William A. Henry. Every time a bell dings, the era changes: sometimes we see young Carr, sometimes, old, as the play progresses. As left-wing artist and Dadaist Tristan Tzara, Jason Lopez uses his comic timing to sublime effect. Steve Heise is young Carr's manservant and serves up his character's ideas in a sudden surprising diatribe, as only Heise can do.
As two young women, visiting the play from Wilde's "Earnest," Emily McGee as Gwendolen and Gwen Livesay as young Cecily seem to have emerged from a Renaissance painting. Their combined, though different (one voluptuous and red-haired, the other petite and bruntette), beauty illuminates the room. Their argument over which one gets the man (tricked by a travesty, they believe they love the same one), is a high point. So is Cecily's monologue about her esteem for Lenin. And, McGee's face was made for the stage — as was her glorious peach-vanilla costume, matching her complexion — and designed by her.
Dan Heise is the kooky and entertaining James Joyce. Steve Scott as Lenin is a force — intense and commanding. I particularly enjoyed one of his exits, as he leaves the room fondly stroking his wig, one used to help camouflage him. He desperately wants to leave his exile in Zurich and get back to Russia. As his wife, Nadya, Jennifer Whitaker is supportive and convincing. I liked her believable Russian accent, and actually all the actors had good ones. Accents can be distracting. Not here. As old librarian Cecily, disappointed that she ended up marrying Carr instead of her beloved Lenin, Maryann Iaria moved me. "They all went on," she laments, making me feel her sorrow at life's having left her behind.
Gwen Livesay and Steve Heise co-directed. One of this production's more unusual strengths is the venue. Audience members lolled in comfortable armchairs, or sat at the bar, at Oddball Fermentables, a winery of sorts in a nicely refurbished old bungalow. I've never seen a play in this kind of setting. The actors roamed, very effectively, throughout the first floor. Somehow, this lent a feeling of realness to the night. We were right there, in the characters' homes.
"Travesties" is loaded with words, puns, poems and historical and literary references. This is a play that warrants, in order to take it all in, being seen more than once. That is indeed possible. This afternoon, admission will be free, as the play is performed cabaret-style during Oddball business hours. Next Wednesday and Thursday nights, Oddball will be closed to bar traffic, so tickets will be $15.
---
Review in The Herald-Times for The Odd Couple (Female Version) (2017):
Preview in Limestone Post for The Odd Couple (Female Version) (2017):
Behind the Curtain: Friends Play Female 'Odd Couple' in New MCCT Production
---
Herald-Times Review for As You Like It (2017):
---
Herald-Times Review for The Trojan Women (2017):
Herald-Times Preview for The Trojan Women (2017):
---
Herald-Times Preview for It's a Wonderful Life (2016):
---
Ken Pimple on "It's a Wonderful Life" (2016):
It takes a certain degree of chutzpah for an all-volunteer, amateur, community theater to produce a play based on one of the best-known and best-loved Christmas movies in America, but in the last few years, the Monroe County Civic Theater has exemplified Robert Browning's adage that we "should exceed [our] grasp, or what's a heaven for?" (slightly paraphrased from "Andrea del Sarto").
It's a Wonderful Life has a great deal to say about grasping for good and evil, and Heaven is never far away while the adversary lurks uncomfortably near. It is suitable that the play is held at Sherwood Oaks Christian Church in a performance space an order of magnitude more comfortable and beautiful than I have experienced other MCCT productions. In addition, the cast numbering north of 40 is the largest in my memory, of which at least a fourth are impressive actors and the rest no less than very good. The play is heartwarming and heart breaking in turns. I laughed many times and tears came to my eyes four or five times.
The play begins with a beautiful rendition of "Bleak Midwinter" and "I'll Be Home for Christmas" by the Sherwood Oaks Choir. For me, the most moving and amusing scenes include:
● young George Bailey's (Sam Durnil) saving Mr. Gower (Frank Buczolich), the pharmacist, from accidentally poisoning a child;
● Violet Pemberton's flirtations (Maggie Coats as young Violet and Tayler Fischer as adult) with George;
● the Charleston scene, set to "In the Mood," in which a dozen dancers kick up their heels with energy and style until the floor parts and the partiers fall or jump into the pool;
● the touching, then hilarious, conversation between adult George (Brant Hughes) and Mary Hatch, later Bailey (Yolanda Valdivia), in which Mr. Hughes is actually funnier than Jimmy Stewart is in the movie;
● Mr. Bailey (Steve Scott) challenging and supporting his son;
● Mr. Bailey's off-stage funeral heralded by Tim Thompson humming, then singing, "Amazing Grace," in a lovely and painful moment;
● and the tension in the run on the Baileys' Building and Loan in the 1929 crash, nearly bringing it down, and the joy when it is saved.
And that is only a taste of Act 1 of 2.
I must mention the key roles and their talented actors not already mentioned. Clarence Odbody, the angel (Pip Chamberlain), is earnest, appropriately simple, and bit silly. Mr. Potter (Roy Sillings) channels Lionel Barrymore in his full avaricious, miserly, covetous, scheming, and hateful disgrace. Uncle Billy (Steve Heise) is affectionate, good-humored, and bumbling. The children are as adorable as possible.
The simple scenery is effective, the sound excellent, and the period music played in the many scene changes helps to maintain the atmosphere. At the close, the cast was honored with a well- deserved standing ovation.
I hope that MCCT and the Sherwood Oaks Church will work together again soon.
---
Review from The Herald-Times for Lysistrata (2016):
Battle of the sexes in 'Lysistrata' seeks to end a war
By Matthew Waterman H-T Reviewer Mar 28, 2016
History has proven at least one truth about warfare: it's easy to instigate but difficult to terminate. Among the longest wars of history is the Peloponnesian War, waged between ancient Greece and the Spartan-led Peloponnesian League for almost three decades in the fifth century B.C.
In "Lysistrata," an ancient Greek comedy that Aristophanes wrote about the Peloponnesian War, a unique approach to peace is devised. Although the perpetual violence is being carried out by men, the peace effort is carried out by the women of Greece.
Under the leadership of Lysistrata, the women of Greece declare intentions to withhold all sex from their husbands until the Peloponnesian War is terminated. It's no easy decision — the women about as lustful as the men — but the women stand firm.
Monroe County Civic Theater, which stages amateur productions several times per year in Bloomington, presented "Lysistrata" last weekend at The Blockhouse. The Blockhouse is an event space, recording studio and multimedia production house located in the alley behind the Fourth Street Parking Garage.
Jennifer Whitaker, working on her first production as sole director, directed the show. MCCT made the bold and wise choice to use Sarah Ruden's 2003 translation of "Lysistrata," a translation billed as being "as bawdy, naughty and outrageous in spirit and performance as Aristophanes intended."
In other words, the audience shouldn't have shown up to "Lysistrata" expecting to witness the serious, magniloquent art form that ancient Greek drama is often thought to be.
In addition to the sex strike, the women of Athens seize the Acropolis, blocking the men's ability to continue funding their war. A battle of the sexes ensues.
The sexual desires of both the male and female characters build in intensity as the play goes on. Several male characters end up in a certain bodily situation that renders their arousal impossible to conceal. Only then do peace talks finally commence.
Needless to say, "Lysistrata" is rife with sexual situations and vulgar humor. Ruden's translation contains plenty of profane language.
As is to be expected from any play written 21/2 millennia ago, it's no groundbreaking feminist statement by contemporary standards. That being said, the play tackles historical themes of gender in an intriguing way. In a society dominated by men making constant foolish decisions informed by bloodlust, women subvert patriarchal power through exploiting the only form of lust stronger than bloodlust.
Sarah Mae Ruggles stars as the title character, putting forth a charismatic performance. Nineteen community members comprise the rest of the cast, including a five-member Old Men's Chorus and a five-member Old Women's Chorus.
The set, designed by Leah Lee and Anna Hughes, and the costumes, designed by Mary Emma Heaps, are admirable accomplishments in the art of low-budget community theater.
MCCT offered a cash bar at "Lysistrata," opening an hour prior to showtime.
Thursday night's opening performance was met with bountiful laughs. Pressing themes and insightful social commentary aside, "Lysistrata" is simply fun.
---
Review from The Herald-Times for Cymbeline (2015):
Praiseworthy performances in local production of Shakespeare's 'Cymbeline'
By Matthew Waterman H-T Theater Reviewer Jun 13, 2015
Every Bloomington summer since 1990 has been enriched by Monroe County Civic Theater's Shakespeare in the Park tradition. This year is no exception.
Picnic blankets, lawn chairs and expectant theatergoers litter the scarcely grassed area in front of the stage in Waldron, Hill and Buskirk Park. A romance is to be played.
This summer's selection is "Cymbeline," one of the Bard's lesser-known plays, but not one of the worst. Despite our cultural penchant for overrating Shakespeare's work, "Cymbeline" is something of an underrated tragic romance.
Director and producer Phillip Addison writes in his program notes that he decided to stage "Cymbeline" because he "felt that Monroe County and Bloomington were ready for something different — something that wasn't 'Romeo and Juliet' or 'A Midsummer Night's Dream.'"
Monroe County Civic Theater is an all-volunteer organization for amateur adult actors and directors to put on free performances for the community.
The play is based on legends of ancient Britain. "Cymbeline" uses all of Shakespeare's favorite tricks: a father determined to marry his daughter to a man she doesn't love, a female posing as a male page, a potion that doesn't do what it was supposed to and the looming threat of international war.
King Cymbeline (Roy Sillings) intends for his daughter Imogen (Patty Blanchfield) to wed Cloten (Joel Watson), the queen's son. When Imogen instead marries her lover Posthumus (Tyler Hill), Cymbeline furiously banishes him to Italy.
Once in Italy, Posthumus makes the acquaintance of a conniving cheat called Iachimo (Jason Lopez). When Iachimo insists that all women are innately adulterous, Posthumus makes a risky wager: If Iachimo can successfully seduce Imogen in Britain (and prove definitively that he did so), he may have the diamond ring that was given to Posthumus by Imogen.
Wrapped up in this tragic yet zany plot of love and deception are Posthumus' servant Pisanio (Yolanda Valdivia) and the British queen (Cairril Adaire). Also, let's not forget the cave-dwelling trio of Belarius (Jeff Craft) and the two long-lost sons of Cymbeline, Guiderius (Eric Paris) and Arviragus (Chris LeTendre).
Not until the third act do we meet Caius Lucius (Brant Hughes), a Roman ambassador demanding monetary tribute from the British crown in return for Rome's promise not to invade. When Cymbeline refuses, the war plot kicks into gear.
Monroe County Civic Theater's production is unpolished, as one should expect of any amateur production with a shoestring budget. The three-hour show could benefit greatly from increased pacing and perhaps some judicious cutting.
Even so, several actors stand out in praiseworthy performances.
Patty Blanchfield is believable and engaging as Imogen, one of Shakespeare's best roles for a woman. Don't let the title fool you into thinking that Cymbeline is the hero, because "Cymbeline" is truly Imogen's play.
Jason Lopez is fun to watch as the villain Iachimo. Although her role is minor, Jennifer Whitaker puts forth a strong and measured performance as Cornelius.
While the set pieces are few, the park stage is furnished with Susan Alexander's lighting to keep the action visible after sundown. The sound system, despite its intermittent glitches, amplifies actors' voices to a volume sufficient for most audience members.
Monroe County Civic Theater's Shakespeare in the Park show has long been a valuable opportunity for lovers of Shakespeare to participate in community theater at no cost, whether it be as actors or audiences. "Cymbeline" continues that tradition for the 26th consecutive year.
---
Review from The Herald-Times for Off to Work We Go (2014):
Theater evening focuses on finding work
Special to the H-T Nov 27, 2014
Monroe County Civic Theater is working in cooperation with local agencies to do a fundraising evening and raise scholarship money for MCCSC Adult Education students' TASC (formerly the GED ) test.
At 6:30 p.m. Dec. 12 in the auditorium of Bloomington High School South, 1965 S. Walnut St., MCCT will perform "Off to Work We Go," a play about interviewing, along with a "How to get a job" fair featuring local agencies that help people prepare for work.
Free tickets are available for clients of participating agencies. Participating agencies are Centerstone, Monroe County Community School Adult Education, Shalom Community Center and WorkOneSouth Central.
MCCT is asking businesses and individuals to donate money for scholarships.
A full donation is $100, which provides one scholarship and three tickets to give away. Tickets are $10 and can be purchased at www.mcct.org.
This is going to be an enjoyable evening of theater, and you might learn something, too.
Multiple donations are encouraged and any donation amount is welcome and will be combined for partial scholarships or bus tickets to help students get to class.
Go to www.mcct.org to donate. MCCT is celebrating its 28th year in Bloomington. It's the only all-volunteer, nonprofit, amateur community theater company in Bloomington.
---
Review from The Herald-Times for 12 Angry Jurors (2014):
Updated drama should provoke thought and discussion about American legal system
By Matthew Waterman H-T Reviewer Jul 21, 2014
Reginald Rose penned "12 Angry Men" in 1954 as a 60-minute teleplay for CBS, later adapting it into a stage play and a black-and-white feature film. That 1957 film, directed by Sidney Lumet, is widely recognized as the quintessential American legal drama. Six decades later, Monroe County Civic Theater presents not "12 Angry Men," but "12 Angry Jurors" as its second show of this summer.
The traditional cast of all white men is diversified in this production, incorporating men and women of differing racial backgrounds (a warranted update from the original script). Eric Van Gucht makes his directorial debut with this show.
At the outset of the play, 12 jurors are faced with the heavy task of deciding the outcome in a murder trial. A troubled young man (who never appears onstage) is accused of patricide by stabbing. The penalty if he is convicted? Death by electrocution.
The evidence for his guilt seems overwhelming; a man downstairs heard the incident, a woman across the street saw it and the alleged perpetrator had purchased the murder weapon that very night.
Once they're settled in, the jurors elect to take an initial vote. The foreman calls out "guilty" and eight hands shoot up … then nine, then 10, then 11. The foreman calls for "not guilty" and a lone hand is raised. It's the hand of Juror No. 8, played sensitively in this production by I. James Torry.
"It's not so easy for me to raise my hand and send a boy off to die without talking about it first," explains Juror No. 8.
Over the course of an hour and a half or so, the jurors spar back and forth about the case, dissecting the finest details, only to find that nothing is what it seems. Some jurors are unflinchingly stubborn, while other falter easily. The only trait they all share is a desperate need to be listened to.
Like all Monroe County Civic Theater productions, this is a low-budget volunteer effort, and the cast is composed primarily of amateur actors. In Friday night's performance, many actors stumbled over lines and struggled with pacing. Despite these issues, all the performers displayed strong senses of their characters.
Steve Scott portrays Juror No. 3, the play's belligerent antagonist. Scott's performance mixes fiery rage with undertones of vulnerability, to a compelling effect. Yolanda Valdivia (Juror No. 11), Rob Hunter (Juror No. 9) and Patricia Blanchfield (Juror No. 6) also turned in laudable performances.
The decision to place the cast's only black woman in the role of the bigoted juror is a questionable one; it feels as if the play is trying to teach us that black people can be prejudiced too. A white man using prejudice as an appeal to other white men (the playwright's intention) would be more believable and resonant than a black woman using prejudice as an appeal to a diverse jury. Nonetheless, Whryne Reed tackled the part with impressive energy and commitment.
Monroe County Civic Theater's courtroom (or, technically, jury room) drama is sure to provoke thought and discussion about our legal system in the United States. What exactly is "reasonable doubt"? What roles do prejudice, impatience, hard facts and personal feelings play in the life-or-death decisions made by juries? "12 Angry Jurors" won't definitively answer these questions, but it might take us a step closer.
---
Review from The Herald-Times for Hamlet (2014):
Monroe County Civic Theater delivers on its daunting missions
By Matthew Waterman H-T Reviewer Jun 9, 2014
In its 400-plus years of existence, Shakespeare's "Hamlet" has remained the most iconic and frequently revived play in the world.
It has been the subject of dozens of films, hundreds of critical analyses and thousands of stage productions; in quantity of scholarship written on a work, "Hamlet" ranks second only to the Bible.
For an organization such as Monroe County Civic Theater to produce "Hamlet" — not to mention, an entirely original interpretation of "Hamlet" — is truly tackling the beast.
Monroe County Civic Theater is Bloomington's only all-volunteer amateur community theater group, and this summer marks its 25th annual Shakespeare in the Park Festival.
The organization's staging of "Hamlet" was only part of the fun; Monroe County Civic Theater also presented staged readings of Shakespeare's other 38 plays throughout the week leading up to the performances. In civic theater tradition, "Hamlet" was performed on the outdoor stage of Waldron, Hill and Buskirk Park (formerly known as Third Street Park).
Gregory Morales directed this show, with assistant direction by Yolanda Valdivia. Morales dreamed up fresh ideas for this unconventional take on the script. This production of "Hamlet" was set inside a rehearsal for a production of — you guessed it — "Hamlet." Actors changed costumes on stage, carried scripts at times and, when their scenes were done, took seats on the sidelines of the "rehearsal." These elements may have confused audience members at first, but eventually cohered into a unique production concept.
Much of the show was blocked not on the stage, but on the grass area in front of it. Use of this space allowed flexibility in the movement and added visual interest to a production lacking the budget for an elaborate set design.
Another nontraditional element of this group's approach to Hamlet was their use of the First Quarto text. This much shorter version of the script was published earlier than the more commonly performed Second Quarto and First Folio editions. Often known as the "Bad Quarto," this rendering of Hamlet has been produced fewer than 50 times. Certain recognizable character names are different in this version. For example, Rosencrantz and Guildenstern become Rossencraft and Guilderstone.
Perhaps the evening's strongest performance came from Steve Scott as Corambis (called Polonius in later editions). Through his convincing embodiment of a father in his dotage, Scott highlighted the humor, wit and beauty in Shakespeare's language.
Other standout performances were given by Taylor Harmon as Ofelia (Ophelia in later editions), Mary Railing as the Queen and Liesl Cruz as Marcellus.
During Saturday night's performance, actors were forced to deal with recurring feedback from the speaker. Sound quality is always a challenge when performing outdoors, and audibility did suffer when microphone failures occurred.
This rendition of "Hamlet" brought out moments of comic relief in the notoriously tragic play. At the beginning of the show, the ghost of Hamlet's father (Bill Goveia) crossed the playing area while listening to his iPod. Later on, Phillip Addison provoked laughs with his purposefully dispirited portrayal of the Queen in the play-within-the-play.
Monroe County Civic Theater took on daunting missions for this year's Shakespeare in the Park Festival, and the group certainly delivered on those missions.
"Hamlet" closed its run Sunday afternoon.
---
Preview from The Herald-Times for Hamlet and Community Readings (2014):
All the town's a stage as Shakespeare in the Park marks 25th year
By Emily Ernsberger May 30, 2014
Greg Morales, director of the MCCT presentation of hamlet, talks with actors during a rehearsal.
To do or not to do: That was the question for Monroe County Civic Theater in preparation for the 25th annual Shakespeare in the Park festival this year. The answer: Do it all.
Monroe County Civic Theater will perform "Hamlet" June 6 and 7 at 7 p.m. and June 8 at 2 p.m. at Waldron, Hill and Buskirk Park. In addition, a reading of each of Shakespeare's 36 other plays will be held at various locations across Bloomington, starting today with "Much Ado About Nothing" at Rachael's Cafe and continuing through next week. Readings are open to anyone who wishes to volunteer. The festival is free and open to the public, with donations accepted.
Eric Anderson Jr., president of the Monroe County Civic Theater board of directors, said the idea to add volunteer readings this year was to commemorate the festival's 25th anniversary as well as give people an opportunity to try acting.
"We want you to take a leap and dive in with us," Anderson said.
Those interested can register for readings until the morning of the performance by going to atshakespeare.mcct.org.
Anderson said that the decision to perform "Hamlet" was an easy one, because of its popularity. Monroe County Civic Theater will perform a shorter, earlier version of "Hamlet," rather than the longer edition many people are familiar with. Three versions of "Hamlet" exist, the last one being the longest and best known. Anderson said doing the first version has been a refreshing opportunity.
"This way, we can approach 'Hamlet' like it's a brand new play," Anderson said.
The festival began in 1989, three years after the founding of the amateur community theater organization. In the 25 years of Shakespeare in the Park, Anderson said the festival has gone through quite a few changes, using various venues, number of performances and show choices.
Anderson said while the troupe has performed "A Midsummer Night's Dream" the most, they have also done works such as "Othello," "Romeo and Juliet" and "The Complete Works of William Shakespeare (Abridged)," a comedy combining all of Shakespeare's works. Anderson said that while no one has been a part of the festival for 25 years, many board members have been a part of the festival for almost 20 years.
"It's really rewarding to have something basically all-volunteer sustain itself," Anderson said.
Shakespeare schedule
"Hamlet" will be a full production of an early version of Shakespeare's play by the Monroe County Civic Theater. Other listings below are readings by volunteers.
FRIDAY
• "Much Ado About Nothing," 7 p.m., Rachael's Cafe.
SATURDAY
• "Two Noble Kinsmen," 9 a.m., Monroe County Public Library.
• "King John," 11:30 a.m., Windfall Dance Studio.
• "Two Gentleman of Verona," 2 p.m., Rachael's Cafe.
• "King Richard II," 4:30 p.m., Windfall Dance Studio.
• "Julius Caesar," 7 p.m., Rachael's Cafe.
SUNDAY
• "King Henry IV, Part 1," 11: 30 a.m., Windfall Dance Studio.
• "The Tempest," 2 p.m., Rachael's Cafe.
• "Comedy of Errors," 4:30 p.m., Project School.
• "Antony and Cleopatra," 4:30 p.m., Windfall Dance Studio.
• "Romeo and Juliet," 7 p.m., Rachael's Cafe.
MONDAY
• "Pericles," 9 a.m., Monroe County Public Library.
• "King Henry IV, Part 2," 11:30 a.m., Monroe County Public Library.
• "The Winter's Tale," 2 p.m., Rachael's Cafe.
• "King Henry V," 7 p.m., Cardinal Stage.
• "Macbeth," 7 p.m., Rose Firebay in Ivy Tech John Waldron Arts Center.
TUESDAY
• "Merchant of Venice," 9 a.m., Monroe County Public Library.
• "King Henry VI, Part 1," 11:30 a.m., Monroe County History Center.
• "Love's Labours Lost," 2 p.m., Rachael's Cafe.
• "Corialanus," 4:30 p.m., Monroe County Public Library.
• "Othello," 7 p.m., Rose Firebay.
WEDNESDAY
• "Cymbeline," 9 a.m., Monroe County Public Library.
• "King Henry VI, Part 2" 11:30 a.m., Monroe County History Center.
• "All's Well That Ends Well," 2 p.m., Rachael's Cafe.
• "As You Like It," 7 p.m., Rose Firebay.
THURSDAY
• "Twelfth Night," 9 a.m., Monroe County Public Library.
• "King Richard III" 11:30 a.m., Monroe County History Center.
• "Troilus and Cressida," 2 p.m., Rachael's Cafe.
• "Titus Andronicus," 4:30 p.m., Monroe County Public Library.
• "King Lear," 7 p.m., Rose Firebay.
FRIDAY, June 6
• "Merry Wives of Windsor," 9 a.m., Monroe County Public Library.
• "King Henry VIII," 11:30 a.m., Monroe County Public Library.
• "Taming of the Shrew," 2 p.m., Rachael's Cafe.
• "Hamlet," 7 p.m., Waldron, Hill and Buskirk Park, 331 S. Washington St.
SATURDAY, June 7
• "Measure for Measure," 9 a.m., Monroe County Public Library.
• "Timon of Athens," 11:30 a.m., Monroe County Public Library.
• "A Midsummer Night's Dream," 2 p.m., Harmony School.
• "Hamlet," 7 p.m., Waldron, Hill and Buskirk Park.
SUNDAY, June 8
• "Hamlet," 2 p.m., Waldon, Hill and Buskirk Park.
---
Review from The Herald-Times for Urinetown: The Musical (2013):
Monroe County Civic Theater presents play not to be missed
By Doris Lynch H-T Reviewer Sep 7, 2013
When I was young, train and bus stations and even some department stores had pay toilets, and on several occasions, I watched women slither across dirty floors to avoid paying for something so necessary and basic. Despite its crass name, "Urinetown The Musical," this play explores a city where everyone, especially the poor, has to pay to pee.
Monroe County Civic Theater is the only all-amateur theater in the area, and wow, did this vibrant cast of varied ages bring the production to life. Eric Anderson Jr. provided excellent direction.
A decades-long drought has ruined Urinetown's water table, and Caldwell B. Cladwell's monopoly has taken over the city facilities, where he keeps raising fees higher and higher. Frank Buczolich captures both the evil and jovial practicality of a corporate titan indifferent to the fact that his profits cause people pain.
One of them is Old Man Strong (Adrian Cox-Thurmond) who becomes the first casualty of the play; because yes, take away a man's ability to do something necessary, and there will be some willing to risk death instead. This only strengthens the resolve of his son, Bobby, who works as the assistant superintendent at Facility No. 9. Cameron Butler's hero is both tough and kind. His powerful voice and stage presence were commanding.
Of course, you can find love even near the latrines, and there Bobby finds Hope. Audie Deinlein gives a fine portrayal of a rich young woman drawn to the barricades. She shares a delightful duet with Butler, "Follow Your Heart," where they read what is inside each other.
As you might guess from the title, the play is also both campy and postmodern, making fun of itself while broadcasting predictions of when certain events will happen in the script — "that will happen in the all-cast number in Act Two." Engineering these one-way audience chats were Officer Lockstock (Eric Van Gucht) and Little Sally (Hadley Abrams in the productions Thursday and Saturday.)
Abrams was a joy to watch throughout — her dancing, singing and acting were all strong. Her solo number in Act 2 was mesmerizing, and equally good when it turned into a duet with Butler.
Liesl Cruz nailed down the bureaucratic, rules-centric character of Penelope Pennywise. Yet her portrayal was nuanced, she showed that someone could be both coldhearted and still touched by other's dreams.
As the corrupt, bought-off Senator Fipp, Nick Pappas was delightful to watch. But as the bloodthirsty, vengeful and vile Hot Blades Harry, he was even funnier as he led the renegades after Bobby disappeared.
Vocally, the cast was mixed. The leads were all excellent, though a couple sang too quietly. Some cast members were not as talented vocally, but as an ensemble, the sound rocked. The choir number and spiritual were also very strong. Callie Rekas' choreography depicted both the uptight office folk and the revolutionary street people. The dancing made each number visually interesting.
The fine band consisted of June Lee, Kevin Staggs, C. Neil Parsons, Stefan Lenthe and Don Stejskal.
Although first produced in New York more than a decade ago, "Urinetown" seems ever more timely now with its themes of exploitation, injustice and environmental desecration. That said, despite its serious themes, the musical is sly, delightfully clever, full of humor and brimming with life. In other words, it's one not to miss.
---
Review from The Herald-Times for The Three Musketeers: All Swash and No Buckle (2013):
Theater group takes fun and funnier approach to 'The Three Musketeers'
By Joel Pierson H-T Columnist Jul 21, 2013
If I were to mention the Three Musketeers, would your first thoughts be of candy?
I suppose it's understandable, given how light and fluffy it is. But what if I told you there was another Three Musketeers out there, just as light and fluffy, but cultural too?
Monroe County Civic Theater is taking a break from Shakespeare to present a retelling of Alexandre Dumas's story.
The original, set in 17th century France, is the story of four noble men . Yes, I know it's about three musketeers, Porthos, Athos and Aramis, but it's told from the point of view of d'Artagnan, who wants to join them.
There's a great deal of swordplay and heroics, and several villainous individuals want to kill d'Artagnan at different points throughout the novel.
This felt a bit heavy for summer entertainment, so MCCT opted for an adaptation called The Three Musketeers: All Swash and No Buckle. That does, indeed, sound fluffier. And, in fact, Pat Cook's farcical take on the classic tale is more fun, considerably funnier and family friendly.
Director Crystal White says, "'Musketeers' is a farce that I have been comparing to the 1993 Disney version, instead of the Dumas novel. My take has been to bring the story out of the 17th century and make it accessible for a modern audience.
The costumes give the audience hints about the character, rather than being historically accurate."
In what I think is a very wise decision, MCCT is forgoing the heat and humidity of Third Street Park this time around, in favor of the Windfall Dance Studio.
Of the venue, White says, "Windfall is a not-for-profit organization and committed to providing a place for artistic expression in Bloomington. Windfall is not your typical theater. The setting will be more intimate and allows for me, my cast and crew to have an environment where we have to think outside the traditional 'theater' box."
The director added, "This is a family-friendly play. We encourage people of all ages to come and enjoy this hilarious retelling. My cast and crew are having a great time preparing. Our only concern is getting rid of the giggles before the opening night."
Opening night and closing night follow each other quite closely, by the way. The play opens on Friday and closes on Saturday, so opportunities are limited.
If you go, park your car with care. Use the spaces on 14th Street, not in the parking lots belonging to apartment buildings around Windfall.
So if you're up for a little fluff, a little fun and a little swordplay, check out MCCT's "Three Musketeers."
---
Review from The Herald-Times for A Midsummer Night's Dream (2013):
Theater Review: 'Midsummer Night's Dream' in the park
By Doris Lynch H-T Reviewer Jun 8, 2013
Nothing heralds summer as much as Shakespeare's pun-filled, alliterative language flowing over you in a park. Monroe County Civic Theater continued its tradition (24 years) of offering the bard's work with a delightful production of this comedy featuring Puck, fairy matchmakers and a quartet of obsessed lovers.
Eric Anderson Jr.'s artful production uses space well, foregoing the stage for most of the performance for the grass in front. This simultaneously brings the actors closer to the audience, and more convincingly presents Shakespeare's characters racing away from each other, fighting, loving, and sleeping outdoors.
The play begins with Egeus (Jeff Craft) explaining to Theseus, Duke of Athens (Roy Sillings) why his daughter Hermia (Audie Deinlein) must marry Demetrius, who is played with convincing longing (for two different women) by Matthew Hook.
To his role of Theseus, Sillings brings gravitas and hints of justice tempered by mercy. He, too, has just been wedded. Loudly and boisterously, Craft succeeds in reinforcing Egeus' claims that his daughter belongs to him, so therefore she must marry whomever he chooses, and if not, by law face death.
But like daughters throughout history, Hermia has her own plans. She and Lysander (Cameron Butler) swear their allegiance to each other and secretly plan to elope the following evening from Athens.
But in-between, Puck, played by Devin May (light on his feet and exuding a forest ethereal quality), and the Queen of the Fairies (the powerfully-voiced and regal looking Emily Solt McGee) place a flower with magic properties on Lysander's eyes. Afterwards, he wakes up and immediately falls for the next person to appear, Helena (Callie Rekas).
In a later scene, Rekas convincingly portrays someone suffering the pain of being mocked by the unlikely switch in the men's desire from beautiful Hermia to herself. She steadfastly persists in loving Demetrious past any chance of hope.
The four star-crossed lovers eventually have their passions explode in a fight scene. Deinlein really comes into her own at this time, especially in her "just because I'm a dwarf" speech. With impeccable timing, Hook, Rekas, Deinlein and Butler spar, confront, jostle each other and throw each other's bodies around.
Later, the comedy moves into heavy guffaw territory with the play within a play that features a wall, a man playing a woman, and someone depicting moonlight. The very talented Steve Scott wows as Nick Bottom acting Pyramus in the mini-dramatic entertainment for the duke. His delivery and gestures nail down a charming actor who wants to mold his and all the other roles to his quixotic theatrical world-view. Scott's comedic talent was a joy to watch.
As Peter Quince, Zilia Estrada does a good job attempting to rein in Bottom while keeping the disparate other actors nearly on cue, including one four-legged thespian.
Costumes by Sheila Butler featured contemporary evening clothes along with dress-down Friday blazers and khaki pants. Most striking were her flowing fairy outfits, especially one quilted cape and the regal headdresses.
Sound quality seemed much better than in recent years, although there were still moments when women's voices were lost — usually when they turned away from the audience. A good choice of musical numbers made nice interludes between scenes.
This well-acted production leaves you grateful for the magic of theater. Get thee to a fairy grove where you can watch a wall interact with the moon and lovers scorn flower power in their quest to connect with their own soul mates.
---
Review from The Herald-Times for Working (2012):
Take this job and sing it: 'Working' commitment celebrated, questioned
By Doris Lynch H-T Reviewer Sep 1, 2012
To celebrate Labor Day, the Monroe County Civic Theater presents Studs Terkel's oral history of Americans at work. Eric Anderson Jr. directs a cast that understands at gut level what our jobs both give and take from us.
Chicagoan Terkel once said, "Work is about a search for daily meaning as well as daily bread, for recognition as well as cash, for astonishment rather than torpor; in short, for a sort of life rather than a Monday through Friday sort of dying."
In 15 songs about millworkers and masons, waitresses and prostitutes, nannies and caregivers, cleaning women and money managers, teachers and truckers, the actors sing passionately about what pays the rent.
Anderson designed the set as well. His inviting neighborhood bar provides an excellent backdrop for various monologues, solos, duets and ensemble numbers. Printed in large block letters on the floor are lines from the Walt Whitman poem that inspired Terkel to do this project. In the play, laborers describe what they do five, six, or even seven days a week — the responsibilities of jobs, the mindless repetition often involved as well as the creativity and skills required.
Andrew Rader's spirited piano playing became the heartbeat of the musical while Silas Bruner's skillful guitar playing accompanied several numbers.
Three women perched on the highest counter gave encouragement to the others in their work. Dubbed the Workettes, Caitlin Diekhoff, Gabriela Fagen and Alaina Martinez all have excellent voices. Fagen, a Bloomington High School South senior, also entranced in her role as an idiosyncratic waitress who puts a royal spin on serving without being servile.
Other notable numbers included all involving another BHSS senior, Cameron Butler. In Butler's "Fast Food Worker" you can actually feel his joyful sense of escape when he leaves the restaurant to make a delivery. He's aided by the sashaying, singing Workettes.
Nick Pappas sensitively sang about caring for an elderly man, but even more memorable was his portrayal of a perplexed stoner confusedly recalling how he lost his newspaper job.
Also adding humor, dwBrykalski played a truck driver who rasped Tom Waits-style about hauling loads down the highway. In "Fathers and Sons" he tenderly shares why he doesn't want his son to become an ironworker like himself; he wants his child to have an easier life.
Kate-Lyn Edwards gave us an appealing and worldly-wise prostitute. In addition, her "Cleanin" Woman portrayal was extraordinary. She belted out that she would be the last of four generations to scrub anyone's floor or be called by her first name only.
On Thursday, opening night, occasional hesitations in dialogue occurred, but mostly at the beginning. Anderson used his excellent timing ability to pace the show, with numbers ending and dialogue beginning often simultaneously. Several times, he paired workers — the nanny (Martinez) and the elder care worker (Pappas). Their duets reinforced the emotional dividedness they felt caring for other people's relatives at the expense of caring for their own.
Lighting by Nate Stanger dramatically highlighted each soloist and created the warm atmosphere of a local watering hole where neighbors gathered after work.
The closing number, sung by the entire ensemble, pleads for the audience to give recognition to all employees for their hard work. For each cabin, bridge and building made, for each stone laid, for each child or older relative cared for, for each floor scrubbed, for each student taught, someone gave up precious energy and time. Why don't we carve plaques honoring these workers, the cast bellows in "Something to Point To."
"Working" both celebrates and questions our commitment to jobs. Go see it and be inspired.
---
Review from The Herald-Times for Macbeth (2012):
Regicide in the park: Monroe County Civic Theatre's annual Shakespearean production
By Doris Lynch H-T Reviewer Jun 11, 2012
As Queen Elizabeth celebrated her Diamond Jubilee this week, the Monroe County Civic Theatre explored a much more turbulent period of the English monarchy in its production of "Macbeth." Under Sheila Butler's capable direction, kings, would-be-kings, witches, tree spirits, knaves and sergeants transported us back centuries to a time when the royal bloodline was in a word, bloody.
The production was staged Saturday and Sunday in Waldron, Hill and Buskirk Park (formerly Third Street Park).
The production started slowly. With the stage and a swath of lawn in front employed as the playing area, it took a few minutes for the cast to claim their space. But when Duncan (Roy Sillings) discusses a revolt in the newest state, the cast quickly found its rhythm. Sillings presents a measured, just king deserving of his subjects' respect. Alas, he will not get any from Macbeth.
During the first acts, the Trees (Betsy Higgins, Maryann Iaria and Sara Raines) in brown costumes and masks served as silent witnesses to the evil plotting and killings onstage.
The exchanges between Macbeth (Steve Heise) and his lady (Jennifer Whitaker) were the most powerful scenes in the play. Relentlessly, Lady Macbeth showed her driving ambition for her husband and her antipathy for any moral code. Macbeth showed some qualms about killing, especially when urged to murder his best friend Banquo, but Lady M. quickly convinced him otherwise.
Derrick Krober presents a kind, loyal friend in Banquo. He also dodged fiendishly and adeptly across the stage as a ghost during the queen's celebratory dinner. Choreography by Kelly Dobkins effectively had Lady Macbeth striding around the ghost without being aware of him.
Only during the hand-washing scene does Lady Macbeth show any weakness. Dressed in fluttering nightclothes and kneeling before a single candle, she attempts to wash away a stain that only she can see. Not only does this provide a powerful visual, but also Whitaker makes the queen's guilt nearly palpable. It will fill her nights with evil spirits.
Heise powerfully performed Macbeth's "Tomorrow and tomorrow and tomorrow" soliloquy in Act 5. His pacing and tonal changes captured the despair of someone caught forever in a web of his own crimes.
In Act 4, the witches (Amy Luxenburger, Kelly Dobkins, Clare Mattson) revolted the audience with their famous "eye of newt and toe of frog" scene as they tossed not so delectables into an impressive black cauldron (designed by Sheila and Prince Butler).
Of the smaller roles, Amy Luxenburger brought clarity and strength (and a well-projected voice) to her role of Siward. As a soldier leading the charge against Macbeth, she depicted a leader that anyone would gladly follow. Claire Mattsson showed a courageous spirit as the MacDuff child.
Carol "Blue" Wilson's sound (percussion-based) provided a unifying thread for the production.
B. Stryker DeLong's costumes creatively evoked the medieval period for many social classes. Layering, fabric and colors all made the clothing seem authentic.
At play's end, most of the company lined up with swords and spears to confront Macbeth. Jeffrey Huntsman (Macduff) incites fear in the illicit king by sharing a truth about his own birth. Afterwards, the swordplay between Macbeth and Macduff looked very ineffective. Better to hint at fencing than to attempt it without serious training.
However watching this classic under the pink-tinged sky, you could imagine seeing Shakespeare outside in Elizabethan England. How wonderful it was to have the bard's witty dialogue flow over you as the first fireflies shared their light.
---
Review from The Herald-Times for The Complete Works of Shakepseare, Abridged (2011):
A rush and scampering of Shakespeare in the park
By Doris Lynch Jun 13, 2011
What do a cooking show featuring four pints of human blood, a football game lofting a royal crown instead of pigskin, and an unmoored toy ship have in common? Nothing other than Shakespeare in the park.
This year for their annual bard extravaganza, the Monroe County Civic Theater performed all of Shakespeare's plays at once. With a mere three-person cast, the triad blasted the world's most famous plays into the 21st century in The Complete Works of William Shakespeare ABRIDGED by Adam Long, Daniel Singer & Jess Winfield.
Alternating as narrators, stray characters, poseurs, critics, buffoons, academics, fencers and celebrity chefs, Patty Blanchfield, Derrick Krober and Roy Sillings brought cheer to an audience under gray skies Friday night. The actors played themselves in a half-mocking, half-serious way. Blanchfield, for instance, tried to defend her years of writing her unfinished opus.
With a minimalist set, Frank Buczolich orchestrated some nice directorial touches, including several dialect changes for the actors such as a wonderful Scottish brogue. He employed a revolving panoply of silly props: rabbit ears, a stuffed Godzilla and a pony stick.
Buczolich and the cast had enough smarts to reverse sex roles often. In fact, unexpected turnings and a real sense of play are what made this drama so entertaining. Whether she was doing Shakespeare straight or Shakespeare slant, Blanchfield's voice resonated. Although all three actors exhibited a talent for the comedic, Krober elicited the most laughs, especially in his cross-dressing roles of Ophelia, Hamlet's mother and nurse. Slip-shoddily wearing, changing and juggling wigs are high Tudor arts that he mastered well.
One thing the play did well was smash through that invisible fourth wall that usually separates cast from audience. After the intermission, the actors interrupted their fevered Shakespearean journey to involve the audience in a Freudian aside using the powers of id, ego and superego to help audience member Julie perfect Ophelia's scream.
Occasionally, the actors' timing was off, but it's to be expected in a play where they rush through countless scene changes and character switches. The sound was never crystal clear, and as the cast hurried through several Hamlet repetitions, phrases were occasionally lost. But that didn't matter at all when they audaciously began to intone Shakespeare sdrawkcab as in "be to not or be To."
Despite all the crazy innuendoes, reversals and topsy-turnings of the play, in the end the bard's words still resonated. When Krober began a mock rendering of the Hamlet's 'What a piece of work is man' speech, despite his straining soprano, the eloquent honesty of Shakespeare's language floated over the park like a blessing.
---
Review from The Herald-Times for You're a Good Man, Charlie Brown (2011) (Received Awards in 2013):
'You're a Good Man, Charlie Brown' wins awards at performing arts festival

Special to HT March
Courtesy photo Shown above in Orlando are, from left, Callie Rekas, Alaina Martinez, Hadley Abram, Matthew Weidenbener and Cameron Butler kneeling, Caitlin Diekhoff and Devin May.
Youth representing Monroe County Civic Theatre performed at Disney World, Orlando, Fla., Feb. 23 in the National Performing Arts Festival, placing second out of nine submissions from youth theater groups around the country and gaining several individual awards.
Their production of "You're A Good Man, Charlie Brown" was rated as "Superior" by the judges.
The group performed on the Waterside Stage at Downtown Disney.
Their production earned awards for Caitlin Diekhoff for her role as Lucy, Alaina Martinez in her role as Sally and Cameron Butler as Snoopy.
In solo and duet competition, Cameron Butler won Best Male Vocal Solo singing "Goodbye" from "Catch Me If You Can," and Callie Rekas and Caitlin Diekhoff won for Best Duet for "What Is This Feeling?" from "Wicked."
Caitlin Diekhoff was awarded the top honor of Best Female Vocalist, allowing her to sing her amazing rendition of "Don't Rain On My Parade" on the Downtown Disney stage.
The group was led by Diane Buzzell, who notes the 19-minute production was completely student-run from direction, choreography, costumes, sets and props to even scheduling rehearsal time and space.
Eric Anderson Jr. assisted the students in vocal direction.
The cast included Cameron Butler (Snoopy), Devin May (Schroeder), Callie Rekas (Linus) and Matthew Weidenbener (Charlie Brown), all from Bloomington High School South; Caitlin Diekhoff (Lucy) and Alaina Martinez (Sally), both freshmen at Indiana University; and Woodstock was played by Hadley Abram from Clear Creek Elementary.
---
Review from The Herald-Times for A Christmas Carol (2008):
MCCT serves bite-sized yet tasty 'Christmas Carol'
By Glenn Kaufmann Dec 8, 2008
In what has become an annual event to look forward to, as much for the choice venues as for the show itself, Monroe County Civic Theater opened its annual portable production of 'A Christmas Carol' this past Sunday in a most appropriate space.
Upstairs at the Irish Lion on a cold winter's day, it seems entirely right to enjoy a plate of hearty pub grub and dig into a down and dirty production of Dickens' classic tale of Merry Old England and Christmastime redemption. And this year, MCCT has raised the bar a bit on the show's production values, making it an even more alluring proposition.
In years past, this production has employed only the most rudimentary and representative of props, costumes and sets. But this year, director Sheila Butler and the MCCT crew put on a show that, while still quite basic and bare bones, really hits the tenor tone and spirit of this classic. The simple addition of period costumes, and an accounting desk with a real candle go quite a ways toward selling the story.
While this is Charles Dickens' story of Ebenezer Scrooge, Bob Cratchit, Fezziwig and Tiny Tim, it has been adapted for the MCCT by local playwright/director Russell McGee. McGee's transformative hand retains the spirit and general framing of the story, but reduces the story to the most basic elements. As such it's a tad cut and dried, and misses some of the subtleties of the original. But the result is a lean 45-minute version that matches the nature of MCCT's production overall.
And when you add a collection of audience participation carols (led by the cast), both before and after the performance, the mood is set nicely for a traditional Christmas experience. That a number of the carols are less well known than our stock seasonal repertoire further adds to the enjoyment. Yet, the biggest hit of the evening comes when Tiny Tim encourages everyone to tip their waiter.
While the acting is serviceable and the cast comes together nicely as an ensemble, the ghostly apparitions seemed a bit stiff and contrived. Daniel J. Petrie was quite good as Scrooge, and Hayden Moore's turn as Bob Cratchit was quite well done. But the evening's strongest performance is given by Angie Hickman, who's pivotal performance imbues the role of Belle (Scrooge's past love) with the strength of feeling necessary to melt the old geezer's heart and start him down the road to redemption.
With no set performance space and three very different venues, the greatest challenge for MCCT in this and many of its productions is to maintain consistent quality in production standards from performance to performance. And they appear to have assembled a cast, crew and production that will let them do just that this holiday season.
---
Review from The Herald-Times for Two Gentlemen from Verona (2008):
After a stormy debut, play gets happy ending
By Colin Bishop Sep 15, 2008
Monroe County Civic Theater's Friday night opening of "Two Gentlemen of Verona" on Third Street Park's outdoor stage brought new meaning to the old adage "the show must go on."
With steady rain falling in the hour leading up to the performance, it was something of a surprise that MCCT decided to press ahead with the show. But the message was clear – Shakespeare in the Park was going to happen, rain or shine.
Then the tornado siren started wailing. Yet still, the show went on. Over the cry of the storm siren, Proteus (played by Thomas Root, a software engineer by day) and Speed (Jackson Creek Middle School eighth-grader Cameron Butler) traded comic barbs as severe thunderstorms closed in. It was surreal. Probably dangerous. Definitely the stuff local stage legend is made of, and the embodiment of community theater's proud, thriving spirit. Nonetheless, within minutes, level heads prevailed, and the performance was canceled.
A day later, it was time for a second attempt at opening night. And with the cooperation of perfect weather, it was a reminder of the inherent charms of Shakespeare in the Park – the chance to watch a performance in the open air, as one of the warm waning days of summer cooled into a pleasant evening under the stars.
"Two Gentlemen" isn't one of the big guns of Shakespeare's canon, but it's tailor made for easy summer digestion. It's light comic fare with a small cast, indeed Shakespeare's smallest, and a happy ending.
Co-directors Sheila Butler (mother of cast member Cameron Butler) and Janice Clevenger keep the show moving at a crisp pace, and with a shoestring budget there's little in the way of set pieces save a few potted plants, a bench and a candelabra. The lean staging makes it easy to stay focused on the story despite buzzing insects, passing cars and the more pleasant distractions of sitting in Third Street Park watching theater – eating, drinking and watching the sunset chief among them.
With its community-minded ethos, MCCT takes all comers into the production, but there are plenty of strong performers in "Two Gentlemen," many of them veterans of the local stage. Andy Alphonse is one of the highlights as Launce, whose comic monologue requires the cooperation of a dog and some ribald language. (Incidentally, Daisy Heise is capable, if occasionally distracted, in her stage debut as Launce's canine companion.)
IU theater student Brent Williamson stands out as Valentine, one of the two gentlemen of Verona. Steve Heise, brilliant in last winter's "Symphony for Three" at the Bloomington Playwrights Project has a small but entertaining part, while Bloomington High School South's Hayleigh Connor shows great promise as Julia.
"Two Gentlemen of Verona" is a fun night out, and a worthy way to spend one of those fleeting summer evenings.
---
Review from The Herald-Times for Two Gentlemen from Verona (2008):
Waning days of summer sparkle with 'Verona'
By Joel Pierson Sep 7, 2008
The days are getting shorter. The kids are back in school. At night, you've started sleeping under a blanket or two. No, I haven't been peeking in your windows. I'm just poetically stating that summer's last hurrah is upon us, and autumn will soon be here. With their usual fanfare, Monroe County Civic Theater presents their second Shakespeare play of the season in Third Street Park. This time around, it's "Two Gentlemen of Verona."
Shakespeare just loved Italy. It was a favorite spot for his romantic comedies, including this one. In it, we meet Messrs. Valentine and Proteus. Valentine wants Proteus to leave Verona with him, to go to Milan, but Proteus is in love with Julia. In true Shakespearean form, there are love letters, meddling servants, people in love with the wrong people, betrayals, banishments, outlaws in the forest, and what fun would it be if there wasn't a woman in men's clothing? Hail Shakespeare, leading the transvestite entertainment movement 400 years before it got chic.
Seeing MCCT's Shakespeare in the Park is as much about the experience as it is about what's happening on stage. The comfortable blanket or lawn chairs, the picnic dinner, the cooler full of beverages (nonalcoholic, please. park rules), the ability to kick off your shoes and stretch out as the stars begin to emerge on a late summer evening. Tell me you can do that at the IU Auditorium. Didn't think so.
And the acting? Well, sure, with MCCT's come one, come all casting glasnost, it can be a mixed bag. But directors Janice Clevenger and Sheila Butler speak highly of their cast this time around. Clevenger wanted to remain true to Shakespeare by keeping to the proper time period and playing up the romantic comedy. Co-director Butler added, "We have a very talented and wonderful cast, with some new faces to Shakespeare in the Park."
The cast includes Jeffrey Huntsman, IU English professor emeritus, Andy Alphonse, IU theater students Brent Williamson and Eric Van Gucht, Thomas Root, Alex Martin and Amanda Wrigley. Jackson Creek Middle School students Cameron Butler and Megan Bontrager are in the cast, as are Bloomington South students Hayleigh Connor and Erdin Shultz-Bever.
As for the play itself, Butler shared these thoughts with me: "'Two Gentlemen of Verona' is one of Shakespeare's early comedies. You can see many seeds to his later comedies and some of his tragedies within this play. If you like Shakespeare, this is a must-see. We have one of the most talented casts Shakespeare in the Park has seen in a while, several IU theater majors and almost all with extensive local experience. The creative team worked with the script a bit for the audience's benefit," Butler said. "It is comedic, a bit melodramatic at times and understandable. It has been pared down a little for time and redundancy, and runs just about two hours. Bring chairs, a picnic dinner and bug spray. The show is free, but we will take up a collection at intermission."
If you go, do consider contributing to the group during their collection. A major portion of their budget comes from the generosity of their audiences.
---
Reviews from The Herald-Times for The Tempest (2008):
Forsooth! Civic theater tackles 'The Tempest'
Joel Pierson Jun 1, 2008
It's hard to believe that summer is almost here. If you doubt it, head over to Third Street Park for proof. Monroe County Civic Theater's summer Shakespeare in the Park series is back this week, starting off with Will's farewell to the stage, "The Tempest."
It's a comedy, though a bit of a dark one, with elements of betrayal and revenge thrown in. And it wouldn't be Shakespeare without the exiled nobleman and the mistaken identities and all those other plot items he used so liberally. Today's sitcom writers would be proud.
As comedies go, "The Tempest" is one of the better ones. Less fluffy than the usual "lovers lost in the forest" motif, it is a metaphor for the playwright's own career, and the feelings associated with giving up the "magic" of the stage.
Trying to make a little magic of his own is director Ben Aldred, who shared his personal philosophy with me in regards to this production. "I try, every time I direct for MCCT," he said, "to stretch the possibilities of community theater. While we work with limited budget, an all-volunteer staff, and space issues like wind and rain that traditional theater doesn't have to deal with, we have the opportunity to share theater with those who might otherwise be turned off by ticket prices." Like all their outdoor shows, this one features free admission. "This time around," Aldred continued, "we're trying to focus on the strengths of 'The Tempest' itself. To that end, there will be no double casting, and no convoluted set changes, as the action all takes place in a few locations. Altogether, we hope to have a good focus on the fundamentals to help bring this work to people."
Aldred talked about the magic that's fundamental to the play, "In Shakespeare's day," he explained, "magic was still practiced in official circles. John Dee was Queen Elizabeth's court magician. But today, magic is mostly seen as a sideshow, not something powerful. To that end, I've decided to use the contemporary practice of Vodou [voodoo] as a way of helping people understand better the role of magic in society."
MCCT plans to expand the basic boundaries of the Third Street Park stage in this production. The director would not divulge any specifics, but hinted that there would be some new and exciting things awaiting audiences of this production.
Those with a good memory will recall that a traveling production of 'The Tempest' recently graced the IU Auditorium stage. This didn't daunt Ben Aldred. "The Auditorium performance was highly stylized," he told me, "with a number of elements altered, seemingly for the sake of heightening the uncanny nature of the performance. MCCT's 'Tempest' will be more earthy, closer to the original text. For me, the alterations I made to the script (minor, I assure you) were to clarify, not obscure, to make the text easier to relate to, rather than foreign. I hope to present the show sympathetically, as something understandable in the context of modern life, more so than the Auditorium version did."
So grab some dinner and drinks (no alcohol, remember!) and spend an evening with MCCT and Shakespeare in Third Street Park this summer.
---
Review from The Herald-Times for Little Red Riding Hood (2008):
MCCT's 'Red' aims to prove fairy tales can be modern
By Glenn Kaufmann
Meggie Bontrager as Red Cap in MCCT's production of 'Little Red Riding Hood'
Monroe County Civic Theater's latest production brings an updated and creatively adapted version of "Little Red Riding Hood" to a host of venues in the area. Ruth Aaron Grove's adaptation focuses a decidedly modern lens on the classic fairy tale and turns it upside down.
Before heading off to Granny's, Red lips off to her mother, telling her she can't go because she's updating her "My Space profile." Finally, shamed into going, Red takes off for her grandmother's place with a basket containing a cake and a bottle of wine (Granny has a wee drinking problem, and a family of enablers). On the road to Granny's, Red encounters trees that hug people, Alice (of Wonderland fame), a squirrel that craves nuts like a junkie, the world's worst trapper, an environmentally friendly logger, an evil witch (who always screws up her spells to great comic effect), three elves of dubious magical skill, and, of course, The Wolf, or simply "W" (pronounced "dubya" for obvious political reasons).
More than a little heavy-handed at times, this show is quite clever in its attempts to show us the ways in which this classic take can fit into our modern lives. All of the fairy-tale characters, except Alice, have low self-esteem and are generally searching for a way to feel good about themselves and fulfill their destiny/purpose, though they may not have figured out their true purpose yet. It's a good lesson for both adults and children, but quite often gets lost in the rapid comings and goings of so many characters.
Because the emphasis has shifted from fairy tale to modern cautionary tale with overtones of witty social commentary, the script is notably dialogue heavy and often creates problems for some of the younger cast members. And the pace at which director Hannah Moss has set the show is blindingly fast. I assume this is done both for moments of comic timing and to keep run times less than two hours. While the large cast does a reasonably good job with a tough script and the unenviable task of performing in six different spaces across two counties, particular standout performances were are given by Derrick Krober as the leather-jacket-wearing and "too hip" wolf (excuse me, "Dubya"), Meggie Bontrager, as Red Cap the tortured teenager (Little Red Riding Hood), and Brit Weisman as Alice.
If you are looking for a production of the Brothers Grimm classic for the kiddies, you'll probably be disappointed, though your children will likely be dazzled by the costumes, jokes at the adults' expense, and general strangeness on stage. As a night out, it's not great theater, but often rewards you with a wry cynical smile.
In its quest to bring as much free theater of all types to a wide variety of local venues, Monroe County Civic Theater definitely succeeds here. There is a lot to see. "Little Red Riding Hood" is a clever production that fails only when it tries to do too much.
---
Review from The Herald-Times for Little Red Riding Hood (2008)
All the better to reach out to you with, my dear …
Joel Pierson May 11, 2008
A crimson cloak. A basket for Grandma. A wolf with a taste for people. You know where this story is going. Or do you? Monroe County Civic Theater hopes you don't, because they have an original adaptation of 'Little Red Riding Hood' for the whole family. And like many of their original programs, it's free and it's mobile!
Local playwright Ruth Aaron Grove set out to turn the original story of LRRH on its ear with her adaptation. In researching the story's roots, she realized it was a word-of-mouth tale that has been handed down through the ages, with the intent of teaching young girls about the danger of men (aptly represented as wolves, though some of my female friends would argue that pigs would work, too).
As director Hannah Moss told me, the story presented a bit of a challenge, from a scriptwriting perspective: "Most versions of the story include little text and even less dialogue, so the playwright had to embellish to create a full-length piece." (The running time for the show is about an hour.)
True to its mission of inclusiveness, MCCT cast everyone who auditioned. So Grove created about a dozen fairy-tale-inspired characters that someone might encounter while on a path through the woods. Moss explained, "The playwright chose to take the basic plot and interweave subplots, which support the theme of a little girl journeying into womanhood. These subplots are partially inspired by other Grimm's fairy tales, and partially a creation of the playwright's imagination.
Along with wolves and a witch, you'll meet Princess NoFace, Nutzo the Scampy Squirrel, and Logger Larry, as well as the People-Hugging Tree. In total, 17 actors ranging in age from 9 to 71 bring the tale to life. The director told me, "The entanglement of secondary plots lends itself to an action-packed hour in which Little Red strays much further from the path than her mother could have ever warned her about. The show is appealing for younger folks, and yet is packed with humor and plot points that should resonate with adults as well.
This show is the final production in MCCT's Dinner Theater series, and by presenting it at several different venues, the company is hoping to establish a relationship with those venues. MCCT has weathered a mixed bag of critical acclaim (guilty here, too, sometimes), but through it all, they continue to provide entertainment for the community at little or no cost, welcoming all who want to participate. When they're on, they're right on; and when they're off, they're still working hard and fulfilling their mission, so I have to give them a lot of credit for that.
Moss and her assistant director, David Nosko, have worked hard to make "Little Red" an ensemble piece. She told me, "I believe this is reflective (of) our overall work, and I hope that audiences feel the closeness and the trust that this large group of volunteers has worked so hard to achieve. In today's economic climate, it is important for communities to provide free or inexpensive entertainment, and MCCT is privileged to offer "Little Red Riding Hood" as a free show to anyone willing to take a walk with Little Red through our woods.
---
Review from The Herald-Times for the Director's Symposium XIII (2008):
Director's Symposium XIII a low-tech, creative-rich theater
By Glenn Kaufmann Mar 25, 2008
Monroe County Civic Theater's annual showcase of locally written and produced plays debuted this past weekend and will continue its run this coming weekend. Director's Symposium XIII: The Unluckieth offers its broad range of comedy, tragedy and political/sexual satire to audiences at the John Waldron Arts Center.
As with most short play collections, the finer points of wardrobe, set design, lighting and sound are cast aside here in favor of representative technical elements. The audience sacrifices grand notions of a night at the theater. But for their trouble, they are rewarded with 10 individual stories, each fully told, often with an extra ration of creativity born of necessity. After a while, set pieces and performers take on a drama all their own, as you begin to wonder exactly how many ways a triangular block can be used, or how many different characters one actor can play.
In Mike Smith's "The Ditch," directed by Hannah Moss and Aimee Taylor, Jocko and Balthazar, two characters from Smith's 2001 play, "Not Beckett," return in a Godot-esque existential exploration that uses light and imagination as its only setting. Set in a coffee shop at the end of the world, Kelly Lusk's "Elephant Backs," directed by Hannah Moss, is a perfect follow-up and helps to frame the evening in a decidedly philosophical light.
Then, just as quickly, the tone shifts to something more comedic and tragic. Writer Andy Alphonse's "Sordid Soap Opera of the Soul," directed by David Nosko, takes us inside a Roman prison cell as Christians try to reconcile their beliefs and vote on who will be the lion's next meal. And later, Albert Powell's "Missionary Style," directed by Hannah Moss, takes us to the front lines as a misguided peacenik leads a journalist and a U.N. aid worker into a battle zone. Bullet-ridden and bloodied, he utters platitudes that help no one and lead him to an appropriate end.
Act two tends to deal with love, sex and personal relationships. We move quickly from "To Life" directed by Jack Johnson, Sue Capaldo's starkly imagined portrait of a family sitting Shiva, to an intimate philosophical examination of the orgasm in Andy Alphonse's 'Reaping the Fall,' directed by Hannah Moss. And, the evening ends with Ruth Aaron Grove's decidedly odd and hysterically funny "Inner Monologue," directed by Jack Johnson, in which a blue- collar worker tries to impress his white-collar boss by hosting a dinner for the boss and his "Stepford" wife.
It must be said that in a few instances, minor low-cost technical upgrades would have markedly improved the storytelling. The use of actual gunshots in "Missionary Style" and canned orgasms in "Reaping the Fall" would have improved the timing just enough to really "sell" those storylines.
Overall, Director's Symposium XIII is a low-tech and creatively imagined evening of theater. There are no great revelations here; instead your ticket buys you a galaxy of small triumphs, creative theater and a glimpse at Bloomington's decidedly rich local talent pool.
---
Review from The Herald-Times for Through the Looking Glass (2008):
MCCT turns fantasy theater on its head with Carroll's 'Looking Glass'
By Glenn Kaufmann Feb 19, 2008
Over the next few weeks, Monroe County Civic Theater's latest production brings the raucous whimsy of Lewis Carroll's "Through the Looking Glass" to life at multiple venues in and around Bloomington.
Best known for his book, "Alice's Adventures in Wonderland" Caroll follows up that world of characters and fantasy with "Through the Looking Glass" (the book). Given the restrictions of budget, time and theatrical conventions, Roy Silling's adaptation for the stage seems as faithful to the original text as it can be.
We tag along with Alice (the pawn) as she returns to the dream world of the looking glass and attempts to "play" her way across the chess board, hoping to be crowned queen. While MCCT's stock in trade is adaptations of the classics, in adapting Carroll, they've hit on a source that needs very little "work" to be theatrical.
Characters like Humpty Dumpty, Tweedledee and Tweedledum fairly beg to be played larger than life, in grand costumes. Add to this a healthy dose of gender-swapping and you end up with plenty to keep the adults thinking while the children laugh and giggle, blissfully unaware of deeper implications.
Tyler Gillespie's portrayal of the White Queen with painted on cleavage, wedding cake hairdo, bad dance technique and techno rap overtones is a Berlin dance club nightmare. The White King, deftly played by Sarah Leaffer, is played as a kind of testy Omar Sharif, but the addition of a Groucho Marx nose and glasses vault his/her time on stage completely over the top. Until Owen Walters, as the Red Queen, takes on Alice in the runway model strut-off of all time. This is a new high in low.
Yet through it all, we follow the plucky, often perturbed, but never unhinged, Alice. Christina Zerfas does a wonderful job bringing Alice with all of her faults (and all of our faults) to life. In electric blue wig, daisy yellow dress, white buckle leather shoes (clearly a poor choice in adventure footwear), Alice is our hero. She is us. In the end, Alice is found to have been dreaming, or were we, the audience, the ones who have been dreaming.
If director David Nosko's production can be criticized for anything, it would be for doing too much, for packing too much on stage and allowing the actors to race through dialogue that is already wordy and opaque. The effect heightens the confusion on stage. It's intentional, but at times a bit much.
This is a show that will delight the children and send the adults away a bit confused, but certain that they've been entertained.
---
Preview from The Herald-Times for Through the Looking Glass (2008):
Theater for the family
By Jessi Perkinson Feb 22, 2008
Through March 2, Bloomington will be hosting a series of family-friendly theater events for all ages. The first of the plays, "Through the Looking Glass," is being presented by the Monroe County Civic Theater. Based on the story by Lewis Carroll, "Looking Glass" is performed by a cast of 17 local residents and IU students, starring seventh-grader Christina Zerfas as Alice. The sequel to "Alice's Adventures in Wonderland" features Alice, a young girl who passes through a mirror into an alternate world filled with imagination and fantasy. The public will have an opportunity to witness Alice's quest to become queen through a chess game while enjoying other parts of the story, which is appropriate for all ages. The Civic Theater play has been adapted by local playwright Roy Sillings and is directed by David Nosko. Donations are accepted. Curtain rises tonight at 7:30 at the Cinemat and will continue there at 7:30 p.m. on Saturday and Sunday. It will also be performed at 3 p.m. on March 1 at the Brown County Public Library and at 3 p.m. March 2 at the Monroe County Public Library Auditorium.
---
---
Preview from The Herald-Times for 12th Annual Director's Symposium (2007):
MCCT puts on its 100th show
Theater with Joel Pierson Mar 29, 2007
Monroe County Civic Theater (MCCT) marks a milestone this April: their 100th production. It happens to coincide with their 12th annual Directors' Symposium, which will showcase four short plays written by local playwrights, and a fifth, an anonymous short Japanese play.
This year's crop includes Russell McGee's "Solemn Solitude," Derrick Krober's "Love and Hitchcock," Holly McClane's "Freedom Isn't Free," Phillip Addison's "The 100th Show," and the Japanese play "Busu, the Magic Poison."Throughout its 21 years, MCCT has presented diverse theater at venues all around the county and beyond, often free of charge. They have a very open philosophy when it comes to participation, and as a result, very few actors are denied the opportunity of being in their shows. This sometimes leads to a hit-and-miss result with MCCT's shows, and the press (guilty hand going up here too) rides the group pretty hard about it.
They're a humble group, never claiming to put on the best theater in the state, but always standing up to the challenge. Summer will soon be here, and the group will once again present free Shakespeare in Third Street Park; "Antony and Cleopatra" and "Romeo and Juliet" this year; carrying on their long-standing tradition.
Should you go see MCCT's Directors' Symposium XII? I asked the show's producer, David Nosko. "Please, please, pretty please with sugar on top, come out in full force to support your neighbors and fellow community members as they share their love of theater with you," Nosko invited. (Can't fault his manners, right?) He explained, "Most of the cast and crew are either full-time students or full-time working folks with day jobs, so what little free time is spent in pursuit of performance art. That kind of dedication and self-sacrifice deserves at least some kind of notice … preferably with a ticket to see at least one performance."
Nosko was pleased with the diverse collection of subject matter in these plays, from the mystery of "Love and Hitchcock" to the drama of "Solemn Solitude," from the game show atmosphere of "Freedom Isn't Free" to the exotic import, "Busu, the Magic Poison." The group even pays homage to the process of creating this very production, in the fifth play, "The 100th Show."
The directors attached to the production feel good about their respective plays. Says Pat Anderson about McGee's play (about co-workers trapped in an elevator), "The actors have risen to the challenge of discovering what motivates our personal fears, what makes us lash out at others, and why we forgive one another. The audience will leave with insights and questions about their own lives." McClane's director, Lauren Steffen, shared, "Audience members should come to the show because it's a night of a variety of plays that will take you on an emotional roller coaster ride. And while being entertained, you also get to support local playwrights, directors, actors, and community theater.
"David Nosko expressed the importance of groups like MCCT quite eloquently: "It takes a community to nurture a community theater, and in return, a community theater can reflect the wishes, hopes, desires, and dreams of a community through performance art."
---
Preview from The Herald-Times for A Christmas Carol (2006):
'Tis the season for staging of 'A Christmas Carol'
by Joel Pierson Dec 3, 2006
Ebeneezer Scrooge (Frank Buczolich) ponders his fate, from last year's MCCT production of "A Christmas Carol"
The Ghost of Christmas yet to come pays Scrooge (Frank Buczolich) a yuletide visit, from last year's MCCT production of "A Christmas Carol"
Now that Thanksgiving is over, it's obviously Christmas. Been to a store lately? So you see my point. Two weeks ago, I told you about Coachlight's parody of "A Christmas Carol." Well, this week, Monroe County Civic Theater is doing the play all proper-like. After a close call that almost made MCCT dinner theater at the Irish Lion a ghost of the past, everybody's kissed and made up, so the show will go on.
The show in question, of course, is Charles Dickens' "A Christmas Carol." I would synopsize it for you, but I've checked with the local chamber of commerce, and nobody in town has just arrived from Mars, so I'll assume you all know the plot. That way, I can get on with my favorite journalistic endeavor: putting the director on the hot seat!
Bill Goveia didn't seem too daunted in the face of my hard-nosed brand of reporting. Not a single "no comment" or even an attempt to hide his face. Guess it's going well, eh Bill? "I am excited," Goveia told me. "I am really enjoying seeing my vision come to life. I am happy with the way this performance is shaping up. I hope the audience feels as good about this as I do."
I asked the director if he plans to adapt the script in any way, or go for the tried and true. "We are using all of the playwright's dialogue and stage directions," he replied, "but we are definitely not approaching it from the 'chestnut' point of view. I have opted to approach this in 'black box' style. It's a risk, especially since this is my first directing experience. This story is a classic, and so is produced a lot. I wanted to focus on the story, but give the audience something new to see." I recommended nudity and explosions, but if those fools at "The Lion King" didn't listen, there's little hope for me here, either.
Goveia was initially hesitant to direct the show – "I've read the book, and it seemed as if it would be a daunting task." But after seeing Russell McGee's adapted script, he was hooked, "here was an original adaptation of a story I could possibly recite in my sleep. But it had been quite skillfully reduced to the very basics of the story."
The director shared with me his philosophy about this story. "This is not a story about a man who was bad and becomes good. We know from his past that he can love and give. We know that he loved Belle, and that he truly admired his former mentor as well. Ebeneezer Scrooge is really a good man who has forgotten what is important. I think at some point in our lives, it's possible for everyone to forget what's important. Once Scrooge is shown his own behavior and its ramifications, he makes a point of getting himself on the right path."
So what say ye, culture lovers? Will you rise from your easy chair and put on hats and gloves to spend an evening with Scrooge, Marley, Tiny Tim, and dear Fezziwig? And hey, if you go to the Lion, it can truly be an evening of theater and spirits.
---
Preview from The Herald-Times for Dracula: or the Undead (2006)
Theater-goers can pick evil or good
by Joel Pierson Oct 22, 2006
Jessica Ciucci (as Lucy Westenra) and Roy Sillings (as Count Dracula) appear in the Monroe County Civic Theater's version of "Dracula." Courtesy photo | Chris Eller Photographer

Roy Sillings – he's the one at right with the overbite – prepares to sample the neck of Lauren Pope in the Monroe County Civic Theater's production of "Dracula: or the Undead." Chris Eller | Courtesy photo

So the pope and Dracula walk into this bar – It's a week of popes and vampires at Monroe County Civic Theater. Two very different plays are sharing the spotlight.
MCCT presents "Hadrian the Seventh," a full-length dark comedy written by Peter Luke about Englishman Frederick Rolfe. While working on his latest novel, Rolfe falls into a daydream in which he becomes the lead character. He then achieves his lifelong goal of becoming a priest; soon after, he is elected pope, to the horror of the cardinals who elected him. As Pope Hadrian VII, he will lead the church back to the path of true service, as he refuses to play politics, and begins giving away the Vatican treasure to those in need.
The play stars Ben Aldred, Frank Buczolich, Jim Hettmer, Bill Goveia, Rachael Himsel, Patrick Hercamp, Linda Ostermeier, Phil Addison, Lee Hadley and Casey Snyder.Director C. Rance Fawbush told me, "I was captivated by this play at the Stratford, Ontario, Shakespeare Festival in 1969, and decided the only way to ever see it again was to direct it myself. Frederick William Rolfe was an actual person who wrote a novel called 'Hadrian the Seventh.' Peter Luke has successfully combined the real Rolfe with his novel in this intriguing and powerful piece. Although the play is hard to classify, I think of it as a dark comedy. There are many moments of humor, quite a bit of drama, and both the daydream and the play end on dramatic moments that are far from happy.
Meanwhile, back at the castle, director Russell McGee resurrects (heh heh) Bram Stoker's "Dracula" just in time for Halloween. In his ongoing bid to combine dinner with theater, McGee is presenting the play at the Hilltop Restaurant in Spencer, and the Irish Lion in Bloomington."Dracula" is often a tough sell on stage. People have their favorite movie portrayals, and often, stage performances come across as campy or overblown. Call me crazy, but I'm going to predict that McGee and his crew won't fall into that trap. His "Frankenstein" avoided camp and had real humanity to it, and I predict similar results here. McGee used a copy of Stoker's stage version of his novel, edited down from four hours to two.
I talked to McGee about the production, the first to be co-produced between MCCT and the Bloomington Playwrights Project. "When I unearthed the Stoker script of Dracula," he told me, "I realized that, given the historical value of the play this show needed higher production value. As such, I began negotiating between MCCT and the BPP to accomplish this goal, and the end result is this co-production. Both organizations have been very supportive and have provided me with more resources than I have previously had available for any of the productions that I have produced in the dinner theater series."
Those resources include platforms, to improve sight lines for the audience at the restaurants; casting assistance; access to a professional dialect coach; and a professional special effects make-up artist. The resulting appearance of the title character is quite striking. "I would never have asked the cast to tackle accents without an accent coach," McGee said, "nor would I have been able to produce this script without a special effects make-up artist, as poorly executed effects on stage would ruin the illusion of the world of the play."
---
Review from The Herald-Times for Pericles: Prince of Tyre (2006):
Some Shakespeare in the park, anybody?
by Jimmy Rae Sep 20, 2006
On Saturday, Bloomington Parks and Recreation, in association with Monroe County Civic Theater, presented Shakespeare's "Pericles Prince of Tyre" at Third Street Park. Monroe County Civic Theater recognized its 20th anniversary and 95th production earlier this month. As a not-for-profit organization, the civic theater survives with donations. That means that after 20 years, they must be doing something right.
"Pericles" is one of Shakespeare's last plays and is rarely performed, so it was special to watch. It was a perfect start Saturday with a slight breeze blowing through the park, a comfortable 70-ish temperature and a sunny, bright blue sky. Perfect atmosphere for a rarely performed Shakespeare play, I'd have to say. The crowd of about 50 or so arrived at the park with their blankets, chairs, kids and, of course, their eyes and ears. Kids were playing, all the while witnessing a 14th century romantic comedy.
Poetry in motion, one might say? The play offered a little bit of everything: drama, comedy, love and suspense. The actors followed the script very well, incorporating the language, dress and actions of ancient Greece. Actors and actresses were seen in cloaks, gowns, robes and dresses that would have closely resembled a 14th century wardrobe. Props were fairly creative with items that were supposed to resemble swords, armor, a fish, a drawn-out-and-painted eye of a ship (literally), cup or jug for serving drinks and a drawn out map on stage the whole time. Lighting on stage was very good when the sun went down. The actors and actresses did well with the performance, bringing all the elements of love, comedy, drama and suspense to the table. Stand-out performers of the night were John Benman, who played Pericles, and Roy Sillings, the narrator. Benman was dramatic and believable in his role as Pericles, and Sillings proved to have the perfect voice and direct tone as narrator.
The only drawback on the night was sound quality. Constant background interference of ongoing traffic made it hard to hear certain actors and actresses at times. Turning the volume up just a notch on the amp would have been an easy fix. Other than that, the play was a success, with smooth transitions from scene to scene, enthusiastic actors and actresses and the audience at Third Street willing to watch and hear them perform what is a rare treat.
---
Review from The Herald-Times for Oliver Crumb and the Key to Atlantis (2006):
Oliver Crumb family adventure a lively yarn
by Hayley Schilling Sep 19, 2006
Monroe County Civic Theater does a lot of great work in this community. In addition to their Shakespeare in the Park series and numerous dramatic theater productions, they even throw in an occasional family offering such as "Oliver Crumb and the Key to Atlantis." This conglomeration of raw talent, diverse musical genres, and unadulterated exuberance is a lively yarn. There were some minor glitches, and several times when a rewind button would have been helpful to understand the plot twists and background info, but overall the quality of this economic yet creative venture is quite impressive.
Oliver and his sister, Katie become orphans after the disappearance of their mother, and one twist after another (and another) leads them on a journey to the enchanted Island of Atlantis. Sixth-grade theater veteran Cameron Butler as Oliver takes control of his destiny when bullies manhandle his sister's teddy bear, and he never lets go, showing stage presence far beyond his years. Eleven-year-old CeCe Underwood comes to life as Katie Crumb, Oliver's little sister. Her facial expressions are worth a thousand words as she fears for her life more than once in the face of cleverly costumed animal foes.
Stealing the show with a lot of hard work and fabulous vocals are Herbert, the talking chameleon, and an energetic man-frog named Flip. Herbert (Justin McNeely in his human form) befriends the orphans and aids them on their journey to rescue their missing mother.
Along the way, the group meets up with Flip (Mike Price), amphibian entertainer extraordinaire. IU student Aimee Taylor is a vocal highlight as Kippy the rejected Ant Princess. Her solo number explaining the dismal life of a Queen Ant's twin is beautifully performed.
There were some genius costumes on what must have been a tight budget; kudos to costume designer Sheila Butler. Chase Russell, stage manager, had his hands full with the close quarters of The Irish Lion's upstairs room. As actors vied for space on the stairway with waiters, food trays and props, it seemed like an accident waiting to happen, but the entire show ran smoothly and without incident.
The play is fast-paced and intense, with a few episodes that could be categorized as downright scary. The action is all over the place, with ants, orbs, cobra queens, and even a gladiator-style battle. Of course, the ending will not be given away here as Oliver Crumb runs for a few more performances.
All in all, "Oliver Crumb" is a good time. Russell McGee's vision and Sara Angharad's music are an interesting combination of fantasy and workable theater. How can you go wrong with child actors, musical numbers and high family adventure all in one package?
---
Preview from The Herald-Times for Oliver Crumb and the Key to Atlantis (2006):
Civic theater takes an original turn
with Joel Pierson Aug 31, 2006
I have a theory that Monroe County Civic Theater likes to trip me up. Right about the time I have them pegged as a niche market, they toss something new out there. I tell people they're known for their Shakespeare in the park, and they go and produce "Oliver Crumb and the Key to Atlantis," an original musical for children and families.
The story tells of Oliver and Katie Crumb, who are placed in an orphanage after their mother disappears. A friend delivers a note written by their mother shortly before her disappearance. The Crumbs run away from the orphanage and take to the sea in search of their mother. In the Bermuda Triangle, they find strange islands, where reptiles, amphibians and insects speak and dinosaurs roam freely. The children must battle the cobra queen Maligna to find their mother.
Playwright and director Russell McGee turned to creative partner Sara Angharad to compose the music and assist with the lyrics. I spoke with Angharad about the experience. The music is almost entirely original compositions, she told me, "with nods to a lot of different styles – opera, rock opera, pop hits, children's-style musicals, calypso, Gilbert and Sullivan – you name it!" Angharad also created variations on familiar childhood themes like "The Ants Go Marching" and "Pop Goes the Weasel."
Composing the music was new and challenging for the graduate student. "I don't have a composition background, but I've had a lot of fun trying to figure out how to write for piano – I'm primarily a singer, and I have a band in which I play guitar and a little bit of keyboards.
"She and the director have worked together before, with good results. "I'm grateful to Russ for committing me to this project," she told me. "It's been great working with this cast, and getting to hear my own work being performed. This show is really for kids. We hope it\'s enjoyable for everyone, but the story is a children's story."
Angharad crafted the music carefully, so that each song either advances the plot or gives important information about a character. People don't just burst into song for no reason. Every musical element is in direct connection with the storyline itself. "My favorite of the pieces," she told me, "is the fight song during which three separate scenes are going on. There are seven soloists in the piece, each of whom is showing something new about their characters in their individual sections."
Writer/director McGee talked to me about the collaborative process. "Sara and I have worked well together on several shows together now. I asked her to help me write the music for the show because of her work with me as the music director for 'A Christmas Carol.' She and I spent many hours hashing out the lyrics and started working on ('Oliver') back at the end of May. It was something we had kicked around after 'A Christmas Carol.' I was writing the grant for BAAC; it was included as the September show out of the five-show dinner theater season. The grant helped make this production possible," McGee said. "We received a little over $3,000 from the Indiana Area Arts Council for our five-show season. This was in part due to the fact that these shows have been touring to Owen County. I grew up in Owen County and wished to give back to that community by nurturing art through the art form I love."
---
Review from The Herald-Times for Alice's Adventures in Wonderland (2006):
Wonderland on stage
with Joel Pierson Jun 29, 2006
Rachael Himsel (queen of hearts) and Aimee Taylor in "Alice's Adventures in Wonderland" – Allie Goveia courtesy photo
Monroe County Civic Theater's tireless adapter, Russell McGee, strikes again, with his take on Lewis Carroll's "Alice's Adventures in Wonderland." McGee has previously presented such adaptations as "A Christmas Carol" and "Frankenstein" for MCCT, and now he turns his attention to the classic literary tale. Rather than directing himself, he has tapped theater vet Jim Hettmer to take over. The director explained a bit about his take on the show. "It's especially important that any presentation do justice to the story and the audience. It needs to be fun for everyone."
As in the past, the show will be presented in nontraditional venues, such as The Mark in Spencer and the Irish Lion. Hettmer talked about the challenges. "We don't have a stage, a curtain, lighting or an exotic set. But at the same time, we and the audience can use our imagination in ways that would not be possible in a more formal setting. And we are not so much in front of an audience as we are in it."
The director emphasized that "Alice" is presented as a play for all ages, not just a children's story. "The Alice books have maintained their popularity and their place in literature because of the fascination they hold for adults. Carroll's ingenious nonsense and imagination prevail and continue to fascinate."
How did the playwright feel about the challenge of bringing such a difficult and visually fantastical story to life on stage? McGee told me, "I hope that I have stayed faithful enough to the book that I may please any avid fan of the Alice books, and that audience members young and old will enjoy our production of 'Alice's Adventures in Wonderland.'"
---
Preview from The Herald-Times for Twelfth Night (2006):
Marx in the spotlight
with Joel Pierson Jun 1, 2006
This summer's Monroe County Civic Theater production of Shakespeare's "Twelfth Night" was done in the style of the Marx Brothers. The cast included, from left, Russell McGee as Toby (Chico Marx), Alexander Gulck as Fabian (Harpo Marx) and Nicole Bruce as Feste (Groucho Marx). Courtesy photo
Jeff Craft as Officer 1 (Oliver Hardy), left, and Collin as Officer 2 (Stan Laurel). John Benman as Antonio in MCCT's production of "Twelfth Night"
June means summer, and summer means Monroe County Civic Theater returns with free Shakespeare in the park. This week sees the premiere of "Twelfth Night," one of the many fluffy and lovable comedies about mistaken identity and lovers in disguise.
I was all set to talk about the history of the play for this column. Then I saw this statement from director Ben Aldred: "I don't remember the exact moment that I thought of combining the Marx Brothers with Shakespeare, but now that I've done it, I can't believe more people don't do it."
Gulp. Did he say the Marx Brothers? Yes he did. Fear gripped me, as I had visions of actors cavorting on stage with Groucho glasses, silly accents and cigars. But clearly, Aldred is passionate about his vision, so I thought I'd give him the chance to go into some detail.
"While Bugs Bunny and Hawkeye Pierce both owe a lot to Groucho Marx and the Vaudeville tradition," he explained, "they all draw on a tradition of comedy that stretches all the way back to the 16th century. It is that tradition that I am attempting to evoke by linking late 16th and early 20th century traditions of performance. Framing Shakespeare's (original) text as a comedy in the style of a Marx Brothers movie, I am attempting to show the timeless nature of wit. Showing how Feste's witticisms sound like Groucho's witticisms and how Sir Toby, Sir Andrew and Fabian's misadventures parallel those of Chico, Zeppo and Harpo help show the timeless nature of humor."
Aldred adapted these four characters to be represented by Groucho, Chico, Harpo and Zeppo. He set the play in the early 20th century, in order to dress them to match the rest of the cast. Aldred concluded, "While I think it will be farcical, it is not the intention to make fun of the material, merely to bring the humor closer to the present in a way that helps modern audiences understand it better."
---
Review from The Herald-Times for The Directors' Symposium XI (2006):
Direct approach
Theater with Joel Pierson Mar 30, 2006
Emil (Rance Thornbush, left) and George (Frank Buczolich) star in "Duck Variations"
Claudia Procula (Brittney Norman. Left) Mary Magdalene (Jennifer Wire) and Pilate (Eszter Kiss) in "Roman Bath"
Each spring, Monroe County Civic Theater heads to the John Waldron Arts Center to put on a collection called the Directors' Symposium. This year is the 11th annual. The symposium is a presentation of four one-act plays in a single evening. This time around, I got the lowdown from producer Tim Johnson about what's on.
"This year, I have come across a lot of things to be excited about," Johnson told me. "There is the revival of "Talking in the Dark," a play that will make you use all of your senses to "see" what is going on." As Johnson said, "Talking in the Dark" is a returning favorite. Written by local playwright Chad Eagleton, it is actually three interconnected plays. What made it a crowd pleaser the first time around is that all three mini-scripts call for the actors to perform in total darkness. A good way to save on props and costumes, yes, but more than that, it appeals to a warm, fuzzy place in my heart (as an audio theater producer) by relying almost entirely on sound – the power of the actors' voices to tell a story. This should be one well worth seeing. Er, hearing.
Tim Johnson continued, "There is also "Duck Variations," a play of wit and witty banter that will tickle your funny bone." Hmm, I smell Mamet, dammit. The playwright, (currently presenting his "Unit" on television to critical and audience appeal) graces the MCCT stage with "Duck Variations." The play consists of 14 mini-scenes featuring two crusty old friends sitting on a park bench, talking and sometimes arguing about ducks, life in general, relationships between the two and anything else on their minds.
This year's Symposium is rife with new plays, the producer told me. "In "Ethel's Dinner Party," you will either learn to love or hate prune whip and why it isn't always a good idea to trust your host." Needing more clarification, I turned to the play's author and director, Phillip Addison.
"'Ethel's Dinner Party' is based on a story I heard several years ago. I kind of wrote it like the play 'Equus,' in which the author did no research on a story he heard and just wrote a play based on his limited information. The article I based my play on had a headline: "'Poodle kills three.'" This play has been fun to direct, and I thank all of my actors for their hard work and patience with me." Phil, you had me at "Poodle kills three."
Some years, MCCT pushes the envelope at the Symposium. This year. Wow. How do I say this? Bring a sense of humor, and remember that burning a public building down is NOT an appropriate expression of emotion. I'll let playwright Russell McGee tell you about his "Roman Bath": "The play is set in a public bathroom before the crucifixion of Christ. At that time, public restrooms would house 20 to 30 people, and there were no walls for individual stalls. It is a comedy where Jesus meets Pilate on the toilet, and it is in the same vein as Monty Python – pure toilet humor."
So there you have it – four for the price of one, with free controversy. The show's around for only two weekends, so act quickly.
---
Review from The Herald-Times for The Babbling Banshee, or the Roaring Lore of the Irish Lion (2006):
The Babbling Banshee
"The Babbling Banshee, or the Roaring Lore of the Irish Lion": Ryan and Bryan O'Brien, a storyteller and a bartender, trade barbs over chess games. Will they be the same when scars from the past are revealed? Written by Russell McGee, the play details the story behind the restaurant's name. A Monroe County Civic Theater show. 8 p.m. Monday-Wednesday; free; Irish Lion, 212 W. Kirkwood Ave.
---
Review from The Herald-Times for Sleeping Beauty (2006):
Magic spell
by Mercedes Rodriguez Feb 17, 2006
The bad fairy menaces the king, played by Bill Goviea, the cook (Tabby Wingler) and the queen (Eszter Kiss) in the Monroe County Civic Theatre's production of "Sleeping Beauty"
The princess, played by Rhianna Jones, at her spinning wheel.
For magic, thrills and laughs, see Monroe County Civic Theater's production of "Sleeping Beauty," which opens at the John Waldron Arts Center this weekend.
Everyone in the family will enjoy this production, featuring child and adult actors. "We have some very good actors in it and then we have some first-time performers," said director Janice Clevenger."
This follows the usual path," said Clevenger about the story – a bad fairy casts a spell on the princess so she'll die by pricking her finger on a spindle. But a good fairy tries to change the spell by just making it so that the princess falls into a century-long slumber instead of death.
See the special effects conjured by one of the fairy's magic wands. Thrill at the fight scene between the prince and the bad fairy.
Before "Sleeping Beauty," laugh it up with curtain-raiser "The Emperor's Daughter." In it, two quarrelling kings, one with four daughters and one with four sons, argue about marriage.
The plays will be fun for the entire family and a great way to introduce the little ones to theater. "Sleeping Beauty" will be performed at 2 p.m. Saturday and Sunday and Feb. 25 and 26 at the John Waldron Arts Center Auditorium, 122 S. Walnut St. There will be a special, free show at 1 p.m. March 4 at Owen Valley High School in Spencer.
---
Preview from The Herald-Times for A Christmas Carol (2005):
Magical Visitors
Joel Pierson December 8, 2005
The irrepressible Russell McGee of Monroe County Civic Theater, who packed The Irish Lion in October with his bold interpretation of "Frankenstein" is back this month at the same venue. This time, MCCT presents a one-act version of "A Christmas Carol," complete with carolers. As I was preparing the sound effects for the show, McGee told me more about his vision for the show.
"There are certain things that people expect when they hear the name 'A Christmas Carol.' I chose not to break from tradition, but instead to delve deeper. Dickens wrote 'A Christmas Carol' as a morality tale through the vehicle of a ghost story, and the moral would not be as potent without the fear of the ghosts."
McGee pointed out that many adaptations of the show omit the horror aspect to play to younger audiences.
"My adaptation is still meant for all ages, but does play to the element of horror. I feel kids love to be scared; I know that I did as a child, and it was the villains that were more memorable to me. I, however, only use the horrific elements sparingly so that anyone will be able to enjoy this tale."
The production includes 13 traditional Christmas songs, performed by the cast under the musical direction of the talented Sarah Angharad. "This adaptation is a musical," McGee explained, "and we chose songs that the audience may be familiar with, so that they may sing with us."
Like "Frankenstein," MCCT's "A Christmas Carol" is free of charge. The Irish Lion will be offering dinner and drinks for sale to playgoers at their regular prices.
---
Review from The Herald-Times for Frankenstein (2005):
Pub theater fits production
By Glenn Kaufmann Oct 27, 2005
Stepping upstairs at the Irish Lion this past Tuesday night to catch the Monroe County Civic Theater production of Mary Shelley's "Frankenstein" was a bit like jumping back in time to the days of the classic public house in the British Isles.
Based on the classic novel by Mary Shelley, "Mary Shelley's 'Frankenstein'" is not your father's "Frankenstein." Gone are the shambling bolt-necked ogre, and the bolts of lightning with the good doctor screaming, "It's ALIVE!" Instead, this production goes inside the mind of Victor Frankenstein and his creation for a look at what it really means to create another human, and in turn, what it takes for us to be humane. While the Irish Lion may seem an odd setting for live theatre, it is actually a remarkably fitting venue for this particular production. Due to space limitations, director Russell McGee and his team are forced to turn up the creativity. The set, while minimalist, gives the actors plenty to work with, and the Irish Lion's pub decor, wooden shutters and leaded windows lend just the right note to transport the audience back in time.
At first blush, Derrick Krober's portrayal of Victor Frankenstein seems way too theatrical, but later grows on you and tones itself down to merely amusing. It can be argued that his stylistic choice is merely period window-dressing and appropriate to the tavern setting.
In this production, the creature is a woman, played with finesse by Annie Kerkian. The choice to portray the monster as a woman goes a long way toward softening our feelings for her. As she pleads for her life, and for the doctor to create a mate for her, the anguish is somehow more compelling than if it were played by some sausage-fingered male brute.
And, in fact, it is this pleading for her life that sets this production apart. While the monster is responsible for killing several people, the blame clearly rests with Victor for creating her, even more so for having done a bad job of it. Further, the creature's argument that she acts how she does solely because she is alone in the world rings true, and oddly parallels the life of her creator. Yes, she was created in her creator's image, flaws and all.
Because the show is performed at dinner theatre distance, it's hard not to feel involved as actors make entrances from all around the room, and shout lines from behind the sound table, or right next to your entree. At first this is a bit unsettling, but later adds to the notion that you are witnessing theater at its most basic. There really is something of the old school tavern player feel in this production.
In the end, it isn't the female Frankenstein, or the moral depth of the script that makes this a show worth seeing, but the overall atmosphere. Setting the production in an Irish pub in late October really sets the stage and creates just the right mood.
Mary Shelley's "Frankenstein," adapted and directed by Russell McGee. Running Time: 1 hour, 45 minutes, with one 15-minute intermission.
---
Preview from The Herald-Times for Frankenstein (2005):
Frankenstein's feminine side
with Joel Pierson Oct 27, 2005
Frankenstein's feminine side – Anne Kerkian stars as The Creature in MCCT's production of Mary Shelley's "Frankenstein."
Full lineup – the cast of Frankenstein.
"A free woman in an unfree society will be a monster," – Angela Carter, The Sadeian Woman.
You think you know "Frankenstein," but what you probably know is a Hollywood hack job. Mary Shelley's novel is about a deformed creature brought to life from assembled parts of dead human bodies, but the creature is no giant, green, lumbering, grunting animal, rather a sensitive and tortured soul, seeking love and understanding from a world that fears him. Or, in the case of Monroe County Civic Theater's production fears her.
You heard right. Civic Theater's Russell McGee has distilled the gothic novel down to a lean 75 minutes, and has cast the talented Anne Kerkian as Dr. Frankenstein's forlorn creation. I asked him about the decision. "Annie Kerkian is a brilliant actor," McGee said, "and she has brought a rich emotional depth to the role that evokes psychological complexity. I wanted to create a character that the audience could empathize with and loathe at the same time. After casting a female in the role of the creature, I was also able to really bring to light much deeper psychological elements in the work."
It's a bit nippy for drama in the park, so Monroe County Civic Theater is presenting "Frankenstein" free of charge at The Irish Lion. McGee told me that the staff at the Lion have been very helpful in allowing the production to flourish. It will be dinner theater, in that the restaurant will be serving from its regular menu, but since there's no admission fee, dinner and drinks are at the discretion of the playgoer. Clearly, some editing was needed to capture the heart of Shelley's novel in one-act play form. I asked the director/playwright what went into his decisions. The first trick, he explained, was keeping the cast to eight characters for practicality's sake. After that, he told me, "it is better to minimize the settings to one or two places. There are also sections of the novel that are redundant, and therefore only one scene was necessary to convey any one idea. The story is a morality tale, and Shelley wrote the novel so that the ship's captain was the character that learns the moral of the story of Frankenstein."
Rather than a horror piece, Civic Theater's "Frankenstein" is more of a psychological thriller. Throw in the free admission and the proximity to soda bread and Irish stew, and you've got an evening of it, wouldn't you say?
---
Preview from The Herald-Times for The Merry Wives of Windsor (2005):
Desperate 'Merry Wives'
Theater by Joel Pierson Aug 11, 2005
Falstaff (Derrick Krober) and Mistress Ford (Sarah Ruggles) rehearse Monday afternoon at Third Street Park for this weekend's performances of "The Merry Wives of Windsor." Aaron Bernstein | Herald-Times
It's pretty well-known that Shakespeare didn't create much that was terribly original. He borrowed from established themes, and catered to the tastes of the masses. This isn't a fault, you have to understand. He was the equivalent of the TV networks of his time; people relied on him for entertainment. And when he created a character that people liked, such as "Henry IV's" John Falstaff, the audience (including the queen of England) sometimes wanted to see more.
And thus was born the comedic tale "The Merry Wives of Windsor," featuring jolly Jack Falstaff as the Elizabethan version of the wacky neighbor. Monroe County Civic Theatre brings this story to the stage this month over at Third Street Park. As with many MCCT plays, this one packs the stage with performers: Phil Addison, Roy Sillings, Russell McGee, Derrick Krober, Katie Ciel-Kok, Andy Alphonse, Sarah Ruggles, Jeff Craft, Amber Wilbur, Freddie Rodriguez, Alex Young, Hannah Sachs, Evan Smail, Rachel Crouch, Nicole Bruce, Morgan Pruitt, Lauren Hersch, Gena Vesely and Kyra Claussen.
Working together under the direction of Frank Buczolich, this team of MCCT veterans and newcomers will ply their trade (free of charge, as with all summer Shakespeare by the civic theater) to bring the 1597 version of "Desperate Housewives" to life. Well, not exactly, Buczolich told me.
"Unlike the present-day 'Desperate Housewives,' the desperate individual in this production is Falstaff," Buczolich said by e-mail. "He's down on his luck (as well as income) and hatches a scheme to seduce two wealthy women in order to gain access to their husbands' money. Falstaff's plan immediately runs into problems when the two women compare notes – first with each other and then with their husbands, and hatch a scheme to get revenge on him."
So pack a picnic and cross your fingers for rainless evenings as MCCT wraps up its 19th season. "The Merry Wives of Windsor" by William Shakespeare. Monroe County Civic Theatre. 8 p.m. Friday and Saturday and Aug. 19 and 20.
---
Review from The Herald-Times for A Twist of Treason (2005):
Livingston's 'Twist of Treason' well executed
by Peter Jacobi Jul 14, 2005
It was no small feat for the Monroe County Civic Theater and the Bloomington Area Arts Commission to stage an opera, but that's what is happening at the John Waldron Arts Center Auditorium these days.
"A Twist of Treason," by composer/librettist Julian Livingston, for a long while now a Bloomington resident in retirement, has been revived at the Waldron by director Janice Clevenger.
Livingston knows, from what one heard on Friday night, how to write tunes and orchestrate and shape a scene. In the unfolding story of an American hero turned villain, his dangerously spoiled wife Peggy (whose extravagances led Arnold to consider betraying West Point for money), and their ties to the British spy John Andre, Livingston chose ripe material for his opera. What he has sculpted is not all of a piece. As the opera's tale turns to crisis and death – Andre's at the end of a rope and Arnold's at home but under pressure of guilt – "A Twist of Treason" gains in dramatic consistency and unity. In earlier scenes, those that set up the denouement, Livingston employs an array of source inspirations: Broadway musical theater, for sure, dashes of Prokofiev seasoning, some thematic development a la Wagner, touches of Italian verismo, and orchestration that reflects the Kurt Weill of "Threepenny Opera."
All of that has a legitimate place in the whole of the enterprise, but the various and varying influences don't always gel. There's sometimes more of a heaping of the elements than a coming together.
Still, there's much one can appreciate in Livingston's grand design and in details that emerge lyrically and theatrically, both in the work itself and in the energetic production that Clevenger has put together, aided in this tremendously by music director Shuichi Umeyama, who not only provided the piano foundation but conducted the instrumental ensemble of 10 fellow players. Clevenger must be credited also with the spare but always effective set designs, along with the appropriateness of the period costumes.
The main roles were handled by imports. Baritone Raymond Feener, soon to join the music faculty at the University of Missouri in Kansas City, excelled in the title role, giving his robust voice full reign to explore the tensions of his character's life. Diana Livingston Friedley, the composer's daughter, teaches voice at Idaho State University and lent her soprano and thespian inclinations to the role of Arnold's wife; she earned her master's in music at IU and possesses a strong vocal instrument, one that tends to turn metallic in edge as pushed into its upper reaches but that certainly served the score's mounting tension. Composer Livingston's son-in-law, tenor Geoffrey Friedley, also a teacher of singing, gave plenty of oomph to the character of John Andre, particularly in the finely-wrought scene leading to Andre's death.
Local mezzo Rachael Himsel scored as the always-faithful maid in the Arnold household. A small band of choristers enriched the opera's final scenes. Julian Livingston should have been well pleased with the results. The opening night audience gave him and everyone a warm reception.
---
Review from The Herald-Times for A Twist of Treason (2005):
Julian Livingston's 'Treason' opera a dream come to life
by Peter Jacobi Jul 3, 2005
Diana Livingston Friedley, left, Geoffrey Friedley and Raymond Feener star in "A Twist of Treason," by Julian Livingston, opening Friday at the John Waldron Arts Center in Bloomington. Tom Stio | courtesy photo
He's an engineer, Julian Livingston is, Purdue-trained and retired from Bell Laboratories in New Jersey since 1989; a resident of Bloomington where, back when, he received a second degree, one in musical composition from IU following study with Bernhard Heiden.
As engineer at the significant Bell Labs, he was deeply into the design and development of modems. But he never forgot his musical training, involving himself with community musicals, their creation and production. And he wrote music on the side: chamber music, a here-and-there orchestral piece and, yes, an opera.
It's the opera that makes him newsworthy in that Julian Livingston's "A Twist of Treason," a musical stage piece about Benedict Arnold, will be produced at the John Waldron Arts Center in Bloomington Friday, Saturday and July 15 and 16, thanks to sponsorship by the Bloomington Area Arts Council and the Monroe County Civic Theatre.
"I wrote it in honor of the nation's bicentennial on commission from the Battleground, N.J., Art Center," Livingston said. "That's where, in Revolutionary times, the Battle of Monmouth was fought. The opera premiered at the center. Eight months later, it was performed at a nearby community college, and it was well received."
It's lain dormant since, but when Livingston mentioned its existence to friend Janice Clevenger, she decided that the civic theater should revive it, talked the project up to the BAAC, got its financial backing and there we have it. Clevenger will direct; Shuichi Umeyama, from IU's School of Music, will conduct from the piano; a 10-member orchestra and a needed cluster of singers, to handle supporting roles and crowd requirements, have been gathered and rehearsed.
The leading roles will be filled by out-of-towners: a friend of Livingston's as Arnold, his own daughter as Arnold's wife Peggy, and his son-in-law as Major John Andre, the British spy and other man in Peggy's life. "They're all musically trained," said Livingston. "My daughter has a master's from IU. She was in the original production as one in the crowd who hands an apple to Andre on his way to execution."
The composer, who wrote his own libretto, expresses satisfaction about rehearsals. "All is going extremely well. I'm quite excited." For the production, he's re-orchestrated the score, reducing the original pit orchestra of 30 to 10. "The opera has more of a Baroque feel now. I'd actually have preferred a harpsichord, but that wasn't practical. The rest are winds and strings. It fits the time period."
The story – "about a pretty good soldier with bad character flaws," as Livingston describes Arnold – focuses on reasons for the man's act of betrayal: his disappointment about not being paid for his services by the Continental Congress and debilitating financial problems, mostly brought on by Peggy's unending extravagance.
Asked what it was like to compose an opera, Livingston says: "I can't really tell you. It just comes to you. You know the story. I tried, with the words, to create rhymed couplets. That didn't always work, so I also have some free verse. Once the text was written and I made a strong effort to achieve understandability, I divided it into eight scenes, and I started to compose each. I think of something whole in my mind, an entire scene, and then I set about to complete it."The first," he explained, "contains a sort of Wagnerian inspiration, with the introduction of themes attached to characters. Then I expanded. You can expect something tuneful, melodies to enjoy. A listener shouldn't have to hear too much dissonance – some, but nothing Schoenbergian. What I've done is closer to musical theater with arias that portray character and feelings. I might describe it as 18th- and 19th-century music set for today."
The 73-year-old composer mentions School of Music influences from back in the 1950s as instigators of his "desire to write an opera. I always thought I wanted to compose one, ever since I watched Hans Busch and Ernst Hoffman put them on here." Busch, the eminent stage director, and Hoffman, the just-as-eminent conductor, were early faculty talents put in charge of IU Opera Theater productions. "I'd sit in rehearsals and marvel. What resulted was magic. I wanted to create some of that, too. "In 1954," he added, "I did get to write and produce a Jordan River Review. I won the right in competition. That only whetted my appetite. It would be quite a while before I'd get to write an opera, but I've done so, and let me tell you, that's been a satisfaction. Life's been good." Now the recipient of that "good" life gets to sit back and enjoy the operatic fruit of his labor, "A Twist of Treason," with music and libretto by Julian Livingston. A fitting coda.
---
Review from The Herald-Times for Julius Caesar (2005):
Brute strength
Theater with Joel Pierson Jun 2, 2005
Janet Ransdell, left, Nicole Bailey, Jennifer Wine, Roy Sillings, Rance Fawbush and Freddie E. Rodriquez surround Russell "Caesar" McGee at a Monday night rehearsal of Monroe County Civic Theater's "Julius Caesar." Jeremy Hogan | Herald-Times
Beware the ides of March! Chances are, you've heard that expression. In Shakespeare's "Julius Caesar," a soothsayer offers Caesar this dire warning about his impending assassination on March 15. Arrogant and dismissive, Caesar brushes off this warning and pays the ultimate price. Proof positive that even 2,000 years ago, the Psychic Friends Network got no respect. And yes, I apologize for the "spoiler," but if you go see "Julius Caesar" thinking that the Big Guy is going to be all right in the end, you probably weren't paying attention in ninth grade English.
Yes, boys and girls, June is here, and that means it's time for another season of Monroe County Civic Theater's Shakespeare in the Park – Third Street Park to be precise. For those who have never partaken, it's an evening of civility under the stars.
MCCT is perennially the theatrical equivalent of The Little Engine That Could. Blessed with boundless ambition, the group continually selects challenging titles requiring enormous casts, and then performs them in the season during which a large percentage of Bloomington's acting population skips town.
I've lived in a number of cities of different sizes, and Bloomington is the first I've been in to have free Shakespeare in the park every year. The very fact that this group chooses to perform the Bard's works earns them a great deal of respect in my eyes, and grants them room for some interpretation and experimentation.
For example, in this boys' club of a play, a full 75 percent of the male roles are played by women. Mr. Russell McGee, however, claims the title role, and he's ready for it. McGee's been in many MCCT productions, both onstage and behind the scenes.
I talked by phone with director Phil Addison and assistant director Susan Anderson about what makes this production worth seeing. "It's one of Shakespeare's better-known plays," Addison said, "which is a draw. There's a lot of new talent this year. It's very well-acted. I'm quite impressed with the way this cast has grown. It's been an experience, and it'll be an experience for the audience as well."
Caesar is a man of the people but in ill health. Others try to use that against him to turn Caesar's friends to side with them in their evil plans. Come out and see what happens when evil gets rewarded.
---
Review from The Herald-Times for Directors' Symposium X (2005):
Theater variety pack covers all tastes
by Glenn Kaufmann Apr 8, 2005
You want a comedy, your spouse wants drama and suspense, your friends want romance and everyone likes sex. Forget the new release wall at Blockbuster and make for the John Waldron Arts Center, where the buffet of four one-acts that make up Monroe County Civic Theater's Directors' Symposium X will satisfy everyone.
As with almost all one-act shows, this past Saturday night's performances were a mixed bag of good, bad, in the strike zone and just a bit outside. "And Blackout," the eponymous debut performance from Bloomington's newest improv comedy troupe, proved to be a mostly worthy way to warm up the audience. This six-member group took on what is arguably the hardest task in comedy theater: Entertaining the audience without a script using only plot and character suggestions from the audience.
Given the difficulty of the task, and the members' relative inexperience, the group did quite well. However, future performances would be better served by the group's director, Ben Aldred, offering more frequent mid-scene changes to the players, an improv technique which helps give the performance renewed energy and focus. Also, it was stunning to see Aldred break with improv tradition by openly and vocally rejecting audience suggestions. This is a technique that succeeds only in alienating the audience.
The second production, directed by Janice Clevenger, was Constance D'Arcy Mackay's "The Beau of Bath," the story of an old man who falls asleep late one night only to have the memory of an old love come back to life, confiding in him that she did indeed love him all those years ago.
While the story is simple and straightforward enough, and hits plenty of the romance buttons, the use of period dialogue kills much of the effect. It is possible that a more experienced cast could have pulled it off.
The evening's third performance was a delightful restaging of the classic suspense thriller "Sorry, Wrong Number," the story of one housebound woman's frantic attempts to stave off the commission of a murder.
Essentially a one-woman show backed by an army of voice talent, Rachael Himsel plays Mrs. Stevenson, an invalid who is home alone for the night. When connected to a wrong number, she overhears two men plotting a murder.
Himsel's performance, and that of the voice effects team backing her, was terrific. My only quibbles with this production, directed by Robert Wagner, are that Rome was built faster than it took to complete this scene change, and once completed the action was staged entirely to stage right, leaving half the audience to stare at the actress' back.
The evening's closing act came in the form of Russell McGee's modernized adaptation of Aristophanes' classic comedy "Lysistrata."
This wonderfully bawdy script tells what happens when all of the women of America and Mexico conspire to abstain from sex with their men until the men agree to a truce in their ongoing war over water rights.
As in the original, much of the comedy comes as the women realize that they too need sex just as much the men, and keeping themselves celibate is as difficult as bending their men's will.
Lysistrata is brought to life with such charmed performances as Lindsay Woodall's saucy portrayal of "Lissy" and David Michel's not so subtle turn as a bumbling, thick-necked, incomprehensible Texan President of the United States.
While this "Lysistrata" is not quite as deft at dealing with serious issues as the original, it is a mercilessly good time.
---
Preview from The Herald-Times for Directors' Symposium X (2005):
Direct effect
Theater by Joel Pierson Mar 31, 2005
Shouldn't you guys be working? Directors Ben Aldred, Janice Clevenger, Robert Wagner and Russell McGee each lead a piece of the Monroe County Civic Theater\'s Directors\' Symposium X at the John Waldron Arts Center. Staff photo by Monty Howell
I'm treading the boards again, for the first time in almost a year and a half. Of course, I'm only on stage for about 23 seconds in the dark. So don't blink if you come to Monroe County Civic Theater's Directors' Symposium X at the Waldron Arts Center Rose Firebay. You might miss me.
The piece is "Sorry, Wrong Number," one of four short plays presented Friday, Saturday and April 8 and 9. Also on the roster are MCCT's first improv troupe, called "And Blackout," directed by Ben Aldred; "The Beau of Bath," directed by Janice Clevenger; and "Lysistrata Americana," a modern take on Aristophenes' classic drama, adapted and directed by Russell McGee.
Being in the trenches is a good reminder of how very much the audience doesn't see of a performance's creation. Weeks of preparation precede the polish and certainty of opening night, with as many people behind the scenes as on stage, making it all possible. Unlike traditional plays, where a single director gets exclusive use of the space and the cast, these four directors are sharing not only the playing area but the players. Several cast members are in two of the four plays.
Behind the scenes, one can see "Wrong Number" director Robert Wagner face each new challenge, and cast members prepare themselves as opening night approaches. Actress Rachael Himsel does battle with her lines – and she has about 70 percent of the lines in this play, very challenging dialogue with characters who are always off stage or in another room. Acting into a telephone is no picnic, and Himsel is winning the battle. The supporting players also work hard, getting comfortable acting into a microphone.
Clevenger, who's directing Constance D'Arcy Mackay's "The Beau of Bath," said the play was written in the early 20th century, and tells of an actual historical character, Richard "Beau" Nash, who developed the social scene in the sleepy hot springs town of Bath, into a bustling, high-class gathering place in the early part of the 18th century.
"The plot," however, "is not based on fact. One magical Christmas Eve, the portrait of his long-ago love comes alive with poignantly romantic results. The play paints a nostalgic mood very different from the styles and intents of the other plays on the program."
McGee is pulling double duty with "Lysistrata Americana," in adapting the classic Greek tale for modern times. "The adaptation is a bawdy satire that is very topical, and the language has been modernized to make it more accessible to today's audience," he said. "The basic story is that the women of two warring countries join forces and go on a sex strike to stop the men from continuing the war."
McGee said the tone is "madcap slapstick humor, Mel Brooks meets Woody Allen, in a war of the sexes that places both genders in very compromising positions."
And Wagner has high hopes for "Wrong Number." "'Sorry, Wrong Number' with Agnes Moorehead was the all-time most popular episode in the 1940s radio drama series 'Suspense Theater.'" Wagner is evoking that radio feel with spoken credits, offstage voices, and minimalist sets because he "wanted the audience to be focused on the disturbed emotional state of Mrs. Stevenson, without visual intrusion of the other characters."
Gotta run. I'm late for rehearsal, but I'll see you there even if you don't see me.
---
Review from The Herald-Times for Macbeth (2004):
The mystery of Macbeth
By Joel Pierson Jul 29, 2004
Linda Ostermeier, left, Janice Clevenger and Genevieve Vesely are the witches in Monroe County Civic Theater's production of Macbeth. Staff photo by Monty Howell.
Macbeth! Macbeth! The Bard's spookiest play – like a love child of William Shakespeare and Stephen King – is filled to overflowing with murder, ghosts, witches, heads being chopped off. Now that's my kind of theater! It's also Will's shortest play, for those who like their drama concise and to the point.
So shrouded in mystery is this play that to even speak its name in a theater is to risk a horrible curse upon your entire company!
Well, luckily for Monroe County Civic Theater, they won't be in a theater, they'll be in their traditional venue, Third Street Park. Macbeth is the group's 80th production, and director David Michel is psyched. He's pumped. He and his cast are ready to launch this thing. Always eager to spend a summer evening in the park, I chatted up the group on the evening that fight choreographer Mark Ridge was teaching folks the fundamentals of swordplay.
"We have an incredible cast, and this is a wonderful story," the director gushed. "The witches are awesome. They make me smile. Seriously, this cast has put a lot of work in."
And if that isn't enough, Pizza Queen is running the concession stand, so playgoers can get a hot slice while they're watching all the slicing on stage.
I asked Michel if he was putting any unusual spin on the text, as is often done with Shakespeare. "No," he said, "we're keeping it as traditional as possible, as near to the text as we can." I'm OK with this, really. Not too long ago, I saw a production of Macbeth set in war-torn Bosnia, which featured (my hand to God) a chorus of men in fatigues and camouflage paint, holding M-16 rifles and performing the "Man's Inhumanity to Man Ballet." Words fail me.
So Michel and his MCCT cast and crew want to keep it traditional. This is a good thing. It's a strong story – in a nutshell, the tale of a man who isn't afraid to stab his boss in the back to get his job. Behind this ambitious man is a slightly crazed wife, and a damned spot that won't come out. So, come for the pizza, stay for the killing! And, Michel hinted men in kilts. Ladies, it doesn't get much better than that.
The director spoke highly of his cast, and they are plentiful: Ben Aldred takes the title role. With him on stage are Geoff Hatt, Jennifer Fletcher, Russell McGee, Phillip Addison, Josh Mulford, Matt Kirkham, Janice Clevenger, Genevieve Vesely, Linda Ostermeier, Kacie Leblong, Heather Wilbur, Todd Fleck, Rance Fawbush and Kassie Spycker.
I seized the opportunity granted by a lull in the fight training to talk with a few of the players. Geoff Hatt, playing Malcolm, told me this was the first major production he's been in. "It's a great experience overall," Hatt said. "I'm having a great time, and really testing my limits."Phillip Addison (Thane of Ross) is an MCCT veteran and member of the board. He was all smiles as we spoke. "It's going well," he told me. "The director's a good guy, and MCCT does a really good job. The show is accessible, it's free, and it's a nice evening out."
Russ McGee (MacDuff) spoke of the importance of accessibility, an important point to me. Too many people avoid Shakespeare because they feel like they just don't get it, and a lackluster production does nothing to make it clearer. Not so with this show, McGee assured me. "The cast is an ensemble, and they've taken pains to know what they're saying at any given moment. That makes the scenes easy to follow. We focused on projection and enunciation."
Addison agreed, and added: "David really stressed the characters' emotional state. He'd ask us, 'What is your character feeling here?'"And what of the curse? The superstition that makes actors wary of saying the "M" word? Certainly, during the rehearsal and performance of this play, the performers are exempt. But Ben Aldred took no chances. After uttering the name of the very character he's portraying, at one rehearsal, he appeased the spirits with a tribute to Melpomene, the Muse of Tragedy, burning a candle to complete the ritual.
---
Preview from The Herald-Times for The Taming of the Shrew (2004):
Two tame shrew
By Joel Pierson Jun 3, 2004
David Wald is Petruchio and Amanda Renee Baker is Kate in Monroe County Civic Theater's production of The Taming of the Shrew. Staff photo by Jeremy Hogan.
This is the story of two sisters, Kate and Bianca. It's also the story of two other sisters, Danielle and Nicole. Kate and Bianca are the heroines of Shakespeare's The Taming of the Shrew. Danielle and Nicole are the Bruce sisters, Bloomington's feistiest theatrical siblings, who are co-directing Shrew for Monroe County Civic Theater at Third Street Park. Individually, they have a reputation for delighting audiences. Together, they'll be a force to contend with.
Many people know the story of The Taming of the Shrew without realizing it. There is the popular musical, Kiss Me, Kate and the teen comedy movie, Ten Things I Hate About You. The story is essentially the same – virtuous sister and man-bashing sister deal with the suitors who come seeking to woo them.
I implore you, culture lovers, not to draw direct parallels with Danielle and Nicole. For, you see, both directors have a bit of the sweet and the sassy in them."It is not only a charming entendre that two sisters are directing a show about two sisters," Danielle told me, "but about these particular two sisters." Hmm, so perhaps there is more of a parallel than we thought.
The directors are joining the MCCT crew for the first time, departing from their usual haunt, Bloomington Playwrights Project. "Working in the park poses some great challenges given the inherent complexities of the space," the directors admitted in an e-mail.
But two women's complexity is another man's opportunity. Just ask MCCT producer Frank Buczolich, who's also playing Baptista. "In many ways," he said, "it's like a traditional presentation of Shakespeare's time; outdoors, with the audience free to come and go as they please. The actors' job is to attract the audience's attention and keep them riveted to their seats," or blankets, as the case may be.
The actors include Amanda Renee Baker as Kate and Allison Minniear as Bianca. Joining them are David Wald, Todd Aiello, Patrick Doolin, Clay Sanderson, David Michel, Patrick Ruetschlin, Matthew Kirkham, Heidi Gardner, Torlando Hakes, Jim Hettmer and Christine Perrotta. Big cast, big talent. Big challenge? "We can tell you about the amazing work our cast and crew has done in a little over three weeks," the sisters wrote. "Shakespeare is like doing a cover song; everybody knows it, so you better do it justice. We are 'covering' Shakespeare and care greatly about preserving its relevance. Our expectations are great and we expect nothing less than a great show."
Buczolich is similarly geared up. "Shrew is, of course, a broad comedy. It's fast-paced, full of attempts at deception that occasionally work, and equally funny when they don't. For far less than the price of a movie or video, an entire family can spend an evening under the stars and be entertained by one of theater's better-known plays."
I asked him to dish a little on his directors, to see how the pair was doing. He came up all compliments. "This is a true co-direction of the Sisters Bruce," he said. "Each has a strength or specialty that complements the other, with Nicole focusing on the text and Danielle the overall visual concept." That concept includes set and costume design and construction by the multitalented pair, I should mention.
Critics have been tough on MCCT in the past. Some productions have worked better than others. Those that failed to shine usually were beset with a mixed bag of talent because not enough skilled actors stepped up to play. It does my heart good to see the caliber of talent for The Taming of the Shrew, both on stage and behind the scenes. (And I hear the playwright's no slouch either.) The Taming of the Shrew by William Shakespeare runs 8 p.m. Friday and Saturday and June 11-12 at Third Street Park, at the corner of Third and Washington in Bloomington. Admission is as always; free, and the show is appropriate for all ages. So come out and see a show under the stars. Bring a blanket and some lawn chairs, maybe a picnic dinner and a citronella candle. (Leave the alcohol at home, though park rules.) Help keep Shakespeare in the park alive and well in our community.
---
Review from The Herald-Times for Engaged (2004):
W.S. Gilbert play pure comedic entertainment
By David Britton Apr 28, 2004
Belvawney (Kasey Thurman) hovers over Cheviot Hill (Michael Engberg) in the Monroe County Civic Theater production of W.S. Gilbert's Engaged. Courtesy photo by Tom Stio.
Prepare to suspend your disbelief, theater goers, here comes Engaged, a 19th century British farce written by William S. Gilbert and brought to you by Monroe County Civic Theater and the Bloomington Area Arts Council at the John Waldron Arts Center Auditorium.
Gilbert spins an "engaging" tale that is nothing short of ludicrous – a word used, in this instance, in the most complimentary way, entertaining the Saturday crowd at the Waldron.
The play takes place in merry old England and revolves around Cheviot Hill, played by the charismatic young Michael Engberg. Cheviot is a man of some wealth, who can't seem to keep from proposing marriage to every woman he meets. What's more, women can't seem to help but swoon when he launches into his hysterically corny romantic speeches.
To add to the confusion, Cheviot's friend Belvawney (Kasey Thurman) is paid a handsome sum of money each year to make sure his friend remains unwed, a sum that reverts to Cheviot's uncle, an amusing character played by Torlando Hakes, in the event of marriage or death. High jinks, as they say, ensue.Cheviot's various love interests manage to be just as ridiculously charming as the rest of the show. Melissa Mueller is the deceptively innocent Minnie Symperson; Anna Dittmer is Maggie MacFarlane, the poor but vain Scottish peasant; and Julie Chapin is the self-absorbed Belinda Treherne. The three of them hatch more plans to catch wealth and husbands than a full days worth of soap operas.
Gilbert certainly makes his characters jump through a lot of hoops in the name of comedy. Close friends become bitter enemies and then switch back, often in the same scene, and logic is thrown out the window all in the name of getting a laugh which, more often then not, is accomplished. Everything about this play, from the plotline to the outrageous Scottish accents, is over the top. No deep seated morals or messages here, just straight-up comedy for the sake of being funny, a style that's worked for groups from the Marx Brothers to Monty Python; a style that works equally well for Engaged.
---
Review from The Herald-Times for Engaged (2004):
Pressing 'Engagement'
By Joel Pierson Apr 22, 2004
Patrick Doolin, left, Anna Dittmer, Melissa Mueller and Julie Chapin star in Monroe County Civic Theater\'s production of Engaged. Courtesy photo by Tom Stio.
There are many things I enjoy about being a theater columnist. One thing is that I get to call up people I've never met, and put them on the spot for a bit.
Janice Clevenger found that out recently when I phoned her up, out of the blue, and asked her to chat with me about Engaged, the comedy she's directing this weekend for Monroe County Civic Theater at the John Waldron Arts Center. Being an extremely good sport, Janice was happy to talk about the show.
Engaged was written by W.S. Gilbert (of Gilbert and Sullivan) in 1875, and it\'s set on the border of Scotland and England in 1880. Clevenger says the play is filled with Gilbert's "special, zany plot structure. It's a strange, quirky wry commentary on social mores."
First performed in 1877, Engaged tells the story of Scotch marriage. At that time, so the story goes, if a man and woman declare their intention to be husband and wife, they are married. (Sort of like Las Vegas without the Elvis impersonators performing the ceremony.) With this in mind, Cheviot Hill (the play's lead) proposes to every young lady he meets. When he becomes engaged to three at the same time well, if you'll pardon the old expression, hilarity ensues.
Clevenger corrected me on this point. "The fun is chuckle-type laughter, not big belly laughs. It's amusing all along," she said. Well, this is understandable. We, as a culture, have come to be quite demanding of our comedy. In the age of "South Park" and Chris Rock, we tend to look at a British comedy of manners from the 19th century with an attitude of "Oh, how quaint." But to dismiss the gems of the past is classist and closed-minded.
The director describes the tone of the play this way: "These are upper middle class folk of the time. Ordinary, cultured people. But things that occur are not quite ordinary, and yet they take it as a matter of course. The young ladies are not feminists, but they stand up for their needs, in a surprising way at times."
Mike Engberg heads up the cast as Cheviot, with Julie Chapin as his leading lady. Rounding things out are Kasey Thurman, Melissa Mueller, Torlando Hakes, Patrick Doolin, Anna Dittmer, Carrie Cline, Heidi Gardner and Todd Fleck. Given the locale, Clevenger employed not one but two dialect coaches: one for the Scottish and one for the English. This is a good thing, because we all remember Keanu Reeves in Dracula and Much Ado About Nothing and Dangerous Liaisons.
Clevenger, the last remaining founding member of MCCT, is quite pleased with the way the play is taking shape. Engaged is a bit hard to find in actual performance; the director herself has never seen it staged. But she says, "I got a magazine about Gilbert and Sullivan, and read about this play. So I looked it up in the Lilly Library and decided, let's do it." And through a joint sponsorship with the Bloomington Area Arts Council, MCCT did just that.
"Engaged is a farce full of plot twists, and has a strong voice mocking Victorian values of love and marriage," said MCCT president Frank Buczolich. "The play is similar in tone to the later Importance of Being Earnest of Oscar Wilde, which Engaged is said to have strongly inspired."
There is an Engaged revival of sorts currently underway. In addition to the MCCT/Waldron co-production, Engaged has just opened in New York for the first time since 1925.
"This production will be the civic theater's 78th since its inception in 1986. Nos. 79 and 80 will take place in Third Street Park. Buczolich cryptically hinted that No. 80 "will also feature a strong, central Scottish character."
Engaged runs Friday through Sunday and April 30 and May 1 and 2 at 8 p.m. at the John Waldron Arts Center Auditorium. For further details, see the Civic Theater Web site at www.mcct.org.
---
Review from The Herald-Times for Akhenaton and Nefertiti (2003):
Love of Egyptian history obvious in 'Akhenaten'
By Matthew Oyer Apr 24, 2003
Russell McGee's play Akhenaten and Nefertiti, being produced by the Monroe County Civic Theater at the John Waldron Arts Center Rose Firebay, leads audiences on a tour through the beguiling world of ancient Egypt. Akhenaten, the father of Tutankhamen, marks the starting point of a four-part series by McGee that ends with the Hebrew Exodus from Egypt.
Akhenaten's father, Pharaoh Amenhotope the third, was the biblical Pharaoh whose dreams were interpreted by the Hebrew Joseph. Amenhotope's son, Akhenaten, then recreates Egypt as the first monotheistic society, effectively bringing strife and ruin to his people. The play is a story of the fall, and the unrest of the people is mirrored in the corruption of the priests and politicians the play centers around. This historic dramatization is shrouded in darkness as we witness the descent of nearly every character in the face of the corrupting influence of power and are reminded that each man's history is written with his weaknesses.
Playwright Russell McGee, a graduate of Indiana State University, has been interested in Egyptian history for as long as he can really remember. McGee said, "On a silly note, when I was in the second grade, I attended a gifted art class at ISU and made a ceramic plate with Tutankhamen on it. Years later, I ended up going to college at ISU where I wrote the play about King Tut; the sheer irony astounds me!"
McGee's fascination and love of the history behind the play comes through in his plot, as it is probably the play's strongest point. The story is engaging in itself, and it takes us into a world that is mysterious and quite unknown for most of us. In this play, we see a familiar biblical character, popularized by Andrew Lloyd Webber's musical Joseph and the Amazing Technicolor Dreamcoat, from the perspective of an Egyptian history largely foreign to us.
Bobby Hackett gives a strong performance in the thematically essential role of Horemheb. The play does an impressive job of working with actors with a large array of age and experience differences. Sixth-grader Talia Shifron gives a notable debut performance.
With that said, the production did have a few lapses. Although the strong performances of cast members of such diverse ages were remarkable, they made the elapsing of time difficult to follow in the story. There were also some memorization difficulties for many of the actors that were slightly jarring for the audience. And, finally, scene changes usually seemed a bit hurried with no audience distraction from the darkness of the stage.
Akhenaten and Nefertiti is, on the whole, an interesting voyage into the mysterious land of ancient Egypt and a complex tale of the corrupting influence of power on religion and state. It is also a history lesson for us all into what makes a history. McGee hopes to get an opportunity to bring all four of his plays to Bloomington.
"Bloomington is an ideal setting to perform these works because of the diverse art culture," he said. "I'm just thankful that the Monroe County Civic Theater has helped me see the show brought to life in Bloomington, and it is my hope that this production will not only better me as an artist but them as well."
---
Review from The Herald-Times for Cyrano De Bergerac (1997):
Theater review: `Cyrano De Bergerac'
By Keri Hensley Nov 13, 1997
The Monroe County Civic Theater's production of Cyrano de Bergerac is much like the hero himself – lacking fashion but loaded with flair. Audiences, like Cyrano's lifelong love, Roxanne, would benefit from looking beneath the surface.
Community theater always runs the risk of not being taken seriously, and I have to admit I was skeptical when I heard about this production. After all, how could it even come close to the sight and sound of the supreme Cyrano, told on the big screen in its original French and starring Gerard Depardieu? But director Kathy Cox-Burke writes that the show was a labor of love; apparently, love always triumphs in the end.
Cox-Burke decided to stage Cyrano on the 100th anniversary of its first showing. De Bergerac, incidentally, was a real person, but he's best remembered by the Edmond Rostand play that characterizes him as a big-nosed battler with a way with words.
Of course, life's not easy for a man whose nose "precedes (him) everywhere, a quarter of an hour in front." Roxanne fancies herself in love with the handsome Christian, who must depend on Cyrano to create the sweet nothings his beloved craves.
So the stage is set – it's Beauty and the Beast, but as Cyrano explains to Roxanne, "when the princess said I love you to the enchanted prince … all his ugliness melted away. … Love, you say. But, as you see, I'm still the same."Mike Price, as Cyrano, must follow in the footsteps of Depardieu, a man whose nose scarcely needs altering in order to fit the profile. Price succeeds because he makes the character his own.
The words are the same, but the tone has altered. Price's Cyrano is less melancholy, more manic, even good-naturedly self-deprecating where Depardieu is bitterly self-mocking. His performance is almost like Jimmy Stewart masquerading as Zorro on the Disney Channel.
Don't take me wrong, that's not criticism. As Cyrano, Price dominates the stage, as he must in order to carry the play as the author intended. In particular, one scene stands out: Cyrano delays one of Roxanne's suitors by pretending to have fallen from the moon, and here Price shows a remarkable aptitude for physical comedy as he lolls and lunges about on the floor.
I fault him for one thing only: Cyrano's fast patter. Price should savor his lines – poetry and prose sustain Cyrano, the character's keenly aware of their devastating impact.
As for the other sides of the triangle, the characters of Roxanne and Christian are mostly one-dimensional. There's no great stretch of acting ability needed to portray either one – only a pretty face is really necessary. That said, both Amanda Baker as Roxanne and Mike MacNamara carry their weight in this production.
Baker conveys Roxanne's romantic and spirited view of the world with a toss of her strawberry curls. The Indiana University student is majoring in French, which undoubtedly explains her mastery of the French names. As for the object of her affection, the love-struck and struck-dumb Christian, MacNamara is pitiable as the man who's manipulated by Roxanne and Cyrano in turn.
There's another rival yet for Roxanne's affections, the Comte de Guiche. Steven Gleckler as de Guiche turns a powerful man into a fop, a characterization that works, but not well. Gleckler's de Guiche has no room in his heart to love Roxanne – he's too full of himself – and without Roxanne, de Guiche lacks the motivation to bring the play to its climax.
But director Cox-Burke deserves kudos for even attempting to stage Cyrano on the minuscule Bloomington Playwrights stage; the play has, at minimum, four main characters and a host of smaller parts.
Two of these smaller-character actors deserve mention, though for different reasons. First, the good news: As the drunken poet Lignire, Mark Pitman acts the clown with scene-stealing bravado. But Martelle Burke as pastry chef Ragueneau, behaves in a breathless manner that led me to believe he was suffering from stage fright.
And I can't condone any line-dropping. (No names – you know who you are.) If Price as Cyrano can wax poetic almost constantly for three hours, everyone else has no excuse.
Still, Cox-Burke has earned her applause. She's vastly improved two pivotal scenes – Christian's word-mockery face-off with Cyrano and the title character's duel with death – and she's made her mark with a consistently lighthearted tone. I must wonder, however, how much thought went into choosing a translation.
The Hooker version used here is the de facto English translation, but it has some fatal flaws. The original Cyrano is not only poetic, it's clever. The Burgess translation has much of the original's singsong quality and, more importantly, preserves Cyrano's final word.
The difference between "white plume" and "panache" is profound, wouldn't you say?
Cyrano de Bergerac continues at 8 p.m. Friday and Saturday and concludes at 2 p.m. Sunday at the Bloomington Playwrights Project, 308 S. Washington St.
---
Review from The Herald-Times for Titus Andronicus (1997):
Shakespeare's 'Titus' opens tonight
By Kathleen Mills Aug 15, 1997
Titus Andronicus started off life as a pretty popular Shakespeare play. The title page of the first edition of the work says that three companies staged the tragedy. But thereafter, the tragedy, which is thought to be Shakespeare's first, fell out of favor.
Monroe County Civic Theater hopes to resurrect some of that early enthusiasm by offering two weekends of Titus Andronicus. The play opens tonight in Third Street Park.
"I've done a lot of Shakespeare," said Andy Cambridge, who is co-directing Titus with Kyle McIntosh. "I really like Shakespeare and this is a unique opportunity to bring back a play that was popular in Shakespeare's day."
Scholars note elements of Titus such as the combination of feigned lunacy with some real insanity and a portrait of a man completely out of his depth, that Shakespeare developed in his later plays, Othello and King Lear.
Cambridge said McIntosh edited the play to make it more accessible to audiences. "We edited some of the classical references that wouldn't be understood today and edited the repetitions," Cambridge said. Those two snags "have made it a less popular play" in the 20th century, Cambridge said.
Cambridge and McIntosh have fashioned Titus as a "streamlined, action-packed, good, solid play." Action indeed. Having returned from a 10-year war with the Goths, Titus is asked to help choose a new Roman emperor. Titus chooses Saturninus. In gratitude, Saturninus declares his intention to marry Titus' only daughter, Lavinia. But Bassianus had previously claimed Lavinia. This leads to a fight and Titus ends up killing one of his own sons.
Enter Aaron, a scheming Moor in the court of Tamora, who turns out to be a mastermind of evil who terrorizes the Andronicus family. Before it's all over, Lavinia has been raped and had her hands and tongue cut off; a nurse is killed; there's an episode of baby buying; two people have their throats cut and their heads baked into pies; and Titus, who has his hand cut off, is seemingly mad.
"It's definitely a tragedy, but we're not playing up the violence and bloodshed too much," Cambridge said. Cambridge, who will be a junior at Macalaster College in St. Paul, Minn., in the fall, grew up in theater in Bloomington. He spent years working on-stage and off in the Mini Play Festival. Still, Titus is his first full-length directing effort.
"I kind of thought I was ready," Cambridge said of staging Titus. "I did my 50th show when I did my last show at Macalaster."
Cambridge said he's looking forward to opening a Shakespeare play that is not terribly well known.
"It's a challenge, but there won't be preconceived notions of what should be and what shouldn't be," he said.
---
Review from The Herald-Times for The Taming of the Shrew (1997):
Shakespeare's battle of the sexes getting another go-around
By Kathleen Mills Jan 3, 1997
Modern directors never tire of turning their talents to Shakespeare's enduring battle of the sexes, The Taming of the Shrew. The Monroe County Civic Theater takes on the comedy this weekend with performances at the Bloomington Playwrights Project, 308 S. Washington St. Performances are today, Saturday, Jan. 10 and 11 at 8 p.m. and Sunday at 2 p.m.
The story is of how Petruchio, a young Italian, woos the beautiful but shrewish Katherine. This is a challenge for Petruchio because Katherine's sharp tongue has discouraged other men. To "cure" Katherine, Petruchio puts her through her a series of humiliations. At last, the pair marry.
Though the play can seem decidedly sexist in its humiliation and "taming" of Katherine to present-day audiences, directors enjoy using these plot elements, but in a contemporary framework. "The director has worked really hard and the young lady playing Kate has worked really hard to not get into 'I'm going to be your slave and I'll do anything you say,'" said Kathy Cox-Burke, the president of Monroe County Civic Theater. Her husband, Martelle Burke, is directing this version of Shrew.
"He has found a way of delivering the final monologue (when Kate admits she's 'tamed') so that she's saying these things, but she's not going to do them," Cox-Burke said. This production, set in 15th-century Padua, also uses some women in men's roles, further tweaking notions about the sexes.
Cox-Burke said Civic Theater, which specializes in Shakespeare, chose The Taming of the Shrew both for its battle of the sexes themes and because the comedy hadn't been performed in Bloomington in awhile. The play was last performed at the University Theatre in the winter of 1991."We were looking for something to do over the holiday season and this is good for us to produce," Cox-Burke said. "No one else is doing anything and we can get talented folks from the university who are normally not available."
---
Review from The Herald-Times for MCCT's 10th Anniversary (1996):
Civic theater marks anniversary
by Kathleen Mills Sep 29, 1996
For 10 years, in 40 productions, Monroe County Civic Theater has worked on a shoestring "to give to airy nothing a local habitation and a name" in the words of Shakespeare. The community theater group, best known for its Shakespeare in Third Street Park productions, recently held a birthday party to mark a decade of drama and look forward to at least 10 more years of the same.
The group started in 1986, after Bloomington's New Stage Repertory Company folded. No Mother to Guide Her by Anthony Forsythe had four performances on the Harmony School outdoor stage. From there, Civic regularly presented plays, usually offering two or three shows a year. The productions have ranged from Hansel and Gretel to Hedda Gabler to Gilbert and Sullivan.
Directors and actors have come from Indiana University, other local theater troupes and simply from interested community members. "People come and go …," said Janice Clevenger, one of Civic's founding members. "We figure we've had over 400 people involved in plays over the years." Clevenger was for many years the chief costumer for Civic. Recently, she's had help from Kathy Cox-Burke, who also directs and acts with the company. Pam Service, another founding member, usually handles the props. Sets are minimal.
Since 1990, Civic has presented at least one Shakespeare play a season. This past summer, they did Twelfth Night and King Lear. Several in the group said they are most proud of this aspect of Civic. "It's free and a lot of people can get introduced to Shakespeare in that way," Clevenger said of the Shakespeare in the park productions, which are sponsored by local businesses through the Bloomington Parks and Recreation Department. "It's a real community service."
Service said the company's productions of Shakespeare make the bard's words come alive. "When we study Shakespeare in high school or college, we read it. Shakespeare didn't intend for it to be received that way ," Service said. "When you see it on stage, "the meaning you struggled over in high school is suddenly clear. You really get to appreciate how these plays are put together and how enduring they are."
Mike Price, a local actor who has worked on seven of Civic's productions, said he appreciated the atmosphere community theater has to offer. "The one particular thing I associate with the core of Civic is the free outdoor shows," said Price, now a company member of the Indiana Shakespeare Festival. "I really like working with a wide age group and I like the outdoor atmosphere. I really like being involved in free theater, which is a rare thing." Price said the free outdoor shows undoubtedly draw people who wouldn't usually come to see Shakespeare.
Civic's first Shakespeare, The Comedy of Errors, was financially successful for the company, remembered Clevenger. "There was so much interest that many people said we ought to do it every year," she said. While The Comedy of Errors was a winner at the box office, not all of Civic's productions have been. Some shows have made money and others have lost money but always, Clevenger said, "the aim is just to cover expenses. Well, maybe it's to cover expenses and avoid fiascoes."
Service comically recalls all kinds of on-stage disasters including a Henry IV with only one working light, a pesky hairpiece that snagged on a sleeve in Two Gentlemen of Verona, a fire alarm going off in the middle of a nursing home performances of Japanese Kyogen, and an actress (Alex Service) breaking her toe on-stage in A Midsummer Night's Dream.Why do they do it then? "I always felt that Civic Theater exists about 80 percent for the enjoyment of the participants and about 20 percent for the audience," Clevenger laughed.
Price, noting that Civic Theater gave him a chance to direct, praised Civic's openness and community spirit. "I would really encourage people to come out and get involved with it," Price said. "It's a rare type of group. It's a ground level thing with opportunities for everyone. It's unique in the community and really valuable."
---
Review from The Herald-Times for The Lion in Winter (1996):
Struggle and rise to power at heart of 'Lion'
By Kathleen Mills Jan 5, 1996
It's Christmas Eve, 1183 and Henry II is deliberating over his successor. Will it be Richard the Lion-Hearted, the oldest son? Or will it be John, the youngest? Or what about Geoffrey, the middle son? This dilemma is at the heart of James Goldman's The Lion in Winter.
Monroe County Civic Theater stages the play today at 8 p.m. at the Waldron Arts Center, 122 S. Walnut St. Additional performances are Saturday, Sunday and Jan. 12 and 13.
Goldman adapted his play for the screen in 1968. The film version, starring Katharine Hepburn, Peter O'Toole, and the debut of Anthony Hopkins, won three Academy Awards. Hepburn won an Oscar for her performance as the strong-willed, shrewd Eleanor of Aquitaine, wife of Henry II.
In Civic's production, Sharon Winderlich plays Eleanor."She and her husband have always had this on again-off again power struggle," Winderlich explained of Eleanor and Henry II. "He has kept her in her own castle for 10 years, but he brings her out sometimes."
Kathy Cox-Burke directed Civic Theater's production of the play. She has helped the actors find the emotional range for their expansive characters, Winderlich said."It's a wonderfully powerful piece to do," Winderlich said. "It's wonderfully fun to push the emotions to the edge without taking anything over the edge."
A good portion of Eleanor and Henry's power struggle involves which of their three sons will be the next King of England. The original plan was for Richard to marry Alice, the sister of King Philip of France. The pair would then go on to rule England. But King Henry II has been having an affair with Alice, so he doesn't want Richard to marry her. Instead, he wants the youngest son, John, to have the throne."It's a power struggle about who is going to keep England together," Winderlich said. "It's a very beautiful story." The marriage between Henry II and Eleanor "works because they're both so intellectually equal," Winderlich explained.
Well, it worked, but it was also a pretty unconventional marriage.The real Eleanor of Aquitaine married Henry II in 1154. After they lost affection for each other and Eleanor led a failed revolt against her husband, Henry had her held in a castle until 1189.
"Eleanor was a very powerful woman," Winderlich explained. "She had her own country, the Aquitaine (an independent state next to France) – She controlled her sons and their heirs all the way through her life."
In Civic's production, John is played by Winderlich's real-life son, Brent. Brent Winderlich is usually behind the scenes, rigging and operating lighting. The Bloomington High School South senior wanted to act in The Lion in Winter because of its dramatic action. "I like the story. It's just fun. And I like castles and medieval times," he said.
Would his character, John, make a good king for England? (The real John did go on to England's throne.)"Not very likely. He was kind of a slob and he wouldn't know what to do," Brent said.
---
Review from The Herald-Times for Feathertop & Words With a Mummy (2004):
Production offers fine acting despite being uneven
By Kathleen Mills Oct 23, 1994
Though the Waldron Theater Series' Friday night production of Feathertop and Words With a Mummy were uneven, the evening did offer some moments of fine acting, a handful of memorable characters and a winsome autumn ambiance.The evening was billed simply as Feathertop, but it really included both that story and Words With a Mummy, a piece adapted from a story by Edgar Allen Poe. As it turned out, the later was more satisfying in its production.
Mike Price, who directed the plays, adapted them with Jenney Henriques. The shows were a collaboration between the Bloomington Area Arts Council and Monroe County Civic Theater.Words With a Mummy was a comedy of sorts. It came across as Edgar Allen Poe meets the Marx Brothers in Frankenstein's laboratory as Price and company brought out the slapsticky side of Poe. I bet you didn't even know Poe had a slapsticky side, did you?
The story, set in Boston in the 1840s, is about a group of students and anthropologists who find an Egyptian mummy. After delivering shocks of electricity to the mummy's toes and ears, the group of scholarly men watches in horror and surprise as the mummy comes to life. Once awake, the mummy becomes quite smug, telling the men how false their assumptions of Egyptian society were and how little the world has advanced since her day.
Lee Carter Browne was excellent as the mummy. Also notable were Suzanne Lang as the lone woman among the male scientists and Jim Hettmer and Mike C. McNamara as members of the anthropologists' group.
Feathertop was a darker drama, based on a story by Nathaniel Hawthorne. The play opened with great promise, as Feathertop (a gangly scarecrow who wears a shiny pumpkin head) takes instruction from his mother, a witch. George M. Calger was quite expressive and energetic as Feathertop, and Kathy Cox-Burke was deliciously deceptive as his mother.
After a few puffs of the pipe for nourishment, Feathertop goes to town to meet the area folks. The townspeople assume Feathertop is nobility, and he, naive and happy, goes along with the ruse. It's not until the end of the play that the people discover Feathertop's true identity, and the scarecrow discovers what it's like to experience disappointment and sadness.
It was an intriguing little story, showcasing Hawthorne's mastery of the psychological portrait. However, between the dynamic first scene and sad final scene, there were some awkward moments.While there were portions of both plays that could use improvement, the combination of Feathertop and Words With a Mummy is both appropriate for Halloween and suitable for families. Several middle-school aged children at the Friday performance appeared to be enjoying the plays immensely. Feathertop and Words With A Mummy continue at the Waldron Arts Center, 122 S. Walnut St., Oct. 28-30. Shows are at 8 p.m.
---
Review from The Herald-Times for Romeo and Juliet (1994):
`Romeo and Juliet' an energetic production
By Kathleen Mills Jun 22, 1994
Monroe County Civic Theater has a tradition of performing Shakespeare under the stars. They keep doing it and we keep going, not because they are a troupe of great Shakespearean actors, but because they give us energetic and heartfelt productions in a relaxed atmosphere. This summer, Monroe County Civic is doing two by Shakespeare: Romeo and Juliet which opened last weekend, and Macbeth which will come later in the summer.
Romeo and Juliet is being staged in Third Street Park under the auspices of the Bloomington Parks and Recreation Department's Twilight Arts Series. Even with the extreme heat on Saturday, the park setting was a lovely one. Groups of young people, couples, families, older folks; all were sprawled out on blankets or relaxing in lawn chairs, savoring the language of Shakespeare.
Romeo and Juliet contains some of Shakespeare's best-known lines: "What light through yonder window breaks?," "Parting is such sweet sorrow" and "That which we call a rose by any other name would smell as sweet" are just a few.
Monroe County Civic is community theater in the truest sense. The Romeo and Juliet cast included Civic regulars, IU students, high school students and simply those up for the challenge of presenting Shakespeare's great romantic tragedy.
The cast includes more than 25 people of varying acting abilities. The leads were filled by Andy Cambridge (Romeo) and Annaliisa Ransel (Juliet). Cambridge is young, but is nonetheless a veteran of community theater. He gave a more natural, more emotional performance than Annaliisa, but as a pair, they were satisfactory.
Others that excelled in the production include: Hal Kibbey as Montague, Dara Bidwell as Lady Capulet, Rick Sakasitz as Friar Lawrence and Frederick Winter as Mercutio.
The production was directed with exuberance by first-time director Jonathan Pearl. Pearl used much of the park space that surrounds the stage, setting scenes at the base of the stage and within the audience. It was quite effective dramatically, and served to improve the park's sound problem. In fact, the sound seemed better this time around than in previous theater productions in Third Street Park. Better, but not great. It's best to sit as close to the stage as possible.
No matter where you're sitting, you can enjoy Janice Clevenger's stunning costumes. Velvet jackets, sweeping skirts, coordinating hats: this is the most professionally outfitted community theater I've ever seen.The beautiful costumes, the park setting and Shakespeare's masterly story: these are reasons to see Monroe County Civic Theater's production of Romeo and Juliet.
Things you may want to consider taking with you to the park: lawn chairs, a blanket, bug repellant, dinner, and depending on the weather, buckets of ice.Romeo and Juliet continues in Third Street Park Friday and Saturday. Shows begin at 8 p.m. and there is no admission charge.
---
Review from The Herald-Times for Rosencrantz & Gildenstern and Cox & Box (1993):
Civic teams a Sullivan and a Gilbert
By Kathleen Mills Nov 12, 1993
The Monroe Civic Theater is presenting Sullivan and Gilbert this weekend. No, not Gilbert and Sullivan, but the reverse. Why the name switch? Because Civic Theater is staging one piece by Arthur Sullivan and one piece by W.S. Gilbert, but nothing the duo did together. The two plays, Rosencrantz and Guildenstern (A Shakespeare Travesty) and Cox and Box are being staged at the Monroe County Public Library this weekend.
Rosencrantz and Guildenstern (A Shakespeare Travesty) is a take-off of Shakespeare's Hamlet, that was quite popular in the mid-19th century. "Parodies of Shakespeare plays were popular as after-dinner entertainment or in clubs," said actor Pam Service. "It was the thing to do. "The Sullivan piece, Cox and Box, is just "a wonderful show" Service said, that Sullivan wrote before he teamed up with Gilbert. It's about two men, Cox and Box, who are unknowingly renting the same apartment from a landlord named Bouncer. "A lot of us wanted to do it for a while, but it's short, it has a cast of three. But when we found the Shakespeare spoof, since we have built up a familiarity with Shakespeare as our man, we decided this would be a good evening of entertainment, to put these two together."
Shakespeare is indeed Civic's man. They have performed many of the bard's works from Much Ado About Nothing to Othello and are well-qualified to parody his work. They are also huge Gilbert and Sullivan fans. "It's always a happy show," Civic actor and director Janice Clevenger said of Gilbert and Sullivan. "Gilbert and Sullivan always puts people in a good mood. There is always an audience for it in this town and it's a pleaser on both side of the footlights."
Civic regulars first came into contact with Rosencrantz and Guildenstern when member Alex Service, then a student at UCLA, discovered the piece in a five-volume set of Shakespeare parodies in the school library.
Frank Buczolich is the director for the play. "It says farce and that's our intent," he said. He described the piece as "everything that could go wrong or be bad with Shakespeare, has." And, Service added with a chuckle, "you don't even have to know Hamlet because there are Shakespeare inaccuracies. It certainly doesn't follow Shakespeare letter by letter.
---
Review from The Herald-Times for Henry IV, Part 1 (1992):
'Henry IV' good blend of talents
By Kathleen Mills Sep 6, 1992
Monroe County Civic Theater has had much success staging Shakespeare's comedies in outdoor settings. And while their Friday night production of Shakespeare's Henry IV, part one, was satisfactory, it seems the histories might work better on an indoor stage.
Third Street Park is a lovely setting for a play, and the new stage there does improve visibility and sound. However, cars whizzing by and children playing on nearby playground equipment sometimes made it difficult to hear the actors' lines.
Distractions aside, director Alex Service has done a good job with her cast. She has drawn especially strong performances from David Cody as Prince Hal, Bob Service as Henry and Rick Sakasitz as Falstaff.It is important that this play have a good Hal as the story is less about his father, Henry IV, and more about the young prince. Cody as Hal, in his first Civic Theater production, projects well from the stage. He delivers his lines exuberantly and does a good job of blending Hal's two worlds: one of debauchery and the other of royalty.
Henry IV, part one was probably first performed in 1597. It takes place in 1403 and centers on the historical Battle of Shrewsbury. Friction between two factions fighting for the throne and questions about Hal's loyalty to his father provide the dramatic action of the play.
Obviously, we know Hal will go on to be Henry V, so Service's job is to present the play's plot and sub-plots in a compelling way. She has extracted high drama and a little comedy from the play, thus making it less a straight history and more a broad combination of several Shakepeare styles.
She has also done a fine job of staging the climatic battle scene between Hal and Hotspur. Service does not try to do too much with the little the space provides. And Todd Howard as Hotspur, while weaker in other scenes, manages his battle with Cody just fine.
As always with Civic Theater, Janice Clevenger (and a host of other seamstresses and helpers) have fashioned incredible costumes. The lighting and sound were the best that could be expected in a park. Shakepeare outdoors is pleasant, but to hear and really appreciate the language and story of Henry IV, see this one in the Waldron Arts Center. There will be three performances next weekend.
The Monroe County Civic Theater will stage Henry IV, part one, Sept. 11 and 12 at 8 p.m. and Sept. 13 at 2 p.m. at the Waldron Arts Center, 122 S. Walnut St. Call 334-3100 for ticket information.
---
Review from The Herald-Times for Henry IV, Part 1 (1992):
Service, Civic Theater stage `Henry IV'
By Kathleen Mills Sep 4, 1992
If you saw Alex Service's production of William Shakespeare's Henry IV, part one on Bloomington Community Access television earlier this year, you saw all of the play but the famed dramatic battle scene between Prince Hal and Hotspur.
Here's your chance to see that battle live on stage. Service will direct a full Monroe County Civic Theater production of the history play which opens today in Third Street Park at 8 p.m."We felt like doing it again," said Service, who is a student at the University of California at Berkeley and a Bloomington native. "Some of the actors knew their lines already."
Some of the people who acted in the video version will appear on stage, including Service's parents Bob and Pam Service who are Civic Theater regulars and long-time Shakespeare devotees."It's a lot harder coming from a background of video," Service said of directing the play. "You cannot rely on the camera to make the action. People have to make the action."
Service was studying in England this past year and saw a Royal Shakespeare Company production of Henry IV, parts one and two."It gave me ideas for what I didn't want to do," Service said. "Basically they are still doing the same thing they did a decade ago. . .They used a lot of technical stuff and Le Miz-type dramatics in the battle. I don't want to do that."Her battle will be more symbolic, Service said. "People expect something bigger on video, for the stage, they can suspend their disbelief."
Though the title of the play is Henry IV and the king is a prominent character, it is Prince Hal, Henry's son and successor, who is the main focus of the drama."Hal is one of the reasons I got into it," Service said. "He is sometimes seen as a good-time guy there to have fun, but he is much more cold and calculating than he is portrayed as."
The actor who will play Prince Hal, David Cody, also agrees his character is complex."He was England's best-loved king. Yet it was documented that he had such a wild youth, hanging around with drunks and thieves. How Shakespeare reconciles it – the great king with the rebellious youth – he does it very well. . .It's a nice transformation," Cody said.
For Cody, who is a doctoral student in voice at Indiana University, studying to be an opera singer, playing Hal is his first experience with non-musical theater."This is a good chance to see what staged theater is like. In opera, the dialogue is never very long and you have the music to hide you. Staged theater is more subtle," he said.
Henry IV, part one was probably first performed in 1597. Shakespeare presented the character of Henry IV, King of England, in several works. Henry shows up in Henry IV, part one, Henry IV, part two and in Richard II as Bolingbroke.
Henry IV is of Shakespeare's histories, and histories are not often done by community theater groups. But, said Service: "Henry IV is a combined work. There is history with the king and comedy with Falstaff and with Hotspur who is humorous. . .It's got so many facets. It's historical, comedic, tragic – all in one piece.
---
Review from The Herald-Times for The Comedy of Errors (1992):
No mistake about it: `The Comedy of Errors' is a delight
By Kathleen Mills Jun 28, 1992
Linguistically, William Shakespeare's The Comedy of Errors is not as witty or as complex as some of his other comedies. But the Monroe County Civic Theater, in its Friday production of the play, took the best elements of the farce and, combined with the beautiful outdoor setting of Byran Park, presented an evening of fine comedy.
The Comedy of Errors, which was first performed between 1590 and 1594, concerns twin brothers who are both named Antipholus. Each brother has a servant named Dromio, who are also twins. The twins of each set were separated in childhood, and neither twin knows the other is alive. The action that ensues is humorous and includes incidents of violence with smitten women, several arrests and an attempted exorcism. At last, as you might expect, identities are revealed and all is well.
Director John Weagly cast strong actors in the roles of the two Dromios and the two Antipholuses. Rick Sakasitz, as Dromio of Ephesus, had some of the best lines and gave the best performance of the evening. His interpretation of Shakespeare has also been excellent in other Civic shows, Two Gentlemen of Verona and A Midsummer Night's Dream.
Weagly deftly brought out the physical nature of the comedy, emphasizing the visual for a greater understanding of the plot.
There were others who did shine, however, including T. Andrew Howard as Antipholus of Ephesus, Andy Cambridge in a small role as the First Merchant, and Bob Service, always perfectly Shakespearean, in two roles: as Pinch, a schoolmaster, and Egeon, a merchant of Syracuse.
Though the park setting (the play is staged on the north side of the park on the basketball courts) was pleasant, it was at times difficult to hear the actors' lines. Surely, the mobile stage that has been used before in Bryan Park could be used for this production. There was also an unfortunate amateur fireworks display near the climatic unveiling of the Dromios and the Antipholuses that eclipsed a scene or two.
But these 22 actors, in gorgeous costumes by Janice Clevenger, overcame these limitations. The Comedy of Errors in Bryan Park made for quite a nice night. If you go, bring a blanket or a lawn chair. Snacks are also welcome.
The Comedy of Errors continues today in Bryan Park at 8 p.m. Admission to that show is free. There will also be a benefit performance for the Waldron Arts Center, 122 S. Walnut St., July 5 at 2 and 8 p.m
---
Review from The Herald-Times for The Comedy of Errors (1992):
'Comedy of Errors' to be staged outdoors
By Kathleen Mills Jun 19, 1992
Shakespeare's The Comedy of Errors has some scenes of wacky mistaken identity and some truly funny linguistical twists and turns. But the director of the Monroe County Civic Theater production would also like to bring out some other aspects of the play."The most important theme is the importance of being an individual, being a unique person, rather than a walking, talking stereotype," said John Weagly, the director.
The Civic Theater production opens Saturday in Third Street Park. The Comedy of Errors is part of a Civic tradition of presenting Shakespeare outdoors. Weagly, who received a bachelor's degree in theater from Southern Illinois University and has been active with the Bloomington Playwrights Project, acted in Two Gentlemen of Verona for Civic last summer."It's a great way to do it," he said of the park performances. "It's a great experience. I think it's fun just watching it, being out under the stars, when the temperature is nice, being able to lay there in the grass on a blanket.'
'The Comedy of Errors, first performed between 1590 and 1594, concerns twin brothers who are both named Antipholus. Each brother has a servant named Dromio, who are also twins. The twins of each set were separated in childhood and neither twin knows the other is alive. After a number of comic blunders and confused identities, the twins are all reunited.
Like any Shakespeare play that a community theater group takes on, the biggest hurdle in this production of The Comedy of Errors was memorizing and interpretating the language."I've been helping actors overcome the fear, the feeling of being daunted by Shakespeare, getting them to loosen up and relax into it and have fun. They are having a lot more fun that when we first started," Weagly said.
To increase the audience's understanding of the sometimes confusing play, Weagly has worked with actors on making the comedy "as physical as possible, getting the story across and making sure the actors all know exactly what they're saying," Weagly said. He has accomplished that by paraphrasing some lines and cutting a few sections of lengthy monologue.
The play is being performed in Third Street Park and later in Bryan Park, and working outdoors is another challenge. "The projection (by the actors) is the biggest thing, just to fill the space. Even when the actors are loud enough, a car with no muffler will go by," he said. Barring distracting noises, Weagly said this production of The Comedy of Errors will be "timeless."
"The costumes are from Shakespeare's day and the set isn't necessarily, but it's timeless. It's important for the audience to understand that a play from 400 years ago is not just fun to watch, it has an effect today," he said.
---
Review from The Herald-Times for Patience (1992):
Civic Theater's `Patience' impressive
By Kathleen Mills Mar 31, 1992
Arranging 18 bodies on the Monroe County Public Library auditorium stage is a feat in itself. But the Monroe County Civic Theater managed to arrange 18 bodies with impressive voices for a fine performance of Gilbert and Sullivan's Patience Saturday night.
The operetta, which has not been performed in Bloomington since 1919, calls for a cast larger than that, but Civic had to make allowances. Instead of 20 rapturous maidens, for instance, there were only 8. But no matter. Those in the production carried the story of love, trendiness and the Aesthetic Movement nicely.
Sharon Beikman as The Lady Jane, Kimberlee Heath as the village milkmaid Patience and Steve Wailes as the poet Reginald Bunthorne were especially good with the music.
The music is, well, it's Gilbert and Sullivan. Cute wordplays intermixed with long songs are the fare. Civic even added a line of its own: "I'm an IBM young man, I'm an AT&T young man. . ." to underscore the fact that trendiness never dies. The rest of the musical banter spoofs the public's desire to be "in" and mocks the kind of aesthetic poses exemplified by Oscar Wilde.
Brian Morris deserves credit for his piano accompaniment and Steve Wailes for his Reginald and his direction of the entire production.
And as has always been the case with Civic Theater, the costumes in Patience are far and above anything you would expect of community theater. Janice Clevenger and Susan Sullivan, with a loan from the Star of Indiana Drum and Bugle Corps, produced those.
Patience continues at the Monroe County Public Library auditorium Friday and Saturday at 8 p.m. and Sunday at 2 p.m. Tickets are $5 adults, $4 students and senior citizens and $2 for children and may be purchased at the door or through Howard's and TIS book stores.
---
Preview from The Herald-Times for Phaedra (1991):
Civic troupe takes on Greek challenge
By Kathleen Mills Nov 29, 1991
When Monroe County Civic Theater director Kai Cofer was researching productions of the 17th century French classic play Phaedra, he only found four in this country in the past century.To those four, add a fifth.
Civic Theater will open the play Sunday in the auditorium of the Monroe County Library, 303 E. Kirkwood Ave.
"We're trying to get a feel and flavor for the time period. It's hard since there are no other productions to go by. It's our own interpretations, "Cofer said.
Because Phaedra is a rarity on the American stage, Cofer believes audiences should enjoy it."It's a rare item; for that reason, it's worthwhile to come see it. They won't get a chance to see this again in their lifetime," Cofer said.
Phaedra is a drama based on the Greek legends of Theseus and written by Jean Racine. Cofer, who is an Indiana University theater student, happened upon the play in a class. He was drawn to its "soap opera plot" and thought its cast of characters would suit the Civic Theater regulars."It's a very challenging piece. It's a very difficult play, far beyond the standards of most community theater groups, especially for (the character) Phaedra. It's one of the roles that the great grandes dames of the theater finally get to do," Cofer said.
IU theater student Katrina Martin is taking on the role of Phaedra, a woman who falls in love with her stepson, all the while thinking that her husband is dead. The husband is, in reality, not dead, and when he comes back high drama ensues."You have to express emotion from A to Z and make it believable. You have to go from one emotion to another without a lot of prep time in between," said Martin.
In French, Phaedra is written in verse. Cofer, however, has chosen an English translation that is in prose."We didn't pick that (the verse version). In English it comes off sounding like a Hallmark card. We have a prose version, but it's still very flowery. It has a lot of adjectives," Cofer said.That language is difficult to act in the way Shakespeare's works are for the less-experienced actor, he said, and beautiful to see performed when it comes off well."The language is a challenge. I have done Shakespeare, but this is different; this is French. It's translated awkwardly, but it's still beautiful," Martin said.
Though Phaedra is in archaic language, Cofer believes audiences will find the characters in the drama quite like characters they see in plays and on television today."We've tried to set it slightly earlier, around 1630-1650 (to jibe with the costumes Civic is using). It's still the French baroque period. But the characters are very much like people today," Cofer said.
Monroe County Civic Theater will present Phaedra Sunday, Dec. 6, 7, 8, 13 and 14. Sunday shows start at 2:30 p.m.; Friday and Saturday shows at 8 p.m. Tickets are $5, $4 students and senior citizens.
---
Preview from The Herald-Times for The Elves and the Shoemaker (1991):
Play puts kids in spotlight
By Kathleen Mills Sep 13, 1991
While the shoemaker is away at the wars, the elves play and make mischief in The Elves and the Shoemaker, a production by the Monroe County Children's Theater.
The play, for children and starring children, will be presented at Binford Elementary School Sept. 21 and Tri-North Middle School Sept. 28.
The Elves and the Shoemaker is a fable about a shoemaker whose family is going to be kicked out of their house unless they can come up with the rent money. The family has no rent money because the shoemaker is away and isn't making the shoes that make the money for his family. A trio of cute little elves working away in the basement of the home add intrigue and an element of magic to the story.
The Monroe County Children's Theater is an offshoot of the Monroe County Civic Theater and many Civic Theater regulars will be appearing in The Elves and the Shoemaker. Children portray the elves and fill a few other roles in the play.
Eileen Konrad plays Dame Marjorie, wife of the shoemaker's landlord. She also appeared in Civic Theater's production of A Midsummer Night's Dream. She predicted Elves and the Shoemaker will be a hit with kids."Kids will think it's cute and clever. There are good guys and bad guys, elves and magic. There is a heroine. There are all the good classic things of a fairy tale," she said.
Michael Simmons, who appeared in a fatherly role in A Midsummer Night's Dream , plays the little seen, but much talked about shoemaker. Simmons' daughter Alexandra, 7, plays the youngest of the three elves. He said cuts in the drama, which has been re-written over the years, but was originally collected by the Brothers Grimm, have made it shorter and more interesting for children.
"The play was written in about 1947, but Janice (Clevenger, the director) has made it more suitable for modern audiences. It's visually interesting. There is action and physical comedy," Simmons said.
The Elves and the Shoemaker will be presented Sept. 21 at Binford Elementary School at 2 and 4 p.m. and Sept. 28 at Tri-North Middle School at 2 and 4 p.m. Tickets are $2 and may be purchased at the door.
---
Review from The Herald-Times for Two Gentlemen of Verona (1991):
Outdoor Shakespeare delights
By Kathleen Mills Sep 4, 1991
Shakespeare in the park, or in this case the outdoor stage at Harmony School, 909 E. Second St., is a delightful experience. Especially when the Shakespeare is Two Gentlemen of Verona, presented Friday by Monroe County Civic Theater.
The comedy is not performed as often as some of Shakespeare's other works, but it is nonetheless as entertaining and playful as A Midsummer Night's Dream or Much Ado About Nothing.
The plot provides several romantic turns: Two gentlemen, Proteus and Valentine, are rivals for the love of Silvia, the Duke of Milan's daughter. Valentine catches Proteus forcing himself on Silvia. Proteus is already, however, betrothed to Julia.
Valentine eventually says Proteus can have Silvia, but when the angry Julia arrives in Milan dressed as a page, Proteus finds that she is really his first and true love. A number of humorous love letters are exchanged between the couples and as is Shakespeare's gift, witty language also provides much of the amusement.
The large ensemble cast turns in a fine overall performance. Several actors, however, are especially noticeable for their skill.
John Weagly is a clever Proteus and Alex Service an emotional Julia, Proteus' love. Stuart McWhirter has a small role as Panthino, manservant to Antonio, (he is also one of the forest outlaws) but he makes much of it with an Elizabethan diction and manner.
Bob Service, as the Duke of Milan, is quite stately. Even Barney the dog, in the part of Crab the dog, performs well (after some initial stage fright).
Director Rick Sakasitz makes use of the entire stage area, as action takes place in front and to the sides of the stage. The trees surrounding the stage give the setting a nice forest feeling.
Sakasitz also performs in the comedy, giving a thoroughly hilarious speech about crying. He has the plumb role of Launce, servant to Proteus.
The costumes, designed by Catherine Thomas and created by Thomas and Mary Hrovat, are stunning. Their quality helps lend a professional air to the entire show.There are benches at the outdoor stage, but you may want to bring a cushion or lawn chair. Picnic dinners are also permitted.
Two Gentlemen of Verona continues Friday at Harmony School, 909 E. Second St., and Sunday at Bryan Park. Shows begin at 8 p.m. Admission is $5 adults, $4 students and senior citizens.
---
Preview from The Herald-Times for Two Gentlemen of Verona (1991):
The Civic Shakespeare
By Kathleen Mills Aug 23, 1991
Community theater groups are often known for their selections of Neil Simon plays, bedroom farces and other low-budget, easy-to-perform works. But not the Monroe County Civic Theater.
For the second summer, the acting company is taking on a work by William Shakespeare. Two Gentlemen of Verona will open Aug. 30 on the outdoor stage at Harmony School, 909 E. Second St.
"A city the size of Bloomington ought to have Shakespeare in the park in the summer," said director Rick Sakasitz.
Civic Theater performed A Midsummer Night's Dream last summer and in June of this year, with great success.
The group chose the less-performed Two Gentlemen of Verona as an alternative to some of Shakepeare's more popular comedies."We wanted to expose people to something they have heard of and never seen or never even heard of before," Sakasitz said.
Two Gentlemen of Verona is a comedy about love and friendship. And like other Shakespeare comedies, it includes intrigue, scheming, exile, love and eventually, a happy ending. Its plot is partially based on a story by Spanish author Jorge de Montemayor and was probably first produced in 1594.
The action spans locales from Verona to Milan, all of which will be played out on the outdoor stage. Trees surrounding the stage will serve as the forest.
The cast – many of whom are Civic Theater regulars – are Shakespeare disciples who have read many of the bard's works and love to perform them."I have the collected works (of Shakespeare) and have always liked Shakespeare. But I think the education system deflates it, pushes it in high school when you're too young. Everybody who reads later on, loves it," Sakasitz said.
Jennifer Whitaker, an Indiana University sophomore, plays Speed in Two Gentlemen of Verona. She finds Shakespeare's work tough, but thoroughly enjoyable."It's the most challenging for someone to act – the language is difficult and getting the point across as well as conveying the emotions," she said.
Whitaker and the director believe there are other Shakespeare devotees in town who would enjoy an annual festival of the playwright's works. "People who have seen Midsummer Night's Dream and As You Like It (a 1990 Union Board production) have been asking for more Shakepeare. We hope to not let them down in our second annual production," Sakasitz said.
---
Preview from The Herald-Times for Henry IV project (1991):
'Henry IV' just a little summer project
By Kathleen Mills Aug 16, 1991
While some college students home for the summer lounged and others worked at burger jobs, Alex Service decided to take on a little project. She cast, directed, produced, acted in and edited a videotaped version of William Shakespeare's Henry IV."Technically, it's not that great but I think it's good for an amateur movie on very little budget," Service said, taking a break from editing the 1-1/2-hour epic. The Shoestring Shakespeare Production, which shows the play through Act III, Scene II, will air on Bloomington Community Access Television in early September.
Service, a Bloomington native and a junior majoring in Japanese at UCLA, took on the historical drama after she saw a production of it on a BBC television station."I thought it was really bad and I thought of all the ways I could do it better. So I thought it would be a good idea to try it," she said.
Sites throughout Bloomington were transformed into 15th century forests and buildings. The Canada family allowed Service the use of a tower on their estate and the Service family shed, built in the 1890s, was turned into a tavern.
The actors include the Service Family Players – Alex, her father Bob (as Henry) and mother Pam (one of the thieves); several actors from the Monroe County Civic Theater (where Alex Service has appeared in two Shakespeare productions) and friends of the family."People were eager to be in this. A lot of the people I picked were really into Shakespeare and acting," Service said.
Actors Katherine Thomas and Thomas Thomas contributed costumes they had from their participation in the Society for Creative Anachronism, but for such a large cast – including Henry, Prince Hal, the Earl of Westmoreland and the famed Falstaff – there weren't quite enough costumes."At least three people wear this red cape," Service said, laughing and pointing to a costume on the video screen.
Since the actors are not professionals, rehearsal time was about as scarce as the costumes."Sometimes people forget their lines. There wasn't much rehearsal time because the cast is made up of people with real lives," Service said.
In Service's days as a Bloomington high school student, she and her friends would turn out videotapes of The Three Musketeers. Because the young girls "weren't into boys then," those shows used all women in the men's roles. Service is especially pleased that only three men's roles are filled by women in Henry IV.
She filmed the entire production with the BCAT camcorders and is editing the play in the community station's facilities. The credits for Henry IV are especially impressive; each actor's face is pictured next to his or her name and the Norman-esque tower appears in the background.
A premiere for the actors, their families and area fans will be held shortly before Henry IV airs on BCAT – cable channel 3. The date hasn't been set.
---
Review from The Herald-Times for Hedda Gabler (1990):
'Hedda Gabler' a successful production
By Kathleen Mills Nov 20, 1990
A core cast of talented actors made Monroe County Civic Theater's Sunday production of Hedda Gabler successful and appropriately intense to watch.
Henrik Ibsen's dark drama is about a woman, Hedda, who though surrounded by caring people and seemingly without trauma in her life, cannot be happy. She manipulates the lives of everyone around her, but in the end she is unable to manipulate her own life to her satisfaction.
Mary Peo filled the role well, displaying telling facial expressions and speaking with haughty tones. Peo and Greg Boyd, who played Judge Brock, were the strongest of the seven-person cast. Boyd had clean, clear diction and a stage presence that befit his character.
Peter Paul Oprisko II as Eilert Lovborg, a rival of Hedda's husband, George, was also impressive. Oprisko pulled off the burnt manuscript scene in the third act especially well.
The other characters in the web Hedda weaves are Julia Tesman, George's aunt; Berta, the servant and Mrs. Elvsted, a neighbor. Each was played adequately by Janice Clevenger, Marilyn Stone and Barrington Smith, respectively. The action moves quickly in Hedda Gabler : Hedda and George set up their home together as newlyweds, George and Lovborg compete for a position as professor, Mrs. Elvsted leaves her husband after she "inspires" Lovborg's latest book and Lovborg, George and the Judge's all-night bachelor party has consequences for everyone. Hedda is virtually always on stage, thrusting her powers upon the other characters.
Director Kai Cofer orchestrated all of this well, especially since the stage area was small and the characters interact extensively in almost every scene.
Timing and language are important in Hedda Gabler . The language is that of the 1890s, partially Old English and partially modern. The characters in the Civic Theater production worked well with it. There were a few missed lines however, and entrances that could have flowed more smoothly. But these foibles will surely improve with a few more rehearsals.
As Cofer said, the basement of the Old Library works well for a play of this period. The set was expertly designed by Cofer and constructed by a crew of Bob Service, Joy Isaacs, Terry Lockhart, Margaret O'Malley and Dale Bennett. The costumes as well, compiled and stitched by Janice Clevenger, were quite authentic.
Hedda Gabler will be staged by the Monroe County Civic Theater Saturday at 8 p.m. and Sunday at 3 p.m. in the basement of the Old Library, Sixth and Washington streets. Admission is $4 adults, $3 students and seniors. Tickets may be purchased at the door.
---
Preview from The Herald-Times for Hedda Gabler (1990):
Still-relevant `Hedda Gabler' to be staged by Civic Theater
By Kathleen Mills Nov 16, 1990
For many theater groups, this is the year of Ibsen.
1990 is the 100th anniversary of Henrik Ibsen's Hedda Gabler, and Monroe County Civic Theater will mark the event by performing the play Saturday and Sunday.
Ibsen's plays explore social problems through individuals, in what was at the time contemporary language and settings. "Ibsen is thought-provoking. It's a heavy play that deals with suicide. It's interesting to see that people even back then are very similar to people today," director Kai Cofer said.
Cofer, an undergraduate theater student at Indiana University, said the play is interesting in the way it presents the main character. Hedda Gabler is expected to want to bear children, as women in the late 1800s were. Hedda, however, doesn't want to be pregnant. And though she is a wealthy woman, she is unable to achieve any of her desires in life. In the end, she kills herself. Mary Peo takes on the taxing role of Hedda, and Rick Sakasitz plays her husband, George.
Ibsen refused the label "feminist," but some of his plays, such as Hedda Gabler , deal with women's rights. For this, and other realistic portrayals of people, Ibsen is called the first "modern" playwright. To Cofer, that means the playwright's work is always timely.
"Granted, people's mannerisms were a little stiffer then, but people still commit suicide today. The themes are really relevant," he said.
Monroe County Civic Theater will stage Hedda Gabler Saturday and Sunday and Nov. 24 and 25. Saturday performances begin at 8 p.m. and Sundays at 3 p.m. All shows are in the basement of the Old Library, Sixth and Washington Streets. Admission is $4 adults, $3 students and seniors. Tickets can be purchased at the door.
---
Review from The Herald-Times for A Midsummer Night's Dream (1990):
`Midsummer Night's Dream' is delightful
By Kathleen Mills Sep 2, 1990
Director Janice Clevenger took 28 actors and musicians, some of them unexperienced, a small outdoor stage at Harmony School and no sound system and turned in a delightful performance of William Shakespeare's A Midsummer Night's Dream.
The Monroe County Civic Theater production, which ended Saturday night, brought out the wit and charm of the bard's story. Though there are three almost separate casts; the lovers, the fairies and a hilarious crew of amateur actors; all the characters actions are intertwined. This is a tricky feat, but one that the cast and Clevenger pulled off nicely.
A Midsummer Night's Dream is a comedy of characters in witty situations. Realistic humor is mixed with scenes featuring fairies as four lovers fall in and out of love with each other, largely due to the meddling of Puck, a playful fairy.
The role of Puck is a juicy one. And Andy Cambridge played the part well with animated gestures, vigor and a wonderful little giggle.
Bob Service as Theseus, Alex Service as Helena and Rick Sakasitz as Bottom, were among those whose Elizabethan diction bellowed from the stage. Damian Hager as Lysander, David Bryson as Demetrius and Susanne Wright as Hermia rounded out the group of lovers with fluid movement and expression.
Thomas Thomas should be noted for successfully portraying both King Oberon, a part with many lines, Snout and the Wall.
Praise also to Clevenger and Rolando Arroyo-Sucri for the authentic and in some instances, elaborate costumes used in the production.
There was not one character who fell short of the quick pace and subtly required of a performance of A Midsummer Night's Dream. The crew of actors who perform for Theseus were witty and wonderfully cast, the lovers were passionate and scornful and the young fairies perfectly enchanting during their wooded dances.
Director Clevenger said she has always wanted to produce A Midsummer Night's Dream on the outdoor stage at Harmony School. It's obvious why. The spot provided the ideal atmosphere for the play and that setting was only complemented by the fine acting of the cast.
---
Preview from The Herald-Times for A Midsummer Night's Dream (1990):
Monroe Civic Theater takes on Shakespeare
By Kathleen Mills Aug 24, 1990
The outdoor stage at Harmony School will be transformed into an Athenian court and an enchanted woods full of fairies when Monroe County Civic Theater presents A Midsummer Night's Dream beginning today.
The Shakespeare comedy has a cast of 28 local actors and musicians, including Indiana University students, Civic Theater regulars and children who play fairies.
Director Janice Clevenger said she had always wanted to produce this play on the stage at Harmony School. "I've been planning on it for quite a while. I wanted to do it in June, in the summer. But I couldn't get the people together. At this time of year, it's possible," she said.
A Midsummer Night's Dream is a comedy of characters in curiously witty situations. Six lovers and a cast of other lively personalities are involved in a play that mixes realistic humor with scenes featuring fairies.
Indiana University Theater and Opera regularly feature Shakespeare plays and operas based on the bard's work, but community theater has rarely undertaken such a production.
Clevenger, however, isn't worried about the complexity of A Midsummer Night's Dream, a play which has three almost separate casts. The director did trim the script some, because "people today go at a faster pace than in Shakespeare's time," Clevenger said.
She did encounter one obstacle, however, in the casting of Oberon, king of the fairies. Twice, the director cast the part only to have her Oberon quit. Thomas Thomas will play the lengthy role of King Oberon and the smaller one of Snout.
Though some of the cast weren't previously familiar with Shakespeare's work, all appreciated the humor in A Midsummer Night's Dream by dress rehearsal week, Clevenger said."It's fun and it's funny. There are people working with it that weren't familiar with it and they are saying, `hey it's funny.' Even the so-called straight characters are in funny situations," she said."It's a sitcom."
A Midsummer Night's Dream will be staged by Monroe County Civic Theater today, Saturday, Aug. 30, 31 and Sept. 1 and 2 at Harmony School, 909 E. Hunter St. All shows begin at 7:30 p.m. and will be on the outdoor stage unless it rains and then the show will be inside the school. Tickets are $4 adults, $3 senior citizens and students and $2 children.
---
Preview from The Herald-Times for A Midsummer Night's Dream (1991):
Civic Theater to produce `Midsummer Night's Dream'
By Donita Hadley Jun 23, 1991
"I'll just go ahead with this while we talk," says Janice Clevenger, seating herself on a front porch of some rental property she has here in Bloomington. The birds are chirping like mad this sunny summer morning, providing a cheerful background while Clevenger talks and sews.
Clevenger, with white hair swept atop her head and intently working with a needle, looks like a grandmother attending to some bit of stage garb a "yung'un" (as she likes to call children from time to time) might wear in a school play. But this lady, retired no less, is "sewing on Demetrius' costume." It is a vest that will be worn by an actor in the Monroe County Civic Theater production of Shakespeare's A Midsummer Night's Dream.
This production of one of Shakespeare's most popular plays opened this weekend at Harmony School and will continue Friday, Saturday and Sunday at the school's outdoor theater at 909 E. Second St.
Clevenger is directing the show, producing the two-weekend event and sewing costumes. Not all at once, mind you, but her energy level, not diminished by the humid summer heat, gives you the impression she could do all tasks simultaneously if need be.
It's obvious she has a lot on her mind as she checks her watch from time to time, but Clevenger calls up helpful bits of information on a mental computer – information that illuminates the why of this mini-Shakespeare Fest, of which Midsummer is a part, and information that lets us get to know Clevenger a little better."Yes, well, we (the Civic Theater) did this play last year in August at Harmony School, a lovely place to do it, and it was just enchanting. It was very popular, so why not repeat it! We have a Shakespeare Festival going now, although it will only be the two plays – Midsummer now, and then in August a presentation of Two Gentlemen of Verona."
The cast of 25 represents about half of the original Midsummer cast from last year. Clevenger sort of keeps track of both past and present cast lists via the characters they play in Midsummer."Our Helena from last year is a student at UCLA, so she couldn't be here early for rehearsals, which means she's taking a smaller part this year," notes Clevenger.
Michael Simmons cast as Quince is joined by his youngsters, Alexandra and William, who are cast as fairies. There's a new Titania this season "because our Titania from last year had a baby," explains Clevenger. The new Titania is Catherine Thomas whose husband, Thomas Thomas, is also a veteran cast member. The couple will have been married one year to the night of the last performance of Midsummer Sunday.
"And, oh, we're very fortunate with Puck, too. Oh, he's tremendous," exudes Clevenger. "When I tell people we're doing the show again they ask, `Is it with the same Puck or a different one?' " The requests are about Andy Cambridge who reprises his role of the boy who does the bidding of Oberon, King of the Fairies. And as Puck, Andy gets to deliver one of the best-known lines of the play, "Lord, what fools these mortals be!"
The Monroe County Civic Theater has been an active community theater in Bloomington since 1986, and dedicated to presenting a variety of family-oriented plays.
Clevenger, the theater's artistic director, is part of the group because the theater bug bit early. "When I was in junior high I took dramatic arts lessons – that's what started it. That was in Columbus," says Clevenger, who is a native of Bloomington, however. "My first role was in something called `The Silver Chord' or something like that, it was sort of a kid's fairy tale. I've never seen it since, but it was a nice little play."
She did her undergraduate work at Earlham College in Richmond and earned a master's degree in theater at the University of Denver before coming to Indiana University to work on a doctorate."Oh, you see it's always been fun to do (work in the theater). I've been directing plays in schools, as well as teaching English, art, French and so on for years. I taught in Indiana, one year in Baltimore and left IU to teach at a Quaker school in Japan." That stint lasted from 1957 to 1969.
Clevenger's whose stay in Japan produced a lasting impression and respect for the Kabuki theater. "When you see those Kabuki actors in the most wonderful theater ever, you're seeing generations of acting; really, it's tremendous, but I found the Japanese people as a people weren't generally dramatically gifted."
But in Korea, where she next taught from 1969 to 1974, Clevenger found "there wasn't any great theater there, but most everybody could act or sing. So they've never needed to develop the art of drama as an art because they could express themselves."Back in the States in the mid-1970s, Clevenger retired from teaching, but has remained active in the theater. She's been the costumer for the Madrigal Singers performances at Indiana University for the past 19 years.
The Monroe County Civic Theater takes a lot of her time trying to make four shows, plus a children's production, too, a reality each year.
Asked if she ever has nightmares about things going wrong during a play, Clevenger says she doesn't dream about shows she's involved in, but she does "think about them all the time."
"And you don't have to dream for somebody to be missing from the cast," Clevenger says with a laugh. "I remember one time, just when we were doing our first play at Harmony School, there was a girl who had a bit part – didn't come in until the last act. This time we got around to the third act and she wasn't there. She was stranded in Indianapolis, her car broke down and she couldn't get a hold of any of us to tell us that she was late.
"Well, one of the other actors put on parts of a costume (the role he was assuming for the stranded actor was a lawyer). He had a brief case and, of course, the papers in the brief case," says Clevenger, "were the script with the lines he'd need to say.
But it was during the first show they did outdoors at Harmony School that Clevenger says, "Aha, I want to do Midsummer Night's Dream here."
Clevenger sees Midsummer – with its feud between Oberon and his wife Titania, Queen of the Fairies, lovers who are blinded with a fairy dust that makes them fall in love with the first person they see, and an acting troupe preparing a play for a special wedding – as a play that doesn't have any deep message. "It's a play just for fun," she says adding, "and you get interesting people in outrageous situations and that's just A Midsummer Night's Dream!"
"You know, people have to be crazy to do this stuff. But you have to be crazy to love it. Fortunately there is getting to be quite a group of us here. Monroe County Civic Theater should be an official non-profit organization, but we haven't got to that stage yet. It takes a little money, which we haven't got. Next year we've got an application for a grant from the Arts Council of Bloomington and if we can get a grant we'll be able to do things a little differently.
"A theater group is supposed to have some angels (theater patrons) to foot the bill. We don't," says Clevenger. "So if you know of any angels around we'd like to get acquainted. Ticket sales are still our main source of revenue."And tickets for A Midsummer Night's Dream are $5 for adults, $4 for students/senior citizens and for children $2. Angels can write their own ticket.
---
Review from The Herald-Times for The Importance of being Earnest (1990):
'The Importance of Being Earnest' pleasant
By Linda Thomas Apr 20, 1990
The Monroe County Civic Theater staged a pleasant production of Oscar Wilde's classic The Importance of Being Earnest on Wednesday night at the Monroe County Public Library Auditorium.
The play, which runs through Saturday, is a comedy in overrun with double identity, mistaken identity, hidden identity and more.Set in England in 1895, the play is about Gwendolen Fairfax, who loves Earnest Worthing, mainly because his name is Earnest. And it's about Earnest, who loves Gwendolen but whose real name is John (Jack) and goes by Earnest when he's in the city.
It's also about Algernon, who calls himself Earnest and Cecily Cardew who loves Algernon who she thinks is Earnest.
Confusing?
The characters and their story all fall into place in the tightly woven spoof of society and manners.
As directed by Kai Cofer, the Civic Theater production has spirit and an appropriately light touch, though the pace is a bit uneven. A set change between the first and second acts was long enough on Wednesday night that the first act was nearly forgotten by the time the second one rolled around. And the energy levels of the actors seemed to ebb and flow throughout the work.
Actor Peter Paul Oprisko II, an Indiana University telecommunications student, was a highlight in his role as Jack Worthing. Oprisko had a regal presence and delivery appropriate to his upperclass character. And Claire Harter, an IU sophomore, did a fine job as the snooty and confident Gwendolen, object of Worthing's desires.
Janice Clevenger, artistic director of the local theater group, was a wonderfully austere curmudgeon as Gwendolen's mother Lady Bracknell. Tony Merriman, a theater and political science student and member of the Singing Hoosiers at IU, drew plenty of laughs as the tottering old butler Merriman. And the play offered the opportunity to see Pam Service in the role of a bookish governess, who, like Service, is also a novelist.
As usual, the Civic Theater did well with the constraints of a small stage and limited budget. The costumes – rich 19th century satin gowns – were tremendous and the sets were simple, but evocative of luxurious living. A backdrop with three cut-outs representing windows served not only as windows but also as a space into which trellises decorated with flowers were hung to convert the stage for a garden scene.
Though The Importance of Being Earnest has been done time after time, it proved a good piece for the Monroe County Civic Theater. The Monroe County Civic Theater will perform The Importance of Being Earnest tonight and Saturday at 8 p.m. in the Monroe County Public Library Auditorium. Tickets are $4, $3 for students and senior citizens.
---
Preview from The Herald-Times for The Importance of Being Earnest (1990):
Oscar Wilde play staged by Monroe Civic
By Linda Thomas Apr 13, 1990
It's important to be earnest, but sometimes it's more important to pretend to be earnest. And in the theater world of Oscar Wilde, it's best to recognize the importance of being earnest.
If all that earnestness sounds confusing, consider Wilde's The Importance of Being Earnest . The romantic comedy, which will be staged Thursday through April 21, by the Monroe County Civic Theater, is full of mistaken identity, double-identity and an awful lot of concern about being Earnest.
There's Jack, who is known in town as Earnest. There's Algernon, who pretends to be Jack's brother, Earnest. There are women who will only marry men named Earnest. And then there's the real Earnest.
The community production of the classic is directed by Indiana University theater student Kai Cofer. Cofer, 28, has directed a professional children's theater in Maryland and spent two years acting in a dinner theater. He discovered the community theater group through a notice in the newspaper.
Cofer said he initially intended to give the show a "fluffy cartoon-like" feel, but settled on a more realistic approach when confronted with a small budget.
A junior, who transferred to IU last fall from a community college in the Washington, D.C., area, Cofer said he considers directing a community theater production to be good experience.
"The university doesn't have a lot of directing spaces for the undergraduates. Everything goes to the graduate students," he said. "If you want to direct something, there are a few independent projects and the competition for them is great . . . (Working with the civic theater), I'm still getting my experience, I'm working with a real budget and I'm getting more of a challenge."
Janice Clevenger, artistic director of the theater company, said she is pleased with the student involvement. "The more we can do of it the better. Primarily this is a community group, but, goodness, the university is part of our community."
The Monroe County Civic Theater will present The Importance of Being Earnest Thursday through April 21 at 8 p.m. in the Monroe County Public Library Tickets are $4, $3 for students and senior citizens.
---
Review from The Herald-Times for Bertha, the Beautiful Typewriter Girl (1989):
"Bertha' a melodramatic tale of love, extortion
By Kathleen Mills Oct 31, 1989
Curses! The Monroe County Civic Theater's production of Bertha, the Beautiful Typewriter Girl is a little rough around the edges.
The comic melodrama, which draws from the silent film tradition of gasping young maidens, powerful villains and dashing pure heroes, suffered from the opening night jitters at Sunday's performance.
Bertha, played aptly by Lara Jeanne Tokarski, is a beautiful young woman forced to work as a typewriter girl to support herself when her father returns from Africa with a fortune in diamonds.
This wouldn't seem to create hardship except that Bertha Bancroft's father, Boswell, played by Dale Bennett, dies of heart failure immediately after having put his riches in the hands of the man he thought was his friend, Daniel Desboro Desmond.
Playwright Charles George loves this type of silly alliteration and all of the characters' names fall prey to it.
Rick Sakasitz's portrayal of Daniel Desmond is wonderfully evil, as it should be. His haughty laughter is chilling as he turns to the audience and lets them in on his plans to take Boswell Bancroft's fortune and save his own failing bank.
Unfortunately the rest of the play is hampered by forgotten lines, repeated lines and a tiresome script.
Melodrama may be funny in a five-minute silent movie segment, but it loses its appeal after two hours.
The plot takes a number of diabolical turns as Daniel Desmond's dashing young son, played with perk by Harvey Phillips II, falls in love (and everyone does in this play) with the beautiful Bertha and is practically disowned by his father, who is also in love with the fair woman.This leaves the flamboyant and wealthy Clarice Claybourne, played by Claire Harter, who is fitfully in love with David, in the lurch and inspires her to conspire with the villainous Desmond so that they both can have what they want.
These two plots of love and extortion intermingle time and time again as one of Desmond's employees, Glenwood Garfield, played by Bill Hayden, also falls in love with Bertha. Desmond tries to force Bertha into marrying him and Garfield tries to get money out of Desmond for being quiet about the whole Boswell Bancroft affair.
Needless to say, someone eventually saves the day.
The ever-changing plot does have its moments and the production quality will probably improve in future performances, but in the end, Bertha, the Beautiful Typewriter Girl is a mediocre melodrama.
Bertha, the Beautiful Typewriter Girl will be staged at 8 p.m. Friday and Saturday and at 3 p.m. Sunday in the Monroe County Library Auditorium. Tickets are are $5 for adults and $2 for children under the age of 12. All proceeds for the play will go toward the city's proposed arts center.
---
Preview from The Herald-Times for Four Japanese Kyogen (1988):
Civic Theater to present four Japanese comedies

By Linda Thomas Sep 16, 1988
Japanese theater will come to Bloomington Saturday at 8 p.m. when the Monroe County Civic Theater stages four short works in the Japanese Kyogen tradition at the Monroe County Public Library Auditorium.
Kyogen are short comic plays that present the foibles of ordinary people. They began in the folk tradition but develped alongside the Noh theater, a form that presents philosophic plays permeated by Buddhist thought.
Kyogen, according to Janice Clevenger, artistic director of the Monroe County Civic Theater, served as comic relief between the several Noh plays in a program. Both theater forms date to the early part of the 15th century.
Clevenger, a theater enthusiast who spent 10 years teaching in Japan and attended plays there, said she thought Kyogen would be interesting to present in Bloomington.
The 10-person Civic Theater cast has had help from Indiana University theater graduate student Yuko Kurahashi and has viewed videotapes of actual Kyogen in preparing for the four works, while Clevenger has created costumes in the 15th century Japanese tradition to give the production as much authenticity as possible. Among the actors are a group of Bloomington High School North seniors who will present one of the works, while several members of a family will perform one of the others.
The civic theater group developed about two years ago from the New Stage Repertory Company. Clevenger described the group's interests as being to offer theater of various sorts to the community.
Additional performances of works from the Kyogen tradition will be given at 8 p.m. Sept. 24 and Oct. 1, and at 3 p.m. Oct. 2. All shows are in the Monroe County Public Library Auditorium. Tickets are $2.50.